You guys! It's Tuesday and I'm bringing you a taco recipe. I must say that I'm pretty smitten with myself over the whole thing. Because #tacotuesday. Obviously. It's a day that should be recognized and celebrated.
Anyways. How was your Labor Day Weekend? We had great weather here in New England, so I managed to squeak in quite a few summer activities. Ice cream, cocktails by the pool, beach time and grilling were all par for the course. Summer isn't going down without a fight!
I generally associate tacos with summer. But I think I need to make more of an effort to eat tacos all year long (twist my arm, won't you). So I'm starting with these Shredded Hoisin-Blackberry Chicken Tacos with Crunchy Slaw, which are perfect to be enjoyed as we transition from late summer to early fall.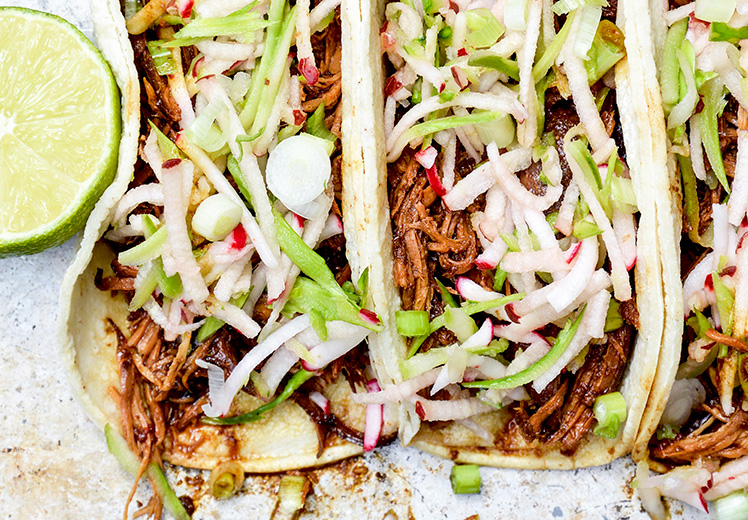 The chicken is cooked in the slow cooker until it's so tender that it basically falls apart with no effort. And you might recognize the hoisin-blackberry sauce from my shredded pork recipe. It's very similar. And as I'm finding out, very versatile too.
I firmly believe that tacos, like soups, are all about the toppings. So I made up a crunchy slaw with shredded broccoli stems (yeah, you know the part you usually throw away), radishes and apple. It's crisp, sweet and a little earthy. And it's the perfect pairing with some juicy, savory shredded chicken. I used the shredding attachment on my food processor to make the slaw. But you could certainly do it by hand on a traditional box grater, if you prefer.
Today I'm also bringing you Becky's seasonal produce guide for September. Make sure you study it and memorize it. There will be a quiz. Or you know, just download it to your phone or tablet so you have it at the ready while you're out shopping the grocery stores and markets. I see that pumpkin is on the list for this month, but I'm going to hold off on that until October. I just can't.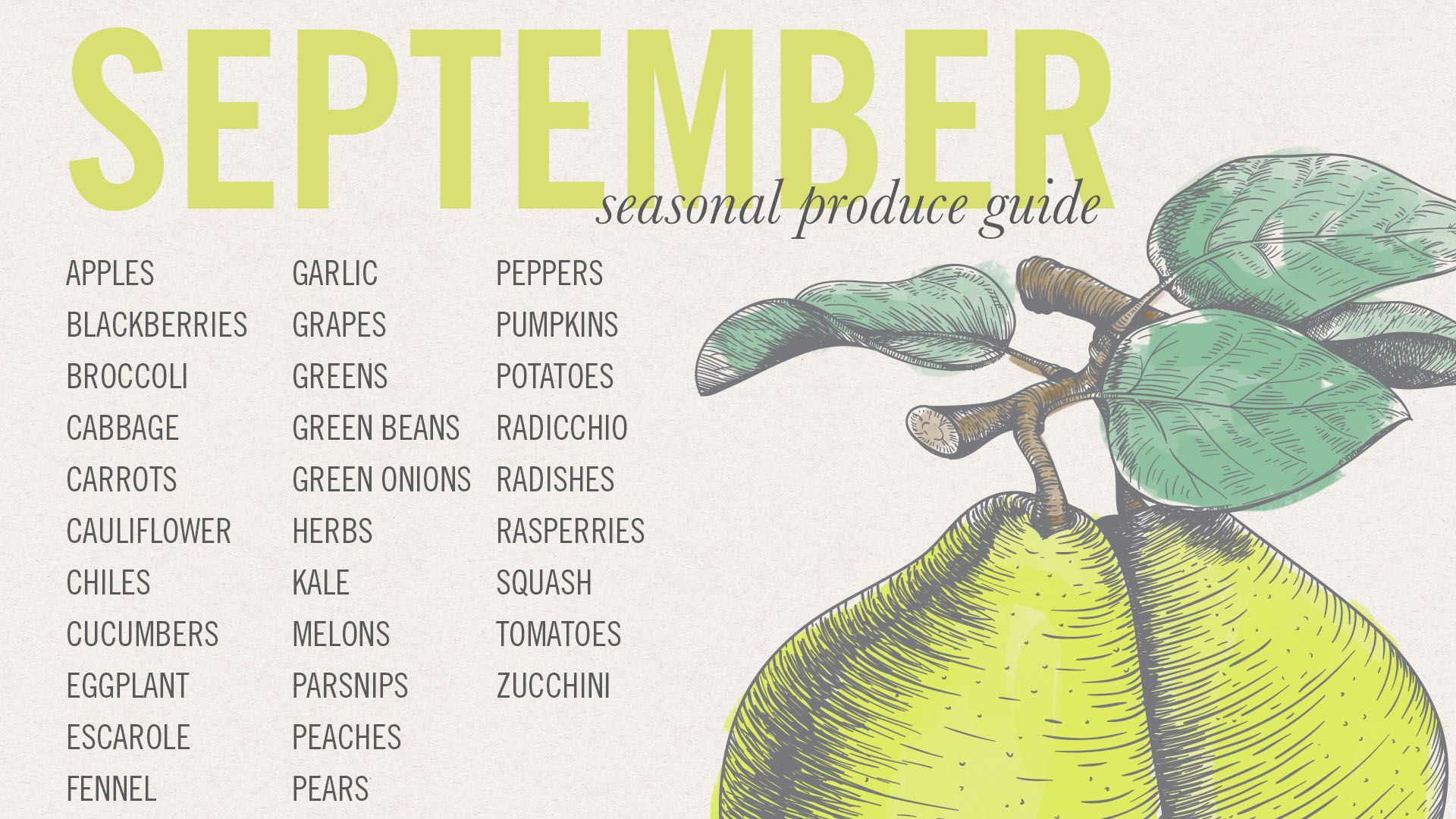 Be sure to check out what my blogging friends have whipped up this month using the September produce guide. And if you make something with any of these ingredients, give us a shout out on social media with the #eatseasonal hashtag so we can see what you've got!
Cheers,
Liz
Ingredients
For the Chicken
1 tablespoon extra-virgin olive oil
1 1/2 lbs bone-less, skin-less chicken breasts or thighs
1/4 cup hoisin sauce
1/4 cup blackberry preserves
1 tablespoon chipotle peppers in adobo sauce
1 tablespoon soy sauce

For the Slaw
1/2 cup shredded broccoli stems
1/2 cup shredded apple
1/2 cup shredded radish
Juice from 1/2 lime

For Serving
Corn or flour tortillas
Green onions, thinly sliced
Instructions
Prepare the chicken. Rub the chicken with the olive oil and place it in the insert of your slow cooker. In a small bowl, combine the hoisin sauce, blackberry preserves, chipotle peppers and soy sauce. Then pour this sauce over the chicken. Place the lid on your slow cooker. Cook on high for about 4 hours, or on low for about 7 hours. The chicken is done when the meat is extremely tender and falls apart easily.
When the chicken is done, use two forks to shred it into pieces. I do this right in the insert of my slow cooker. Allow the shredded chicken to rest in the accumulated juices from the slow cooker for about 10-15 minutes.
Meanwhile, toss the shredded broccoli, apple, radish and lime juice together in a bowl. Set aside.
Assemble the tacos. Warm the tortillas so they are soft and pliable, either in your microwave, oven or on the stove top in a skillet. Fill the warm tortillas with some of the shredded chicken. Then top with the slaw and a few sliced scallions. Serve immediately.
Any leftovers can be stored in an airtight container in your refrigerator for 2-3 days.
https://www.floatingkitchen.net/shredded-hoisin-blackberry-chicken-tacos-with-crunchy-slaw/
September Eat Seasonal Recipes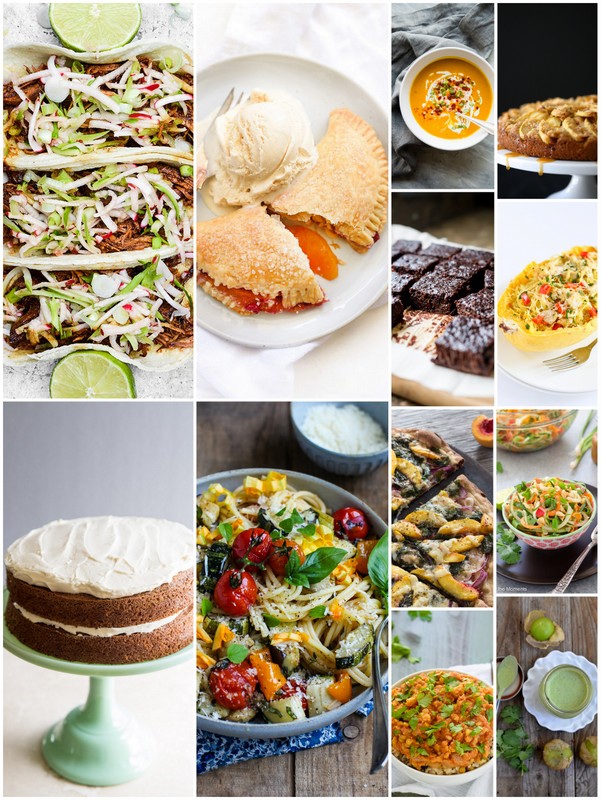 Raspberry Peach Hand Pies by Foodie Crush
Roasted Red Pepper and Sweet Potato Soup by Cafe Johnsonia
Pumpkin Apple Cake with Caramel Sauce by Climbing Grier Mountain
Zucchini Banana Brownies by Kitchen Confidante
Pesto Chicken Stuffed Spaghetti Squash by Cookin' Canuck
Classic Carrot Cake by Vintage Mixer
Easy Roasted Vegetable Spaghetti by Simple Bites
Peach and Arugula Pizza by Letty's Kitchen
Thai Carrot Cucumber Noodle Salad with Peanut Lime Dressing by Flavor the Moments
Slow Cooker Red Lentil Cauliflower Curry by Well Plated
Creamy Tomatillo Ranch Dressing by Mountain Mama Cooks