I'm putting the "green" back in green bean casserole!
Are you with me? I sure hope so. Because you know that traditional green bean casserole that everyone goes crazy for at Thanksgiving? Well, it's not really my thing.
Up until a couple years ago, I had never even actually tried it. It's not a dish that my family makes and serves. So it wasn't until I was older and out on my own that I had the opportunity to eat it at a Friendsgiving.
I must admit it was tasty. I did like it. And I might have even had two servings. Salty, creamy, fatty. What's not to love, right? But I don't think it will ever become a fixture on my Holiday table. I prefer my green beans super fresh and crunchy. Not covered in condensed soup.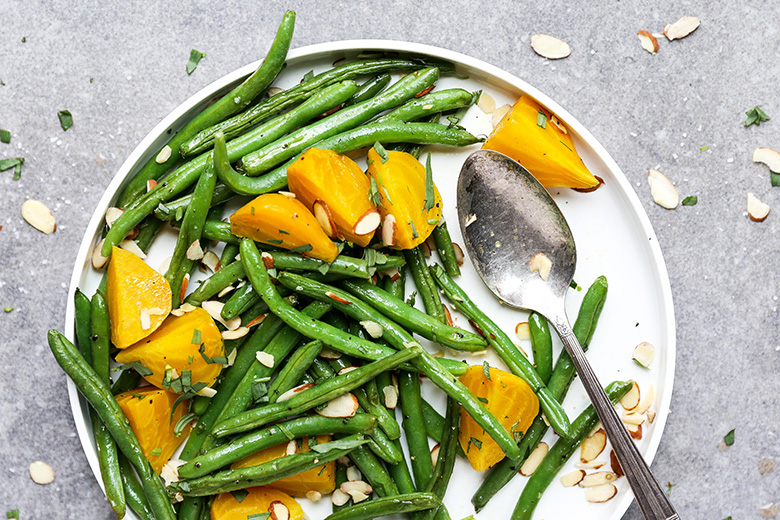 So today, I'm sharing this recipe for Green Beans and Golden Beets with Tarragon and Almonds. And my hope is that some of you out there on the internet might be feeling the same way as me about green bean casserole. And you might be itching for a lighter Thanksgiving side dish.
I love this recipe for the Holidays for a couple of different reasons. First, it's both vegan and gluten free, making it safe to eat for probably most of your dinner guests. Second, I think it's just as delicious served warm or at room temperature, taking some of the pressure off of timing out all your dishes perfectly. And third, you can do some of the prep work in advance (roasting the beets), saving you precious minutes on the big day.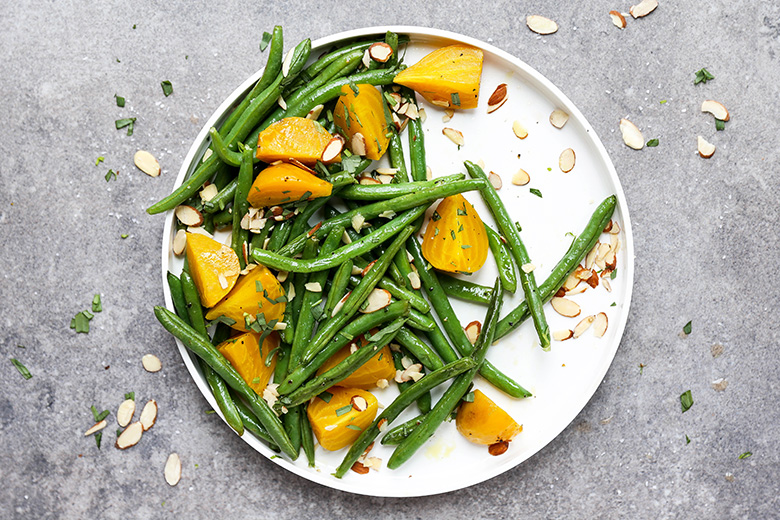 So the beets. Yes, they do take a long time to roast. But I like to roast them whole, because I think it preserves some of the brightness (both in terms of color and flavor) of the flesh. As I mentioned above, you can definitely do this part the night before. But wait to slice them until you're ready to serve the dish. You can use red beets, if you prefer, but I love the sunny, Fall-like hue of golden beets for Thanksgiving.
Cheers,
Liz
Ingredients
1 lb golden beets (medium sized), peeled and trimmed
2 tablespoons extra-virgin olive oil, divided
1 tsp. salt, divided
1 tsp. black pepper, divided
1 lb green beans
1/2 tablespoon red wine vinegar
1/4 cup sliced almonds
1-2 tablespoons fresh tarragon, roughly chopped
Instructions
Pre-heat your oven to 425 degrees.
Tear off a large piece of aluminum foil and fold it in half to double it. Add the beets to the aluminum foil, then drizzle them with 1 tablespoon of the olive oil and sprinkle with 1/2 tsp. each of the salt and black pepper. Fold up the edges of the aluminum foil to create a packet for the beets. Then place this packet in your pre-heated oven, directly on the oven rack. Roast the beets until they can be easily pierced with a small paring knife, about 50-60 minutes. Then carefully remove the packet from your oven and let the beets cool slightly. Once the beets are cool enough to handle, slice them into wedges.
Meanwhile, add the green beans to a large rimmed baking sheet. Toss with the remaining olive oil, salt and black pepper. Then roast in your pre-heated oven for 10-12 minutes. Remove and set aside.
Add the green beans and beets to a serving platter. Sprinkle with the red wine vinegar. Then top with the almonds and fresh tarragon. This dish can be enjoyed while still warm, or at room temperature.
Leftovers can be stored in an airtight container in your refrigerator for 2-3 days.
https://www.floatingkitchen.net/green-beans-and-golden-beets-with-tarragon-and-almonds/
SaveSave
SaveSave
SaveSaveSaveSave
SaveSave
This post was originally published here on November 10, 2014. It's one of my favorite Fall side dishes, so I thought it was about time to give the photographs and text a fresh look. Enjoy!
I mentioned in my last post that it's going to be full on Thanksgiving prep mode here on the blog for the next couple of weeks. So I hope you're ready for the onslaught of Holiday-inspired dishes that are going to be coming down the pipeline. And if you have any last minute suggestions or requests, please let me know. I still have a few more recipes to develop, and I'm open to your ideas! This space is as much about YOU as it is about me!
As for today, I'm re-visiting (and re-vamping!) this recipe for Roasted Delicata Squash with Pomegranate and Goat Cheese. Which might just be one of my favorite ways to prepare delicata squash EVER! And it's easy and festive enough for both Thanksgiving and Christmas. Sooo…I thought it was a blog post worthy of a makeover.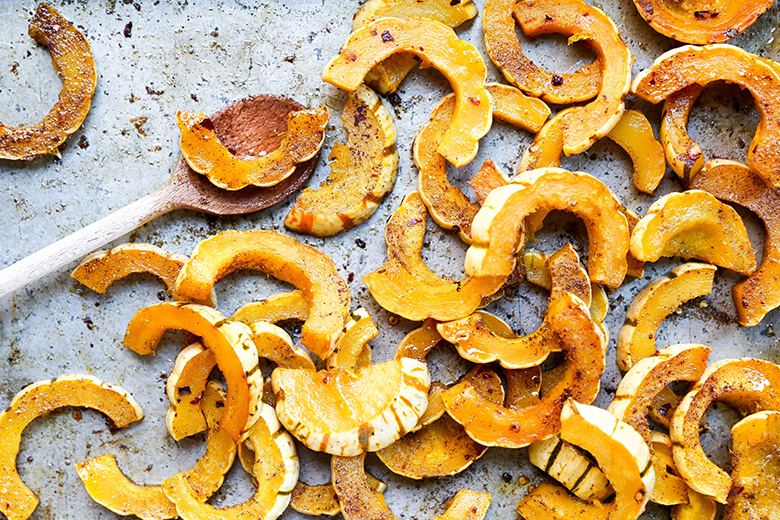 I use delicata squash very frequently this time of year, maybe even more than any other squash variety (yes, even more than butternut squash!). If you haven't given this oblong squash a try yet, I highly encourage you to do so. The flavor is mildly sweet and creamy. The flesh isn't as firm/dense as other squash varieties. And the skin is thin. It's both of these last two qualities that make delicata squash MUCH easier to cut and handle. Also, the skin is totally edible! Which means less work (no peeling!) and a very pretty presentation, too.
I love the using delicata squash halves as "bowls". And the sliced "half moon" shapes are great in salads or used as toppers for sandwiches, tacos, tostadas, etc.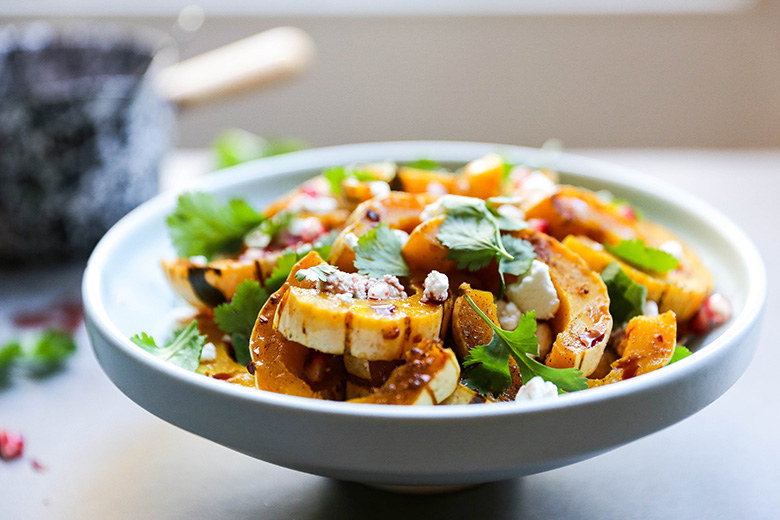 This Roasted Delicata Squash with Pomegranate and Goat Cheese is definitely a side dish you need to try out this Holiday season. The fragrant warming spices make it feel all cozy and festive. And of course, the color combination isn't half bad, either. It's a looker that also tastes amazing. What more could you ask for in a Holiday side dish?!?!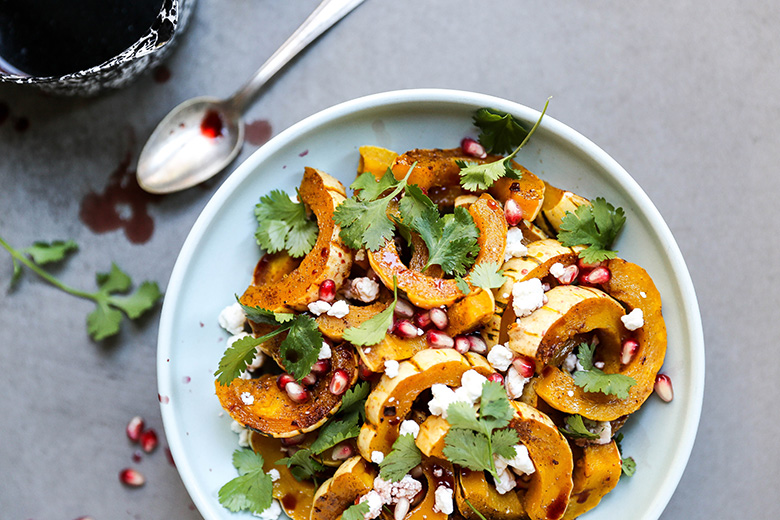 Need more November cooking inspiration? Then check out my friend Becky's monthly produce guide, which is filled with tons of recipe suggestions to help you take advantage of the bounty of fruits and vegetables that November has to offer. I know you'll find lots of goodies for your Holiday celebrations! And for even more ideas, check out the links below to see what seasonal recipes some of my blogging friends created this month!
Cheers,
Liz
Ingredients
For the Salad
3 delicata squash
2 tablespoons extra-virgin olive oil
1/2 tsp. salt
1/2 tsp. ground cinnamon
1/2 tsp. ground cardamom
1/4 tsp. red pepper flakes
1/2 cup goat cheese, crumbled
1/3 cup fresh cilantro leaves
Arils from 1/2 pomegranate

For the Pomegranate-Balsamic Dressing
1/2 cup pomegranate juice
1/4 cup balsamic vinegar
1 tablespoon maple syrup
Instructions
Pre-heat your oven to 400 degrees.
Slice the delicata squash in half lengthwise. Scrape out and discard the seeds. Then cut the squash into 1-inch half moons. Add the squash to a large baking pan and toss gently with the olive oil, salt, cinnamon, cardamom and red pepper flakes. Transfer to your pre-heated oven and bake for about 35 minutes, or until the squash is tender. Remove from the oven and set aside.
Meanwhile, combine all the ingredients for the dressing in a small saucepan over medium heat. Simmer for about 10 minutes, or until the dressing is reduced to about 1/3 of a cup. Remove from the heat and set aside.
To serve, arrange the roasted squash on a platter or in a large bowl. Top with the goat cheese, cilantro and pomegranate arils. Then drizzle with the dressing, starting with a couple of tablespoons and adding more, if desired. Serve immediately.
Leftovers can be stored in an airtight container in your refrigerator for 1-2 days.
https://www.floatingkitchen.net/roasted-squash-with-pomegranate-and-goat-cheese/
November Eat Seasonal Recipes
Shredded Brussels Sprout Apple Salad by Mountain Mama Cooks
Maple Cinnamon Roasted Sweet Potatoes by JoyFoodSunshine
Cornbread Stuffing with Apples and Pecans {with a gluten-free option} by Healthy Seasonal Recipes
Sweet Potato, Kale & Lentil Meal Prep Salads by She Likes Food
Vegan Shepherd's Pie with Savory Mushroom Gravy by Letty's Kitchen
Roasted Vegetable Chicken Soup by Vintage Mixer
SaveSave
SaveSave
SaveSave
SaveSave