If you haven't tried honeynut squash yet, make this year the year that you do so. These little gems are extremely tasty. And they have the cutest presentation EVER. They're perfect for the Holidays!
I'm sure you've seen honeynut squash in your grocery store by now. They're a fairly new-ish squash variety, but they've gained a lot of popularity in the last couple of years (I attribute this to their cuteness!). They look and taste almost exactly like a butternut squash, except they're about a third of the size and a bit sweeter, too.
You can prepare honeynut squash in any of the same ways that you prepare butternut squash. But when I look at them, I see a perfectly sized individual serving vessel. So I decided to turn them into "bowls" and created these Twice-Baked Honeynut Squash. They would be so cute for your Holiday table!
Have I mentioned that I think these are cute???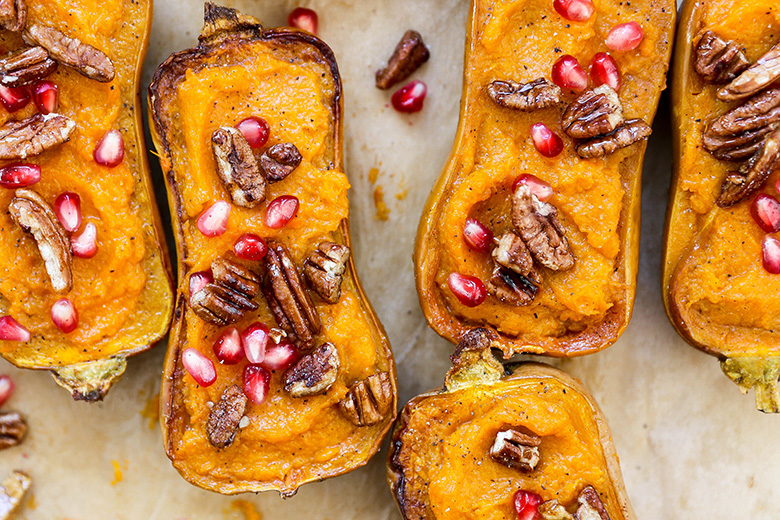 Start by roasting the honeynut squash halves until the flesh is soft and tender, being careful not to overcook them. We don't want the squash halves so soft that they collapse on themselves. This will only take 20-25 minutes.
Once roasted and cooled, scoop out the flesh and combine it with mascarpone cheese, maple syrup, cinnamon, salt and pepper. I like to use my electric beater to mash the filling, which makes it extra smooth and fluffy. But you can certainly do this part by hand.
Spoon the filling back into the squash halves and re-warm them in your oven before serving. I garnish these Twice-Baked Honeynut Squash with some maple syrup and cinnamon-flavored pecans and a few pomegranate arils. But any nuts (even granola) would be delicious for a bit of crunch. You could also use dried cranberries (or any dried fruit) instead of the pomegranate arils.
If you try my Twice-Baked Honeynut Squash this Holiday season, take a picture and show me how cute they turned out. I'd love to see them!
Cheers,
Liz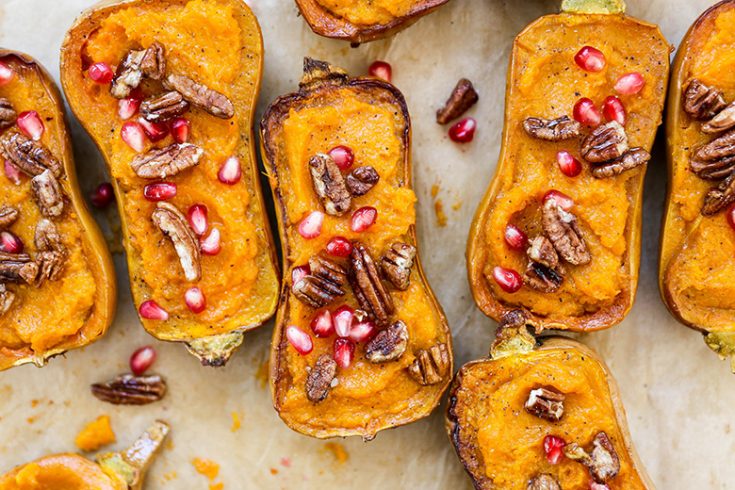 Twice-Baked Honeynut Squash
Yield: Makes 8 halves
Prep Time: 20 minutes
Cook Time: 35 minutes
Total Time: 55 minutes
Ingredients
For the Honeynut Squash:
4 honeynut squash
About 2 tablespoons extra-virgin olive oil
1 tsp. salt, divided
1 tsp. black pepper, divided
1/4 cup mascarpone cheese, softened at room temperature
1 1/2 tablespoons maple syrup
1/4 tsp. ground cinnamon
For the Pecans:
1/2 cup chopped pecans
1/4 tsp. salt
1/8 tsp. ground cinnamon
1 tablespoon maple syrup
For Finishing:
Instructions
Pre-heat your oven to 400 degrees. Line a large rimmed baking sheet with parchment paper and set aside.
Slice the honeynut squash in half lengthwise. Scoop out and discard and seeds and pulp. Then rub the flesh of each squash with a thin layer of olive oil and season with 1/2 tsp. each of the salt and black pepper.
Place the squash halves cut-side down on your prepared baking sheet and transfer to your pre-heated oven. Roast for 20-25 minutes. The flesh should be soft and browned in a few places.
Remove the baking sheet from your oven and set aside to cool slightly. Once the squash halves are cool enough to handle, gently flip them over and then scoop out the flesh, transferring it to a clean bowl. Be sure to leave a small border around the sides and the bottom of the squash halves. This will help them to maintain their shape.
Add the remaining salt and pepper, mascarpone cheese, maple syrup and cinnamon to the reserved squash flesh. Using a fork or an electric beater, mash the flesh while incorporating the other ingredients. Then spoon this filling mixture back into the squash halves.
Return the stuffed squash halves to your oven and bake for 10 minutes, or until warmed through.
Meanwhile, make the pecans. Place a dry skillet over medium heat. Add the pecans and cook, stirring occasionally, until they are fragrant and starting to brown, about 2 minutes. Stir in the salt and cinnamon. Then add the maple syrup and stir continuously for 1 minute to coat the pecans. Spread the pecans out on a piece of parchment paper and set aside to cool.
Transfer the stuffed squash halves to a serving plate. Top with the pecans and pomegranate arils. Enjoy immediately.