Are people still eating kale in the third week of January?
I think so. I hope so. But I'm not sure.
As you all know, my love for kale runs deep. I will happily eat those deep, dark greens every single day. But I also totally get that it's one of those ingredients that's not for everyone. People seem to either love it or they hate it.
EXCEPT at the start of a new year. When suddenly, the enthusiasm for kale skyrockets. Kale smoothies, kale soups, kale salads and more. Kale is everywhere you look.
So. I'm here today. Just three weeks into the new year. With this humble (but also very hearty) vegan, gluten free recipe for Baked Sweet Potatoes with Garlicky Kale and Almond Butter. Please tell me that you're still on board with this whole situation.
The inspiration for this recipe is two-fold. It started with a craving for my favorite Stuffed Sweet Potatoes with Chickpeas, Asparagus and Arugula. But with asparagus currently out of season, I wanted to find something else for the topping. Then I spotted my friend Sherrie's garlicky kale bowls, and I knew right away that her lightly sautéed kale (al dente, as she describes it) would be the perfect way to change things up.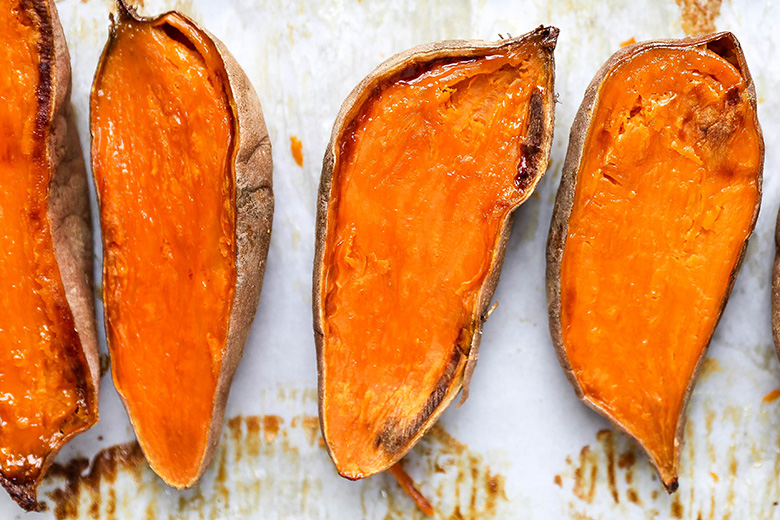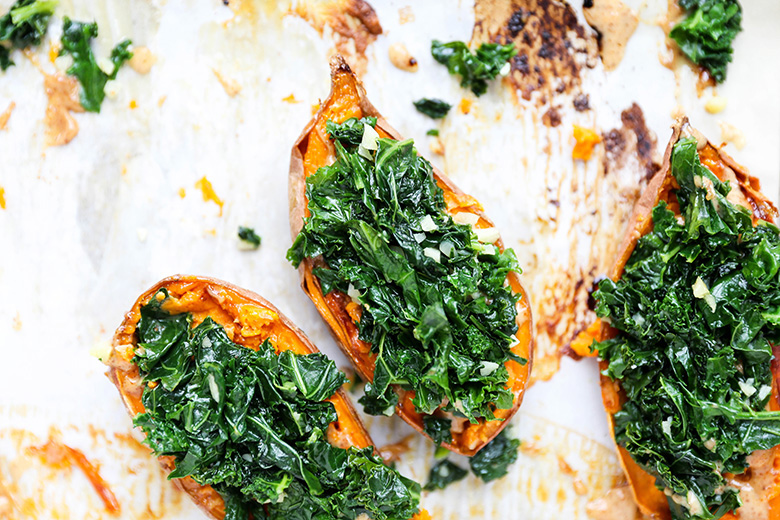 Off I went. Baking up sweet potatoes halves until they were soft. Gently cooking kale with olive oil and lots (lots!) of garlic. And whipping up a creamy almond butter-based dressing for drizzling. Because I'm all about the drizzle.
Kale never tasted so good.
I like to have these as a main meal. But they're also great as a side dish (particularly fabulous with a bowl of lentil soup). You could put a fried egg on top, if you're into that sort of thing. Or just relax and enjoy them as is.
Cheers,
Liz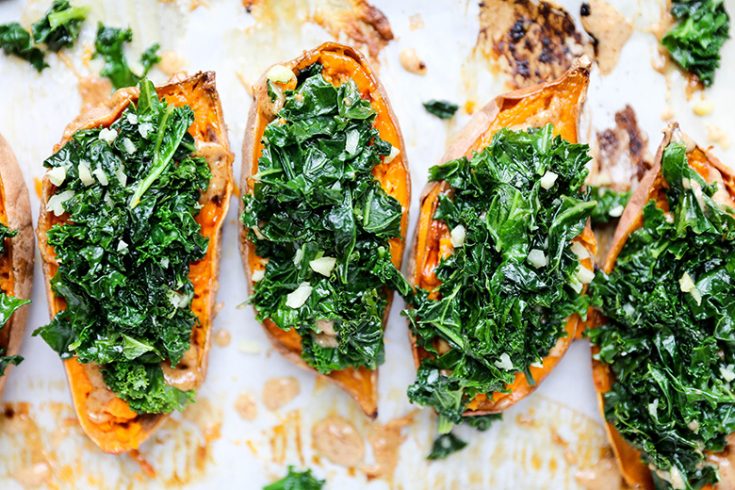 Baked Sweet Potatoes with Garlicky Kale and Almond Butter
Yield: 4 servings

Prep Time: 5 minutes

Cook Time: 50 minutes

Total Time: 55 minutes
Ingredients
For the Sweet Potatoes:
4 medium sweet potatoes, scrubbed and halved lengthwise
3 tablespoons extra-virgin olive oil
4 garlic cloves, peeled and minced
1 large bunch curly kale, leaves separated from stems and chopped
1/2 tsp. salt
For the Dressing:
2 tablespoons almond butter
2 tablespoons lemon juice
2 tablespoons maple syrup
1-2 tablespoons extra-virgin olive oil
Instructions
Pre-heat your oven to 425 degrees.
Line a rimmed baking sheet with parchment paper. Place the sweet potato halves cut-side down on the parchment paper. Then transfer them to your pre-heated oven and bake until soft, about 40-45 minutes. Remove the baking sheet from your oven and carefully flip the sweet potatoes over. Use a fork to loosen/break up the flesh slightly. Cover to keep warm and set aside.
Warm the olive oil in a large skillet over medium-high heat. Add the minced garlic and cook for 1-2 minutes. Then add the kale, tossing to coat it in the olive oil and garlic, and cook for 3-4 minutes. Sprinkle the salt over the kale as you stir it. Remove the skillet from the heat, cover to keep warm and set aside.
To make the dressing, stir together the almond butter, lemon juice, water and maple syrup in a small bowl until smooth. Then stir in enough extra-virgin olive oil to make the dressing thin enough to drizzle. Set aside.
To serve, drizzle some of the dressing over the baked sweet potatoes. Top with the garlicky kale and more dressing, if desired. Serve immediately.
SaveSave
SaveSave
SaveSave
SaveSave
SaveSave
SaveSave
SaveSave
SaveSave
SaveSave