This post was originally published here on December 12, 2013. I've since updated the photographs and text. I hope you try it out!
Talking about the weather always makes me feel old. Because it just seems like something that older people love to do. But jeez, we've had some wild weather here in New England this month. And I can't help but talk about it.
This January, we've experienced some of the most extreme weather I've seen in a long time. First, there was the bomb cyclone/blizzard, which buried us in snow and resulted in major coastal flooding and power outages across the region. Then we had a stretch of frigid temperatures, with the thermometer barely reaching above zero degrees for almost a whole week. And then magically, it was 50-60 degrees. And rainy. Like really rainy. Cue more coastal flooding. And now, we're back to living in the frozen tundra.
That's a lot of weather for two weeks. And frankly, I feel exhausted by the whole situation.
The only thing I seem to be able to do to soothe myself is to make an endless supply of comfort food.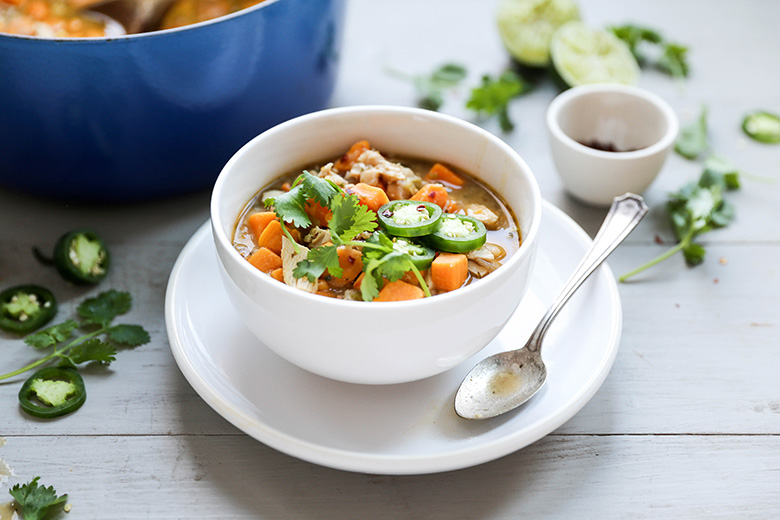 This White Bean Chili with Chicken and Sweet Potatoes has been a go-to Winter recipe of mine for many years now. I just love how quick and easy it is to make (it only takes about 40 minutes from start to finish). But it tastes like it's been simmering for hours. I use one of those rotisserie chickens from the grocery store (a favorite kitchen shortcut of mine, especially for soups), because the meat is always so tender and delicious. And then I load up the pot with fresh ginger, garlic, jalapeño peppers, cilantro and other spices for a major flavor explosion. Two cans of white beans, and a couple of sweet potatoes, make this chili stick-to-your-ribs good.
It's the perfect recipe for when you're experiencing some extreme weather. Or, you know, for when you're experiencing some extreme hunger pangs. Either way, I guarantee it will fill up your belly with warm, comforting deliciousness.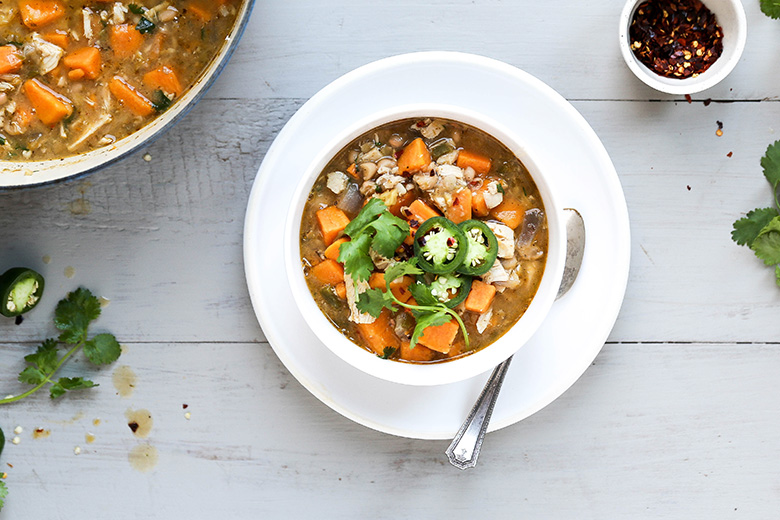 As it's written, the recipe for this White Bean Chili with Chicken and Sweet Potatoes is both dairy free and gluten free. But a sprinkle of cheese on top, or a slice of crusty bread on the side, is a good idea, if you're able to tolerate those things.
Cheers,
Liz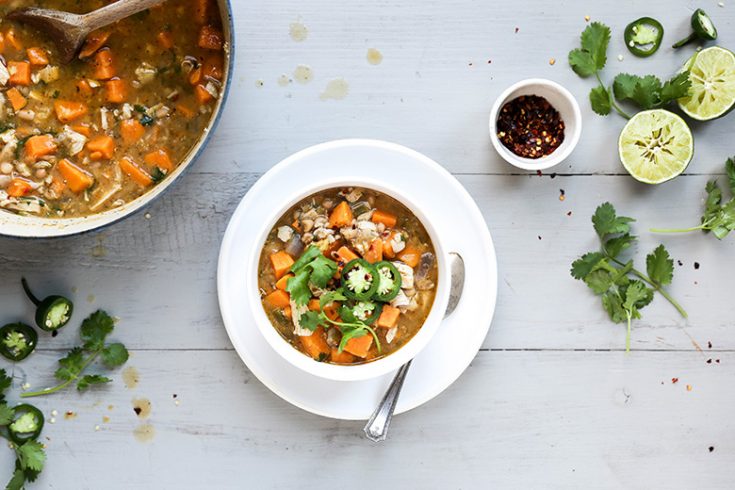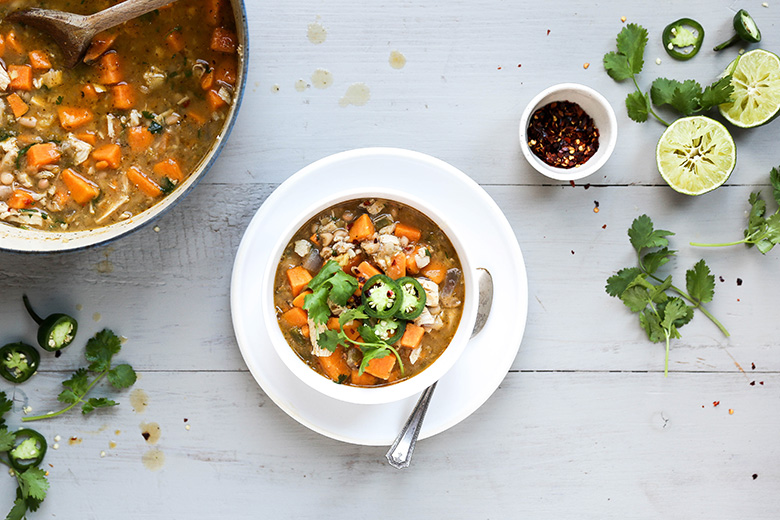 White Bean Chili with Chicken and Sweet Potatoes
Yield: About 6 servings

Prep Time: 10 minutes

Cook Time: 40 minutes

Total Time: 50 minutes
Ingredients
For the Soup:
2 tablespoons extra-virgin olive oil
1 medium red onion, peeled and chopped
2 jalapeño peppers, minced
2-inch piece fresh ginger, peeled and minced
4 garlic cloves, peeled and minced
2 medium sweet potatoes, peeled and cubed
2 tsp. dried oregano
1 tsp. ground cumin
1 tsp. chili powder
1/2 tsp. salt
1/4 tsp. red pepper flakes
2 (15-ounce) cans white beans, rinsed and drained
4 cups low-sodium chicken broth
4 cups cooked and shredded chicken
1/4 cup fresh cilantro, roughly chopped
Juice from 1 lime
For Topping:
Fresh cilantro, roughly chopped
Sliced jalapeño peppers
Red pepper flakes
Instructions
In a large heavy-bottom pot, heat the olive oil over medium-high heat. Add the chopped red onion and sauté for 2-3 minutes, stirring frequently. Add the jalapeño peppers, ginger and garlic and sauté another 1-2 minutes, until fragrant. Then add the sweet potatoes, oregano, cumin, chili powder, salt and red pepper flakes, stirring to coat the vegetables in the spices. Stir in the white beans and chicken broth.
Cover the pot with a lid and bring the chili to a boil. Then turn down the heat to maintain a simmer and cook, covered, for about 25-30 minutes, or until the sweet potatoes are tender. Stir in the shredded chicken, cilantro and lime juice and cook until the chicken is warmed through, about 5 minutes.
To serve, ladle the hot chili into bowls and top with additional cilantro, jalapeño peppers and red pepper flakes, if desired. Enjoy immediately.
Leftovers can be stored in an airtight container in the refrigerator for 2-3 days.
SaveSave
SaveSave
SaveSaveSaveSave
SaveSave
SaveSave
SaveSave
SaveSave
SaveSave
SaveSave
SaveSave
SaveSave
SaveSave
SaveSave
SaveSave