Hi Friends! And welcome to another installment of 30 Minute Thursday.
Have you been following along with the other posts in our series? If not, you can catch up on all the past deliciousness here and here. It's never too late! And you can always take a peak at the hashtag #30MinuteThursday on social media to see what we're cooking up.
I'm always a big fan of quick and easy dinners, but this week I REALLY need them. Because daylight savings is totally sucking the life out of me. I feel like I can't even function anymore once it's dark outside. I just want to get in my pajamas and drink wine. It's hard to muster up enough energy to cook dinner when it's pitch black before 5pm. Ugh. I hate it!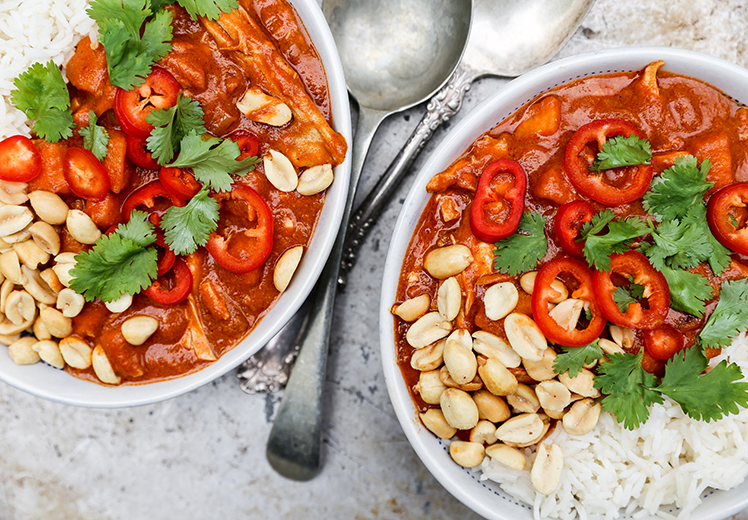 So this African Peanut Stew with Chicken and Sweet Potatoes is just what the doctor ordered. I know you're probably thinking it's next to impossible to make a rich, flavorful stew in 30 minutes. But I'm here to tell you that it's totally doable thanks to one of my favorite kitchen shortcuts: a rotisserie chicken from the grocery store. Those things are magical. Embrace them.
Also, make sure you use a nice big pot for increased surface area and faster cooking. It totally makes a difference.
This stew is satisfying enough all on it's own. But I like to serve it over rice to make it extra hearty. You can cook up the rice while the stew is cooking. But day old rice is great here too!
Cheers,
Liz
Ingredients
For the Stew
2 tablespoons vegetable oil
1 cup diced onions
2 cups peeled and diced sweet potatoes
1 tablespoon minced fresh ginger
2 garlic cloves, peeled and minced
6 ounces tomato paste
1/2 tsp. ground coriander
1/2 tsp. ground cumin
1/4 tsp. salt
1/4. tsp. cayenne pepper
4 cups chicken stock
1/2 cup peanut butter
3 cups cooked shredded chicken

For Serving
Cooked rice
Fresh cilantro, roughly chopped
Sliced peppers (either hot or mild)
Peanuts
Instructions
Warm the vegetable oil in a large pot over medium-high heat. Add the onions and sweet potatoes and cook for 5 minutes, stirring occasionally. Add the ginger, garlic, tomato paste and spices. Cook for 2 minutes, stirring constantly. Add the chicken stock and peanut butter. Bring the stew to a low boil. Cook, uncovered, for 10 minutes, stirring occasionally to prevent the stew from scorching at the bottom and to help incorporate the peanut butter. Stir in the shredded chicken. Remove the stew from the heat and set aside.
The stew can be served alone. Or you can ladle it over warm rice. Top with fresh cilantro, peppers and peanuts. Enjoy immediately.
Leftovers can be store in an airtight container in your refrigerator for 2-3 days.
https://www.floatingkitchen.net/african-peanut-stew-with-chicken-and-sweet-potatoes/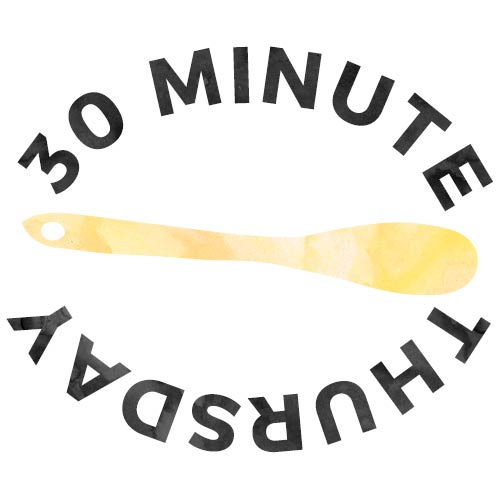 Honey Garlic Salmon and Vegetables Sheet Pan Dinner by Kristine's Kitchen
Easy Cream of Mushroom Soup by Pumpkin 'N Spice
30 Minute Lighter Stovetop Turkey Tetrazzini by Savory Nothings
Maple Ginger Cashew Stir Fry by Sweet Peas & Saffron
30-Minute Pork Chops with Creamy Bourbon Mushroom Sauce by Flavor the Moments
Pizza Polenta Bowls by She Likes Food
Gnocchi with Turkey and White Beans by My Kitchen Craze
Pumpkin Sausage Alfredo Penne by Whole and Heavenly Oven
Easy Chicken Lo Mein by Life Made Sweeter
Easy Beef and Broccoli by Bake. Eat. Repeat.
Pizza Pitas by The Recipe Rebel