This is what I call "transition risotto". It's full of summery goodness (basil! corn!). But it also has a bit of a comfort food vibe going on (cheese! carbohydrates!). It's a great weeknight meal that can be enjoyed RIGHT NOW!
Also, it's BAKED!
Sorry for all the yelling and exclamation points. But baked risotto is a total game changer. No epic stir-a-thons. And all you need is one single pot. And did I mention that you can have it all done in just about 30 minutes? Well, you can.
Sounds pretty great, right? Yeah. That's what me and some of my blogging friends thought too. So we're starting a new series called 30 Minute Thursday. The first Thursday of every month we're going to post some easy weeknight meals that you can get done in 30 minutes or less. Yahoo!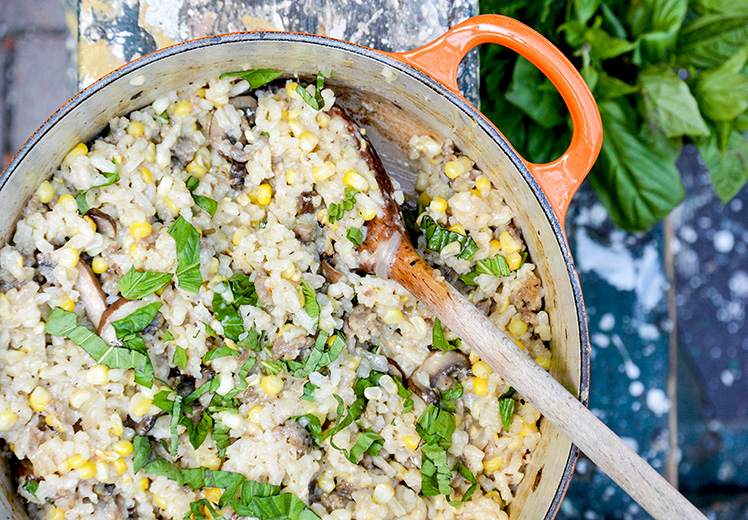 I'm excited to be able to bring you guys this new series. And I'm also excited for myself too. Because admittedly, I don't really have my act together when it comes to making dinner. I'm usually just plowing through some leftovers from my afternoon photo shoot(s). Or eating other randomness from my refrigerator. This past Tuesday night I had an English muffins with peanut butter, raw broccoli and a glass of champagne for dinner. Don't be jealous. HA!
So I desperately need more delicious, quick meals in my arsenal.
Be sure to check out all the links below to see what my friends cooked up. And if you make my Baked Corn, Mushroom and Sausage Risotto, or any of the other recipes from our 30 Minute Thursday series, be sure to give us a shout out on social media and tag your creations #30MinuteThursday so we can see 'em!
Cheers,
Liz
Recipe adapted from my Baked Spring Vegetable Risotto
Ingredients
3 tablespoons extra-virgin olive oil, divided
1/2 lb ground pork sausage (I used sweet Italian sausage)
8 ounces button mushrooms, sliced
1/2 cup diced onion
3 ears corn, husk and silks removed, kernels sliced off
1/2 tsp. salt
1/2 tsp. black pepper
1/2 cup white wine
3 1/4 cups low-sodium chicken or vegetable broth
1 cup Arborio rice
1/2 cup grated Parmesan cheese
1/2 cup fresh basil leaves, sliced
Instructions
Pre-heat your oven to 425 degrees.
In a medium oven-proof pot with a tight filling lid, heat 1 tablespoon of the olive oil over medium-high heat. Add the sausage and cook, breaking it up into smaller pieces with a wooden spoon, for about 5 minutes or until it's no longer pink. Remove the sausage from the pot and transfer it to a paper towel lined plate. Set aside.
Add another tablespoon of olive oil to the pot. Add the mushrooms and diced onion and cook, stirring frequently, until softened, about 5 minutes. If the pot is getting dry at any point, add another tablespoon of the olive oil. Stir in the corn kernels, salt and pepper and cook for an additional 1-2 minutes. Add the white wine and cook, scraping the bottom of the pot, until the wine is almost evaporated, about 2-3 minutes. Stir in the broth and Arborio rice. Bring everything to a boil, then cover the pot and transfer it to your pre-heated oven. Cook for 20-22 minutes.
Remove the pot from the oven and carefully remove the lid. Stir in the cooked sausage, Parmesan cheese and basil.
Serve warm with additional Parmesan cheese and fresh basil for topping, if desired.
Leftovers can be stored in an airtight container in the refrigerator for 2-3 days.
https://www.floatingkitchen.net/baked-corn-mushroom-and-sausage-risotto/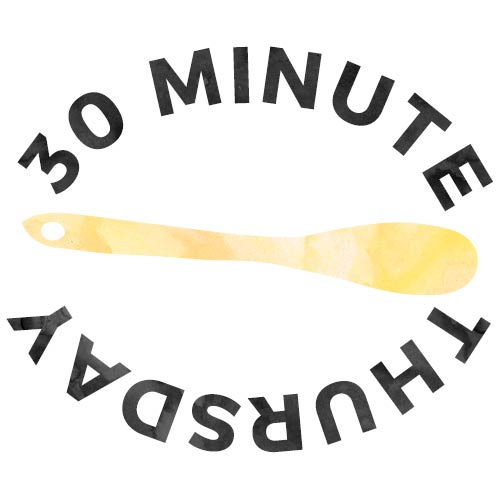 One Pot Chicken Chow Mein from The Recipe Rebel
Honey Garlic Shrimp and Cilantro Lime Rice Bowl from Pumpkin 'N Spice
Easy Skinny Skillet Lasagna from Life Made Sweeter
Kale Caesar Salad with Lemon Parmesan Chicken Strips from Sweet Peas and Saffron
30-Minute Summer Vegetable Tostadas from She Likes Food
Stovetop Broccoli Chicken Mac 'n' Cheese from Whole and Heavenly Oven
Spicy Chili Garlic Grilled Trout from Bake.Eat.Repeat
30-Minute Creamy Pesto Tortellini Skillet from Flavor the Moments
Crunchy Couscous Sweet Potato Salad from Sweet and Delish
30-Minute Chicken Cacciatore from A Latte Food
Pumpkin Penne with Sausage and Sage from Flying on Jess Fuel
30 Minute Smoked Turkey Sausage Tortellini from Mariah's Pleasing Plates
BBQ Chicken Sliders with Cheddar and Spinach from Kristine's Kitchen
Roasted Cauliflower and Hazelnut Spaghetti from Savory Nothings