This is the only way I can accurately describe how cold it was here on Sunday. Are you ready. OK. Here it is.
Holy shit!!!!!!!!!!!!!!!!!!!!!!!!!!!!!!!!!!!!!!!!!!!!!!!!!!!!!!!!!!!!!!!
Yeah. It was that bad. We had sub-zero temperatures for a good portion of the day and a nice little breeze to really seal the deal. Fun times.
So needless to say, I stayed inside most of the day. You know, because frostbite wasn't on my "to-do" list for this weekend.
But homemade pizza was definitely (and is indefinitely!) on my to-do list.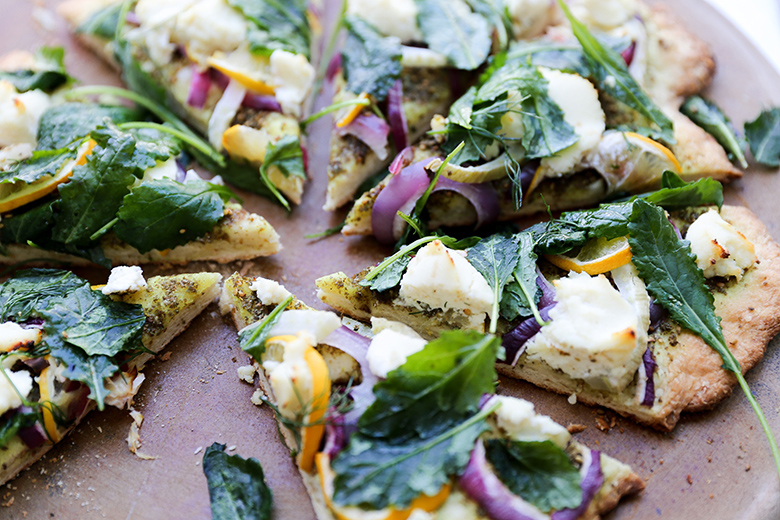 A basic margarita pizza will probably forever be my favorite. But it's fun to play with different flavor combinations every once in a while. I had some za'atar, which is a blend of herbs and spices frequently used in Middle Eastern cooking, that I need to use up. And that became the jumping off point that inspired this Middle Eastern Pizza with Red Onion, Fennel, Lemon, Ricotta and Kale. I love how all these unique pizza toppings come together to create something really fresh and flavorful. And it's nice to take a little break from the more traditional tomato sauce base, too.
The crust recipe is one that I've used before, and it makes an appearance in my grilled lobster pizza. It's a 5-minute, no-knead pizza crust recipe that results in something that isn't quite a flatbread style, but also isn't as chewy and "doughy" as a traditional pizza crust. It's somewhere in the middle. If that doesn't sound like your thing, you can substitute it for your favorite pizza dough recipe.
Cheers,
Liz
Ingredients
For the Pizza Dough
3 cups all-purpose flour, divided
1 package (2 1/4 tsp.) active dry yeast
1 tablespoon sugar
1 tsp. salt
1/2 tsp. za'atar
1 cup water
4 tablespoons extra-virgin olive oil, divided

For the Toppings
2 tablespoons za'atar
About 1/2 cup thinly sliced red onion
About 1/2 cup thinly sliced fennel (reserve a few fronds)
1/2 Meyer lemon, thinly sliced and seeds removed
1 cup ricotta cheese
1 cup loosely packed baby kale leaves (can substitute arugula)
Extra-virgin olive oil and balsamic vinegar
Instructions
Pre-heat your oven to 425 degrees. If you're using a pizza stone, warm it in your oven as the oven pre-heats. If you're using a baking sheet, dust it lightly with cornmeal and set it aside (no need to pre-heat it).
Make the pizza dough. In a large bowl, mix together 1 cup of the flour, the yeast, sugar, salt and za'atar. In a microwave-safe measuring cup, warm the water and 2 tablespoons of the olive oil until the liquid reaches 100-110 degrees Fahrenheit. Then pour this warmed liquid over the dry ingredients, stirring with a wooden spoon until the mixture is smooth. Add the remaining 2 cups of flour and stir until the flour is almost fully incorporated. The dough will be a little shaggy at this point. Dump the dough out onto a floured counter top and use your hands to bring the dough together, kneading it a couple times and shaping it into a ball. Then press the dough out into a circle until the dough is approximately 1/4- to 1/2-inch thick. Transfer the dough to your warmed pizza stone or baking sheet. Brush the surface of the dough with the remaining two tablespoons of olive oil.
Sprinkle the za'atar evenly over the surface of the dough. Top with the sliced red onions, fennel and lemon. Then drop spoonfuls of the ricotta cheese over the toppings. Transfer the pizza to your pre-heated oven and bake for 16-18 minutes, until the crust has started to brown around the edges. Remove the pizza from the oven and set it aside.
In a small bowl, toss the kale and a few reserved fennel fronds with just enough olive oil and balsamic vinegar to lightly coat the leaves. Then add the greens to the top of the pizza. Slice and serve immediately.
https://www.floatingkitchen.net/middle-eastern-pizza-with-red-onion-fennel-lemon-ricotta-and-kale/