This post was originally published here May 21, 2014. I've adjusted the recipe slightly and updated the text and photographs to reflect those changes.
Goodbye 2019. I'm not sad to see you go.
And it's not because I think 2019 was the worst year ever. Yes, it did royally suck at times. There were many days (more days than I'd care to admit to on this blog) that were filled with uncertainty and pain.
But there was also a lot of good. I grew my business. Traveled to new places. Nurtured friendships. And supported my community.
Like I said. Not the worst year of my life. But still, I'm finding myself anxious to turn the calendar. I'm that person who loves Mondays because it's the start of a new week ( = so fresh!). So you can imagine my anticipation at the start of a new decade. It's pretty major.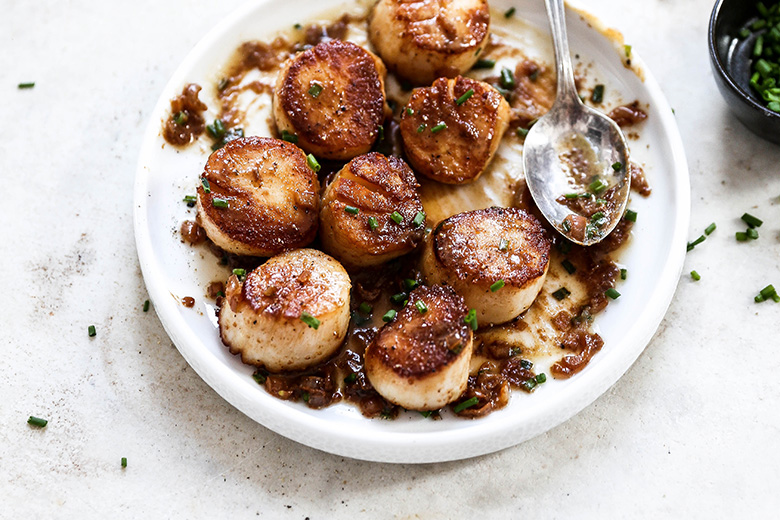 It seems fitting to head into 2020 with a little bit of style and class. So today I'm talking about these Easy Pan-Seared Scallops with Shallots and White Wine Reduction. A crowd pleasing, no-fail recipe that every home cook should memorize and master. This is a dish I know you will make over and over again!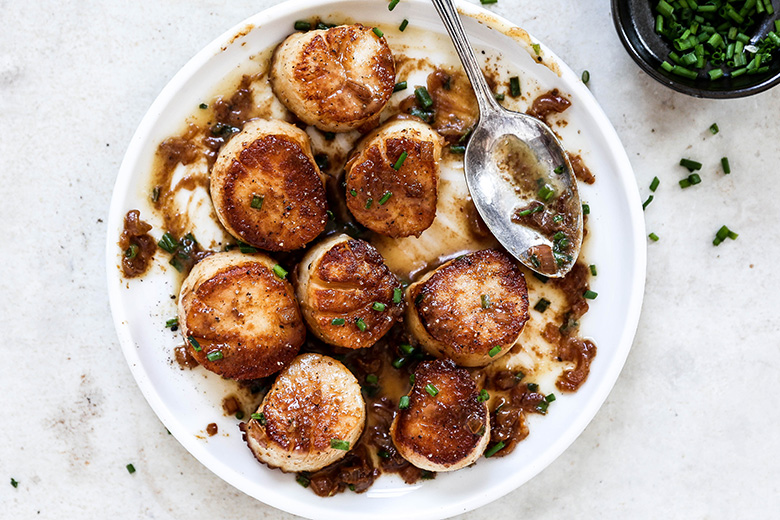 But to start, you need to make sure you're purchasing the right scallops for the job. First, you want to look for sea scallops, which are the larger of the two varieties that are commonly available (the other being bay scallops). And second, you'll want to determine whether the scallops are being sold "wet" or "dry", and purchase "dry" scallops whenever possible. The fastest and easiest way to do this is to ask the person at the fish counter. But there are also a couple signs you can look for. Wet scallops are usually a bright, snowy white color. While dry scallops have more of a natural off-white color. So why do we care? Wet scallops have been treated with a phosphate solution, which causes them to absorb water. This is done to preserve them and to keep them from drying out during transport. Sounds good, right? Nope. This treatment makes them less flavorful, artificially inflates their price because we purchase scallops by weight, and makes it almost impossible to achieve a beautifully seared crust.
And it's all about the crust, baby!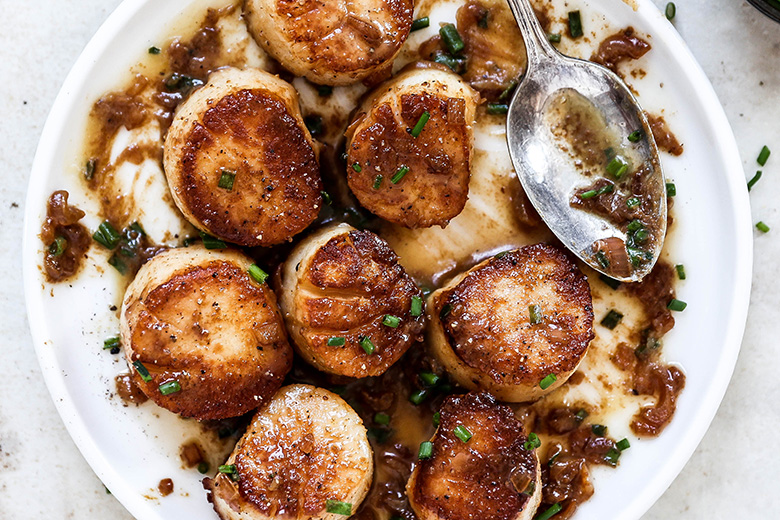 After all that, the rest is easy. A quick sear on both sides. And an equally quick reduction. And you'll be savoring restaurant-quality scallops at home in no time!
Enjoy them over grains, pasta or a big salad for a fabulous dinner. Or serve them as an appetizer over a few microgreens. You can't go wrong!
Cheers,
Liz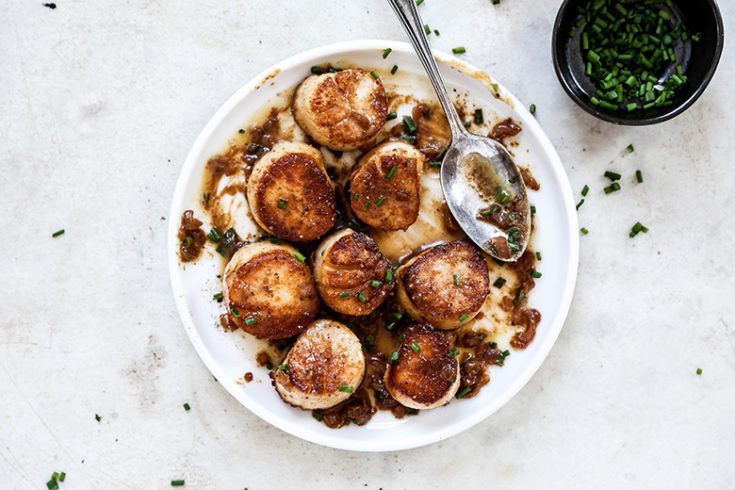 Easy Pan-Seared Scallops with Shallots and White Wine Reduction
Yield: Serves 2-4
Prep Time: 5 minutes
Cook Time: 10 minutes
Total Time: 15 minutes
Ingredients
12 sea scallops
Salt
Black pepper
1 1/2 tablespoons vegetable oil, divided
2 tablespoons peeled and minced shallot
1/4 cup white wine
2 tablespoons minced chives, divided
1 tablespoon unsalted butter, cut up
1/2 tsp. Dijon mustard
Instructions
Remove and discard the small side muscle from the scallops. Then rinse the scallops briefly under cold water and pat them dry with a paper towel. Season with salt and black pepper.
Heat a medium skillet over medium-high heat. Add 1 tablespoon of the vegetable oil and let it get hot. Then add the scallops and let them cook undisturbed for 2-3 minutes, or until they are well browned on the first side and release easily from the skillet. Flip them over and cook them on the second side for about 2 minutes. Remove the scallops from the skillet and place them on a clean plate. Cover loosely with aluminum foil and set aside.
Turn the heat down to low-medium and add the remaining 1/2 tablespoon of vegetable oil and the minced shallots. Cook the shallots, stirring occasionally, for 1-2 minutes. Add the white wine and cook for 1-2 minutes more, scraping up any browned bits from the surface of the skillet with a wooden spoon.
Add 1 tablespoon of the chives along with the butter and mustard. Stir until everything is well incorporated and the sauce is smooth. Remove the skillet from the heat and add back the scallops, turning to coat them in the sauce.
Transfer the scallops and sauce to serving dishes. Top with the remaining chives. Enjoy immediately.