Disclosure: This post is sponsored by Sequoia Grove. All opinions are my own. Thank you for supporting brands and companies that help to keep my kitchen running!
The current state of the internet is as follows:
(1) Cookie recipes
(2) Candy recipes
(3) Cake recipes
(4) Cat videos
And that's about it, as far as I can tell.
Not that I'm really complaining. I mean, who doesn't love noshing on a plate of Christmas cookies all while being entertained by funny animal videos?
And I'm even guilty of contributing to this never-ending stream of sweets myself. But can you blame me? It is the season for Holiday baking, after all. How could I not braid bread and drizzle chocolate until my heart's content?
But then I thought, for just a brief moment in time, it would be nice to take a little walk on the savory side of things. So today, I'm bringing you these Scallops and Mushrooms in White Wine Sauce over Crème Fraîche Polenta. If you've been searching for a special (but still EASY) Christmas dinner (or fast forward to Valentine's Day!), then this recipe is totally for you!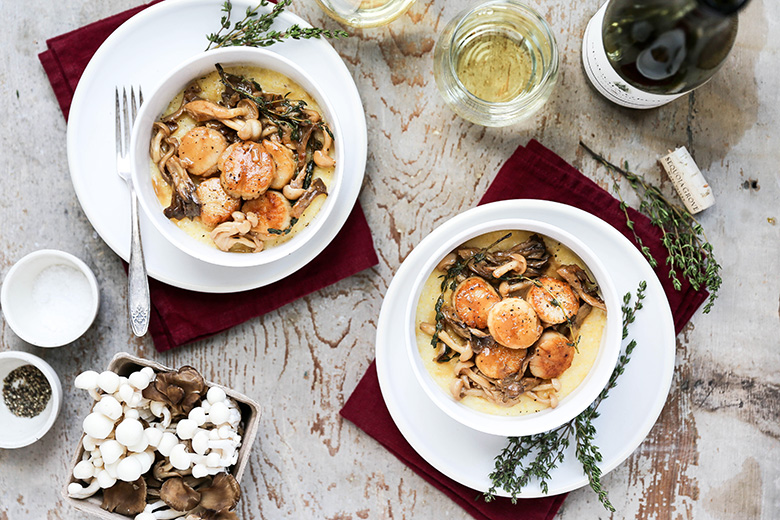 I find a lot of people are intimidated by the thought of cooking scallops, but honestly, they couldn't be any easier to prepare. The take only a couple of minutes to cook (be sure to dry them well to guarantee you get the perfect sear!). And even with minimal accoutrements (salt, pepper and oil), they are still a delicious addition to any meal. But since I've got my sights set on Holiday meal planning, I went a little bit fancier and dressed these babies up with sautéed mushrooms, shallots, fresh thyme and a luscious white wine sauce. And then I served them over some incredibly rich, soft polenta that's made totally over-the-top yummy with crème fraîche. Seriously to die for.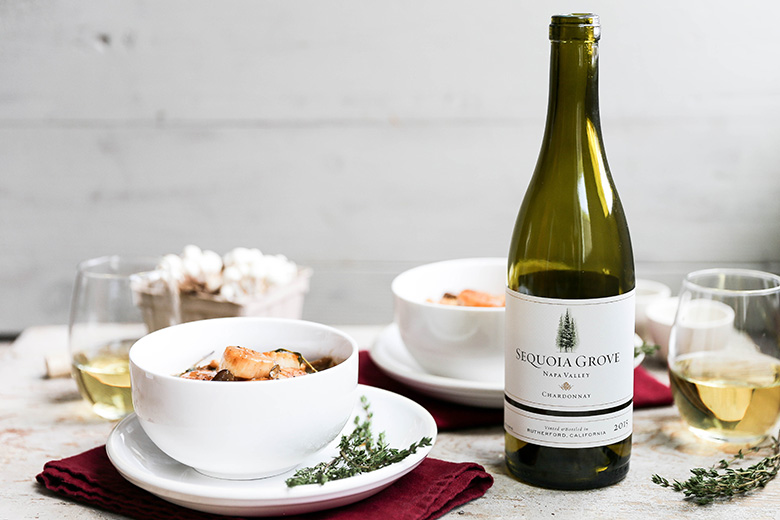 Today, I've partnered with Sequoia Grove to create and bring you the recipe for these Scallops and Mushrooms in White Wine Sauce over Crème Fraîche Polenta. Founded in 1979, Sequoia Grove is family-owned winery located in the heart of Rutherford, Napa Valley. A "hidden gem among the giants", Sequoia Grove is known for their world-class Cabernet Sauvignon and many other fine, well-balanced Napa Valley wines that showcase pure varietal character. Their elegant wines are great for sipping. And also for cooking.
Yes, that's right. Cooking. Because the days of cooking with bad wine(s) are over and done with. Just don't do it. It's not worth it. I ALWAYS recommend cooking with a wine that you absolutely love to drink, because you'll end up with a superior eating experience when you do. And since I do love to enjoy a glass (or two!) of Sequoia Grove Chardonnay in the evenings, I knew it would be the perfect white wine to use to make the sauce for these scallops and mushrooms.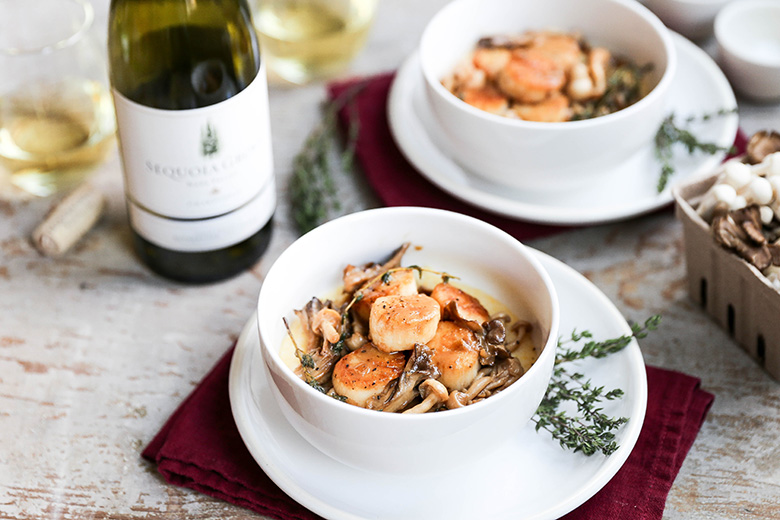 And of course, it's the perfect wine to serve along-side dinner once it's all plated and ready to be devoured. So have your glasses at the ready!
You can shop for Sequoia Grove wines online, or check out their store locator to find a retailer near you!
Cheers,
Liz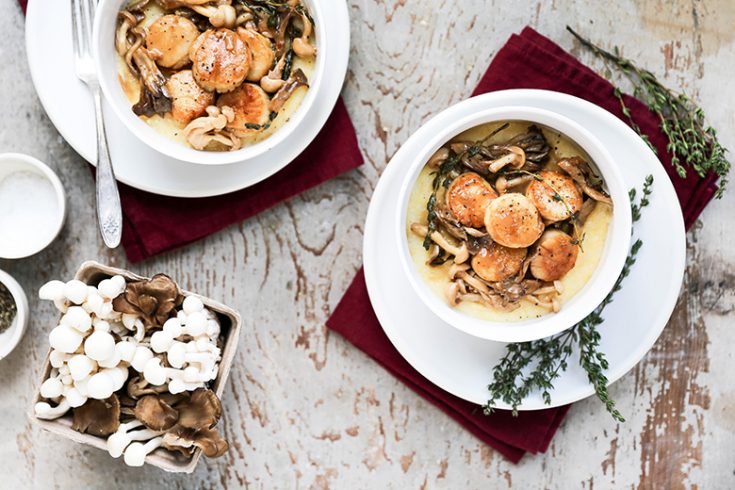 Scallops and Mushrooms in White Wine Sauce over Crème Fraîche Polenta
Yield: 2 servings

Prep Time: 10 minutes

Cook Time: 30 minutes

Total Time: 40 minutes
Ingredients
For the Polenta:
2 cups water
1/2 cup polenta
1/4 cup crème fraîche
1/2 tsp. salt
About 1/4 cup milk
For the Scallops:
8-10 sea scallops
Salt and black pepper
1-2 tablespoons vegetable oil
2 tablespoons butter
1 cup mushrooms, sliced or torn (I used a combination of maitake and white beech)
1/4 cup diced shallot
A couple sprigs fresh thyme
1/2 cup Sequoia Grove Chardonnay
1 tsp. Dijon mustard
Instructions
To make the polenta, start by bringing the water to a boil in a heavy bottom saucepan. Then slowly whisk in the polenta, turning down the heat to maintain a simmer. Cook the polenta for about 15-18 minutes, whisking it frequently so it doesn't burn on the bottom of the saucepan, until it's thickened and the water is absorbed. Then whisk in the crème fraîche and salt. Remove the saucepan from the heat and whisk in enough milk to thin the polenta to your desired consistency. Cover to keep warm.
Meanwhile, use a paper towel to pat the scallops dry on all sides. Season with salt and black pepper.
Heat the oil in a large non-stick skillet over medium-high heat. Once the oil is very hot, add the scallops in a single layer, spaced about 1-inch apart. Cook the scallops for about 2 minutes, or until they release easily from the skillet and are well browned on the first side. Then flip them over and cook for about 2 minutes on the second side. Remove the skillet from the heat and transfer the scallops to a clean plate, covering them loosely with a piece of aluminum foil.
Turn the heat down to low-medium and return the same skillet to your stovetop. Add the butter and once it's melted add the mushrooms, shallots and fresh thyme. Cook, stirring occasionally, for about 4-5 minutes, or until the mushroom and shallots are softened. Stir in the Chardonnay and Dijon mustard and let the sauce simmer for 1-2 minutes. Then return the scallops to the skillet to re-warm them, turning to coat them in the sauce.
To serve, divide the polenta evenly between two bowls. Then top with the scallops and mushrooms, making sure to spoon some of the sauce over the top. Enjoy immediately.
SaveSave
SaveSave
SaveSaveSaveSave
SaveSave
SaveSave
SaveSave
SaveSave
SaveSave
SaveSave
SaveSave