Exactly one week until Thanksgiving!!!
Yay! I'm so excited. Thanksgiving is like my Christmas. I feel like a little kid again. All wide-eyed and giddy, anxiously waiting for the turkey to shimmy down the chimney and bring me delicious presents.
Wouldn't that be a sight?!?!
This is actually going to be my last blog post before the Holiday. I'll be busy over the next several days preparing for Thanksgiving in real life. And I also kind of figured that you guys mostly have your menus set at this point in the game. But I will be sharing some new and old content over on Instagram and Facebook, so make sure to come say "hi" to me over there when you get a chance. And feel free to reach out with any last minute Thanksgiving-related questions. I'm happy to help if I can!
In the meantime, let's get down with this Ginger Cranberry Sauce with Riesling.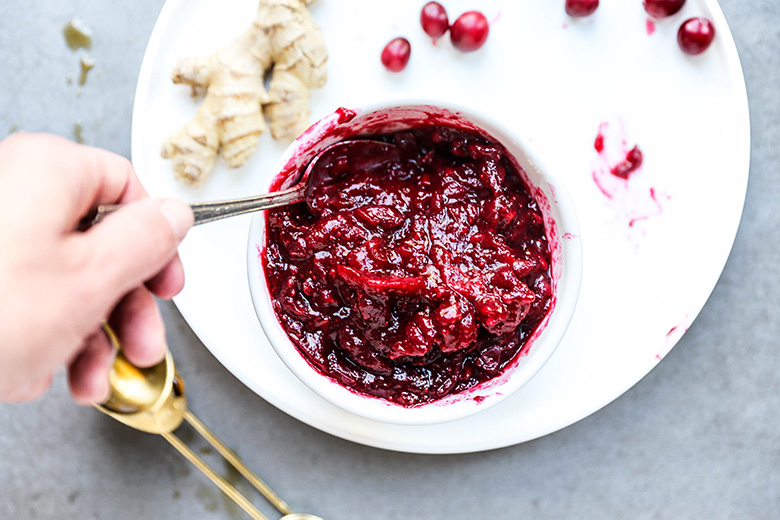 I love cranberry sauce (and fresh cranberries, too!). And I always have. I don't really see it as a condiment, per se. Instead, cranberry sauce gets full on side dish status in my eyes. Give me a BIG scoop. And then give me a second big scoop. That's probably the right amount.
Got leftover cranberry sauce? Then try making these Hazelnut Linzer Cookies!
I've made this Molded Cranberry Sauce recipe for as many Thanksgivings as I can remember. But this year, I decided it was time to shake things up and try out a new recipe.
This Ginger Cranberry Sauce with Riesling is naturally sweetened with maple syrup. And it has a nice spicy kick from a generous amount of fresh ginger. My initial instinct was to add red wine, but then I decided to reach for something lighter instead. And I must say, that was a very good decision. Because the Riesling keeps this cranberry sauce crisp, vibrant and refreshing. It feels very grown-up to me. And not overly sticky and sweet, like some other versions I've tried in the past.
If you want a thinner sauce, try adding a bit more wine. And you can adjust the sweetness as well by adding a touch more maple syrup, if desired. The overall sweetness will depend on the type of Riesling you use, so definitely make sure you taste and adjust the final dish before serving it to your guests.
I always make my cranberry sauce a few days in advance. It's an easy item to get done and checked off your "to-do" list before the big day arrives!
I hope you all have a fabulous Thanksgiving! Get out the stretchy pants!
Cheers,
Liz
Ingredients
1 (12-ounce) bag fresh cranberries, thawed if frozen
1/3 cup maple syrup
1/3 cup Riesling
1 1/2 -2 tablespoons peeled and minced fresh ginger
1/8 tsp. salt
Instructions
Combine all the ingredients in a heavy bottom saucepan placed over medium heat. Bring to a simmer and cook, stirring frequently, until almost all the cranberries have burst open, about 10 minutes. Remove the saucepan from the heat and set it aside to cool slightly. Then transfer the cranberry sauce to a clean container and refrigerate to chill completely.
The cranberry sauce can be stored in an airtight container in your refrigerator for 4-6 days.
https://www.floatingkitchen.net/ginger-cranberry-sauce-with-riesling/
SaveSave
SaveSave
SaveSave
This post was originally published here on July 29, 2013. I've since updated the text and photographs. It's a quick and easy recipe that I know you'll love!
There are a lot of things I miss about living in Seattle, WA. The larger-than-life mountains. The availability of craft beer on virtually every street corner. And some of the most spectacular sunsets I've ever seen in my life. Just to name a few.
But this time of year, I mostly miss the free blackberries.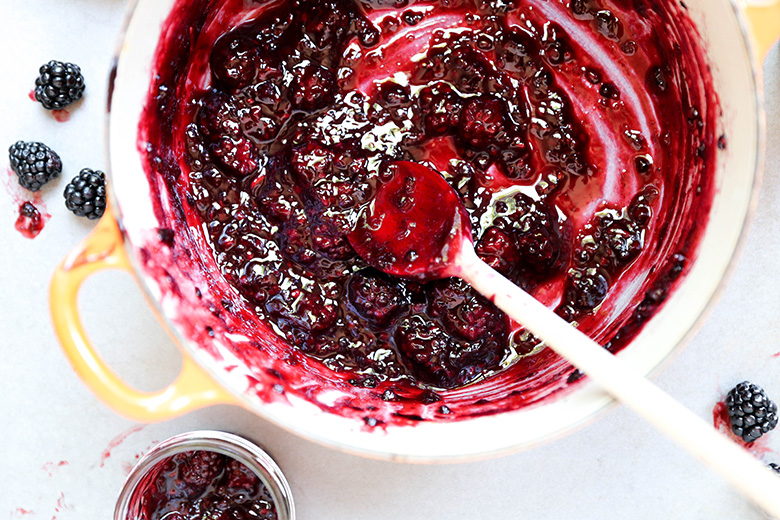 Blackberry bushes are an invasive species to the Pacific Northwest. And they are a thing that Seattleites just love to hate. Most of the year, they are considered a nuisance. Their dense, gnarly branches creep into every backyard, parking lot, alley way and hiking trail imaginable. And their thorns aren't afraid to bite back, leaving you with holes in your clothing and blood on your hands if you attempt to tame them.
BUT! Then late Summer happens and HELLO free blackberries. Ripe for the taking. In the most literal way possible.
I used to pick buckets of blackberries almost every morning (and I had the purple tongue to prove it!) when I was out walking my dog. Now, I'm forced to purchase most of my blackberries from the grocery store (oh the horror). But I still manage to eat (and drink!) more than my fair share each Summer.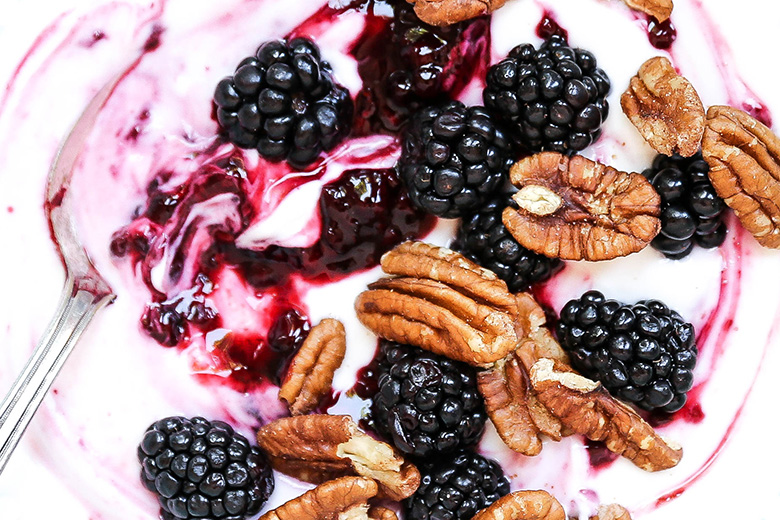 This Blackberry Sauce recipe is one I started making in Seattle, when I had more blackberries than I knew what to do with. And even though my availability of blackberries has reduced significantly, I still love making it today. It only requires 5 ingredients and 5 minutes of time. And it transitions flawlessly throughout the entire spectrum of mealtimes. Try it at breakfast with yogurt, oatmeal, pancakes or waffles. Use it as a topping for grilled chicken, pork or salmon. Or enjoy it with ice cream, cheesecake or pound cake. The possibilities are endless!
Cheers,
Liz
Ingredients
3 tablespoons fresh squeezed lemon juice
3 tsp. corn starch
3 cups fresh blackberries, washed
1/3 cup sugar
1 tsp. lemon zest
Instructions
In a small bowl, mix together the lemon juice and corn starch. Set aside.
In a non-reactive saucepan, cook the blackberries and sugar over medium-high heat, stirring frequently, for about 3 minutes, or until the blackberries are broken down and have released their juices. Then stir in the corn starch mixture and bring the sauce to a low boil until thickened, about 1-2 minutes.
Remove the saucepan from the heat and stir in the lemon zest. Set aside to cool.
Once cooled, transfer the blackberry sauce to a re-sealable container and refrigerate until you're ready to use it. The blackberry sauce can be stored in your refrigerator for 7-10 days.
https://www.floatingkitchen.net/blackberry-sauce/