This post was originally published here on July 29, 2013. I've since updated the text and photographs. It's a quick and easy recipe that I know you'll love!
There are a lot of things I miss about living in Seattle, WA. The larger-than-life mountains. The availability of craft beer on virtually every street corner. And some of the most spectacular sunsets I've ever seen in my life. Just to name a few.
But this time of year, I mostly miss the free blackberries.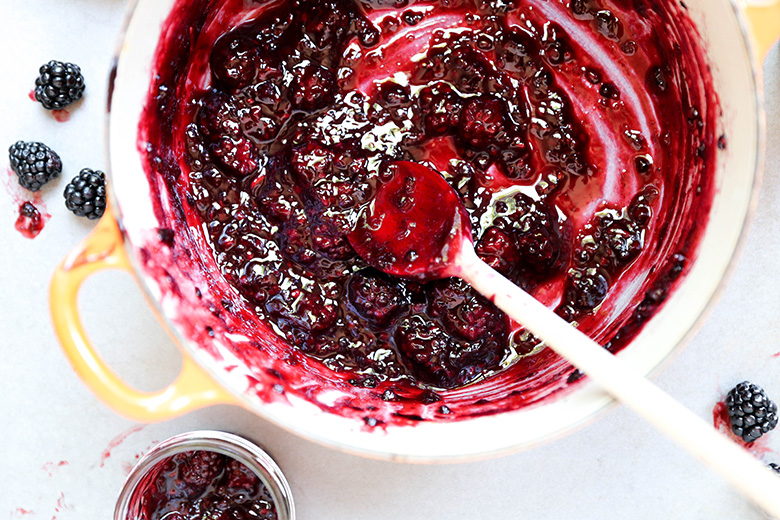 Blackberry bushes are an invasive species to the Pacific Northwest. And they are a thing that Seattleites just love to hate. Most of the year, they are considered a nuisance. Their dense, gnarly branches creep into every backyard, parking lot, alley way and hiking trail imaginable. And their thorns aren't afraid to bite back, leaving you with holes in your clothing and blood on your hands if you attempt to tame them.
BUT! Then late Summer happens and HELLO free blackberries. Ripe for the taking. In the most literal way possible.
I used to pick buckets of blackberries almost every morning (and I had the purple tongue to prove it!) when I was out walking my dog. Now, I'm forced to purchase most of my blackberries from the grocery store (oh the horror). But I still manage to eat (and drink!) more than my fair share each Summer.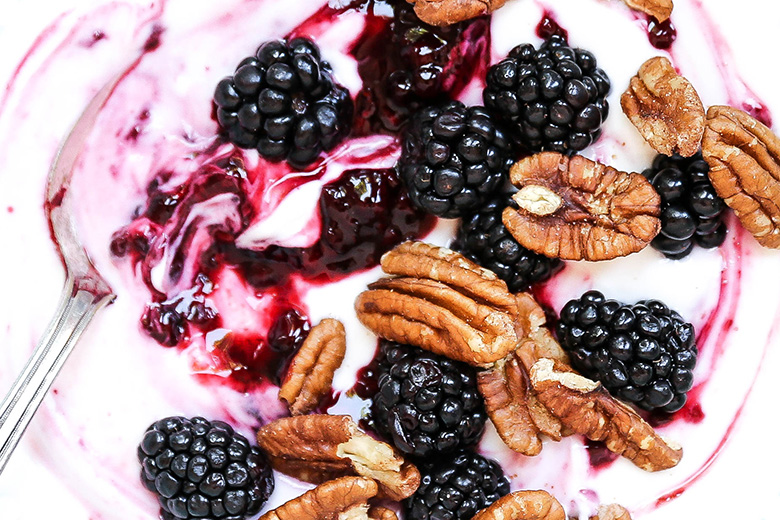 This Blackberry Sauce recipe is one I started making in Seattle, when I had more blackberries than I knew what to do with. And even though my availability of blackberries has reduced significantly, I still love making it today. It only requires 5 ingredients and 5 minutes of time. And it transitions flawlessly throughout the entire spectrum of mealtimes. Try it at breakfast with yogurt, oatmeal, pancakes or waffles. Use it as a topping for grilled chicken, pork or salmon. Or enjoy it with ice cream, cheesecake or pound cake. The possibilities are endless!
Cheers,
Liz
Ingredients
3 tablespoons fresh squeezed lemon juice
3 tsp. corn starch
3 cups fresh blackberries, washed
1/3 cup sugar
1 tsp. lemon zest
Instructions
In a small bowl, mix together the lemon juice and corn starch. Set aside.
In a non-reactive saucepan, cook the blackberries and sugar over medium-high heat, stirring frequently, for about 3 minutes, or until the blackberries are broken down and have released their juices. Then stir in the corn starch mixture and bring the sauce to a low boil until thickened, about 1-2 minutes.
Remove the saucepan from the heat and stir in the lemon zest. Set aside to cool.
Once cooled, transfer the blackberry sauce to a re-sealable container and refrigerate until you're ready to use it. The blackberry sauce can be stored in your refrigerator for 7-10 days.
https://www.floatingkitchen.net/blackberry-sauce/
Pool, beach, eat, drink, repeat.
That's basically my entire Holiday weekend in a nutshell. Oh plus a rousing game of bocce ball (which I lost, btw), a night of fireworks and general silliness with good friends.
Overall, I have no complaints. Except that I want to be doing it all over again.
Today we're talking about one of my favorite summer staples: pesto. But this is no ordinary pesto. Because there isn't a single basil leaf within a 50 mile radius (= exaggeration) of this sauce. That's right. No basil plants were harmed in the making of this pesto. Instead, I'm whirling up some freshly shelled peas (trust me, it's worth the time it takes to shell them) and some peppery arugula. And I'm skipping out on the Parmesan cheese to keep this Pea and Arugula Pesto completely dairy free. Trust me. You won't even miss the cheese.
So what can you do with this Pea and Arugula Pesto? Um…how about everything and anything (= exaggeration #2). Toss it with pasta, use it as a sandwich spread, slather it on grilled meats and veggies, or top some little toasts for an easy appetizer (just like I did in the photographs). The possibilities are fairly endless.
Since it's the start of a new month, we've got other seasonal ingredients (in addition to peas and arugula!) to take into consideration while we shop, cook and eat our way through July. So have a peak at Becky's seasonal produce guide for this month. And better yet, save it to your phone or tablet so you can have it at the ready when you hit the grocery store.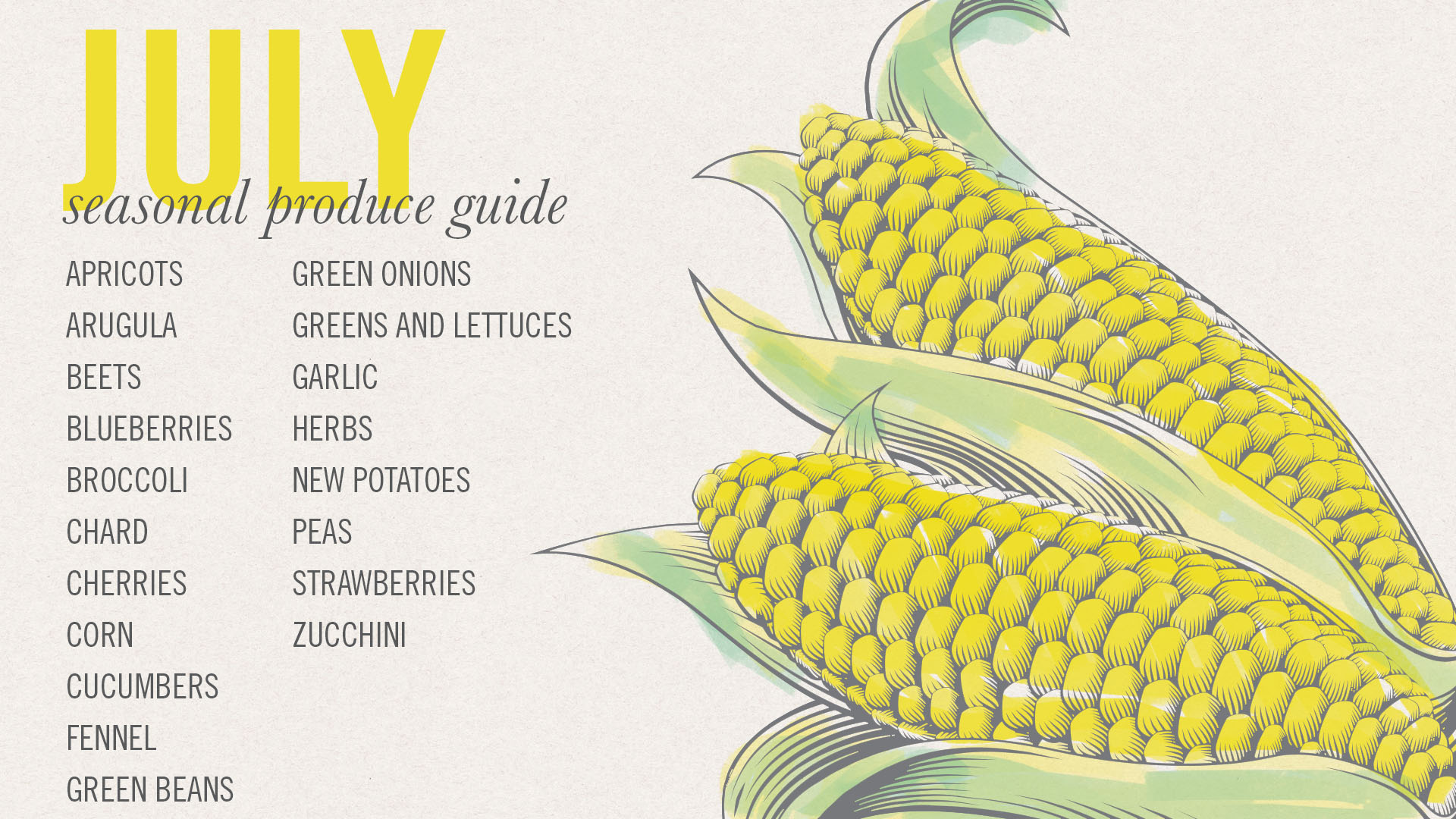 And if you need some recipe suggestions for all of July's awesome fruits and vegetables, check out what some of your other favorite food bloggers have created for this month by clicking on the links below. And make sure to follow along with the hashtag #eatseasonal (and share what you're making in your kitchen too!), for even more inspiration and ideas!
Cheers,
Liz
Ingredients
1/3 cup walnuts
2 garlic cloves, peeled
1 cup shelled peas (see my notes below)
1 cup arugula
2 tablespoons fresh mint leaves
Juice from 1 lemon
1/2 tsp. salt
1/4 tsp. black pepper
1/2 cup extra-virgin olive oil
Instructions
In a dry skillet over medium-high heat, lightly toast the walnuts until they are just starting to become fragrant, about 1-2 minutes. Remove from the heat and set aside to cool slightly.
In the bowl of your food processor with the blade attachment, blend together the toasted walnuts, garlic, peas, arugula, mint, lemon juice, salt and black pepper until finely chopped, scrapping down the sides of your food processor as necessary. Then with the food processor running, gradually stream in the olive oil, blending until everything is well combined.
Transfer the pesto to a small seal-able container and refrigerate it until you're ready to use it. While pesto is best used when it's fresh, it can be stored in your refrigerator for several days.
Notes
1. If you are using frozen peas, thaw them before using. If you are using freshly shelled peas, blanch them in boiling water for about 1 minute, drain and then let them cool before transferring them to your food processor.
https://www.floatingkitchen.net/pea-and-arugula-pesto/
July Eat Seasonal Recipes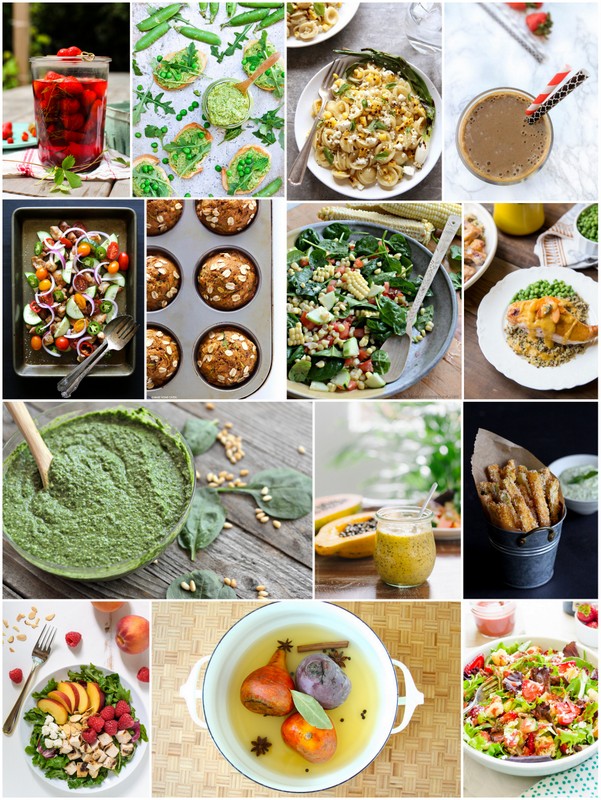 Quick Pickled Strawberries with Black Pepper and Tarragon by Simple Bites
Creamy Grilled Corn Pasta by Completely Delicious
Chocolate Strawberry Protein Smoothie by The Lemon Bowl
Crispy Chicken & Cucumber Salad with Dijon Vinaigrette by Climbing Grier Mountain
Healthy Zucchini Muffins by Gimme Some Oven
Fresh Corn Salad by Bless this Mess
Apricot Glazed Chicken by Vintage Mixer
Spinach Pesto by Mountain Mama Cooks
Papaya Seed Vinaigrette Dressing by Kitchen Confidante
Baked Zucchini Fries with Pesto Yogurt Dipping Sauce by Cookin' Canuck
Peach Salad with Grilled Chicken and Raspberries by Well Plated
Poached Beets with Star Anise and Cinnamon by Project Domestication
Strawberry Fields Panzanella Salad with Strawberry Balsamic Vinaigrette by Flavor the Moments
How to Make Arugula Pesto by FoodieCrush