The post was originally published here on June 17, 2013. I've since updated the photographs and text for this easy, customizable vegan pesto that you'll want to make all Summer long!
I've never been much of a condiment person. As a kid, I used to scrape off the ketchup and mustard from my burgers before eating them. And still to this day, I can't even look at a jar of mayonnaise without gagging.
Yeah. I'm that person.
I'm less picky now. And over the years, I've discovered many condiments that not only do I not despise, but that I actually love. Like barbecue sauce, harissa, hummus and of course, pesto.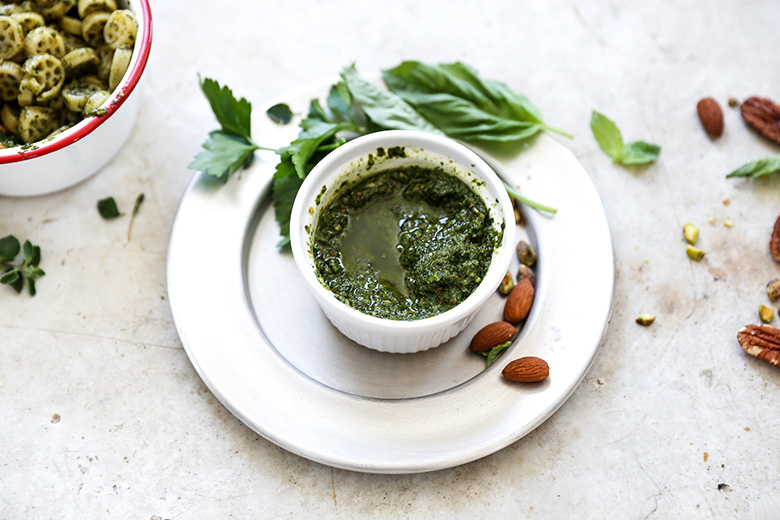 This Vegan Mixed Herb and Nut Pesto has been my go-to pesto recipe for many years now. Its origins are simple. And will probably sound familiar to many of you. Basically, I wanted pesto. But I didn't have the ingredients that I needed for the traditional version. No pine nuts or Parmesan cheese insight. Instead, I had a smattering of various herbs from my garden that were at high risk of going to waste. And several small plastic baggies of nuts littering my cabinets. So I started tossing what I had into my food processor. And presto. Pesto!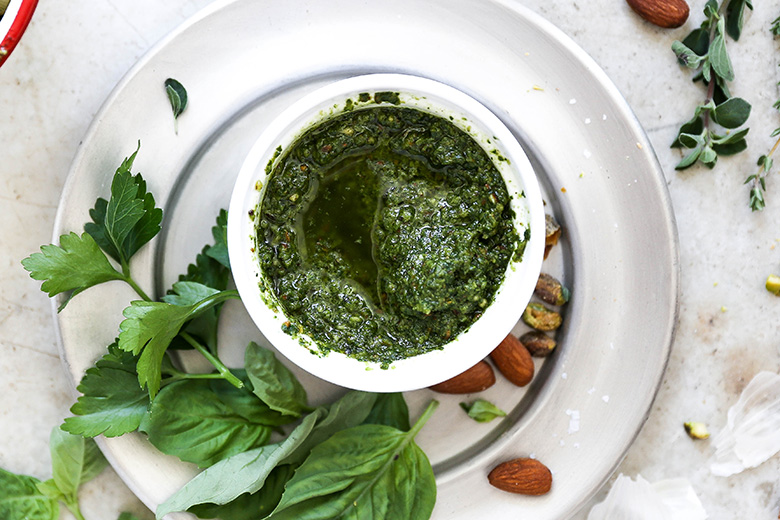 I love this particular combination of herbs and nuts that I've laid out in the recipe below. But I'm not married to it. And I don't think you should be, either. This recipe can (and should) be treated more like a guide. I want you to feel free to experiment with different ingredients.
I think the most surprising thing I discovered was that I didn't miss the Parmesan cheese. Now even when I have it on hand, I tend not to bother adding it. I like keeping the recipe itself vegan, because it can be used in so many more ways. And I think the pesto stores better without the cheese, too.
What are some of your favorite ways to make pesto? And how do you love to use it?
Cheers,
Liz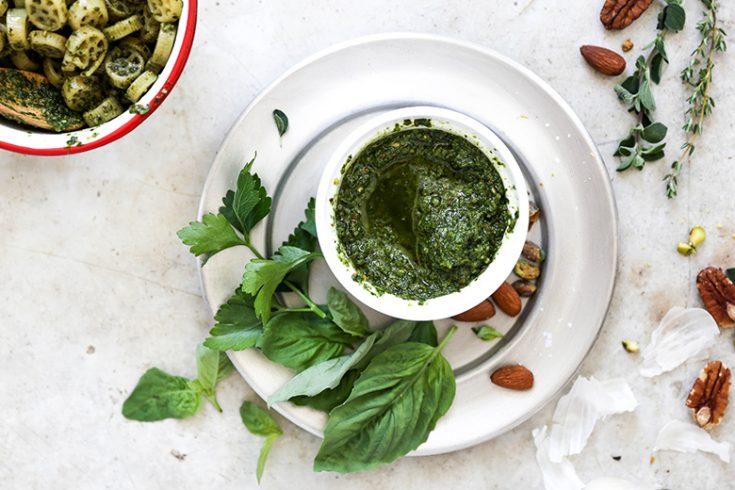 Vegan Mixed Herb and Nut Pesto
Yield: Makes about 1 cup
Prep Time: 10 minutes
Cook Time: 2 minutes
Total Time: 12 minutes
Ingredients
1/3 cup unsalted nuts (I used almonds, pecans and pistachios)
2 garlic cloves, peeled
2 cups fresh basil leaves, packed
1/4 cup fresh parsley leaves
2 tablespoons fresh oregano leaves
1 tablespoon fresh thyme leaves
1 teaspoon apple cider vinegar
1/4 – 1/2 tsp. salt
1/4 tsp. black pepper
1/3 – 1/2 cup extra-virgin olive oil
Instructions
In a small skillet over medium heat, lightly toast the nuts until they become fragrant, about 1-2 minutes. Remove from the heat and set aside to cool.
In the bowl of your food processor with the blade attachment, pulse together the toasted nuts and garlic cloves until a course meal is formed. Add the herbs, vinegar, salt and black pepper and process until the herbs are finely chopped.
Stop and scrape down the sides of the bowl. Then with the food processor running, gradually stream in the olive oil until your desired consistency is reached. Transfer the pesto to a small bowl. Taste and season with additional salt and black pepper, if desired.
The pesto can be used immediately. Or stored in an airtight container in your refrigerator for several days. Drizzling a thin layer of olive oil over the surface of the pesto will help to preserve the color/taste during storage.