Do you guys remember when I admitted to eating an entire pan of these roasted asparagus spears? Well, I did it again. But this time with mushrooms. Yup. I inhaled this whole tray of Miso-Roasted Mushrooms with Fresh Herbs BY MYSELF. I seriously could not stop eating. These babies didn't even stand a chance at becoming leftovers.
Twelve year old Liz would never have imagined eating an entire tray of vegetables. At that time, the only thing I would have consumed in it's entirety would have been a pan of brownies. Or maybe fries. OK, definitely fries.
Now, don't get me wrong. I'll will still eat ALL the brownies and ALL the fries in the land. But now, I'm also going to eat asparagus and mushrooms and every other yummy vegetable you put in front of me. Because I've matured.
These savory Miso-Roasted Mushrooms with Fresh Herbs are an easy side dish. But you could also serve them up as an appetizer or use them as a salad topping. Versatile + highly addicting = total WIN.
It's also the start of another month (seriously, what happened to April?), which means that Becky is showing us which fruits and vegetables are currently at their peak. Check out her illustrated guide for May (you can even download it to your phone, tablet or desktop) and join us in shopping, cooking and eating seasonally!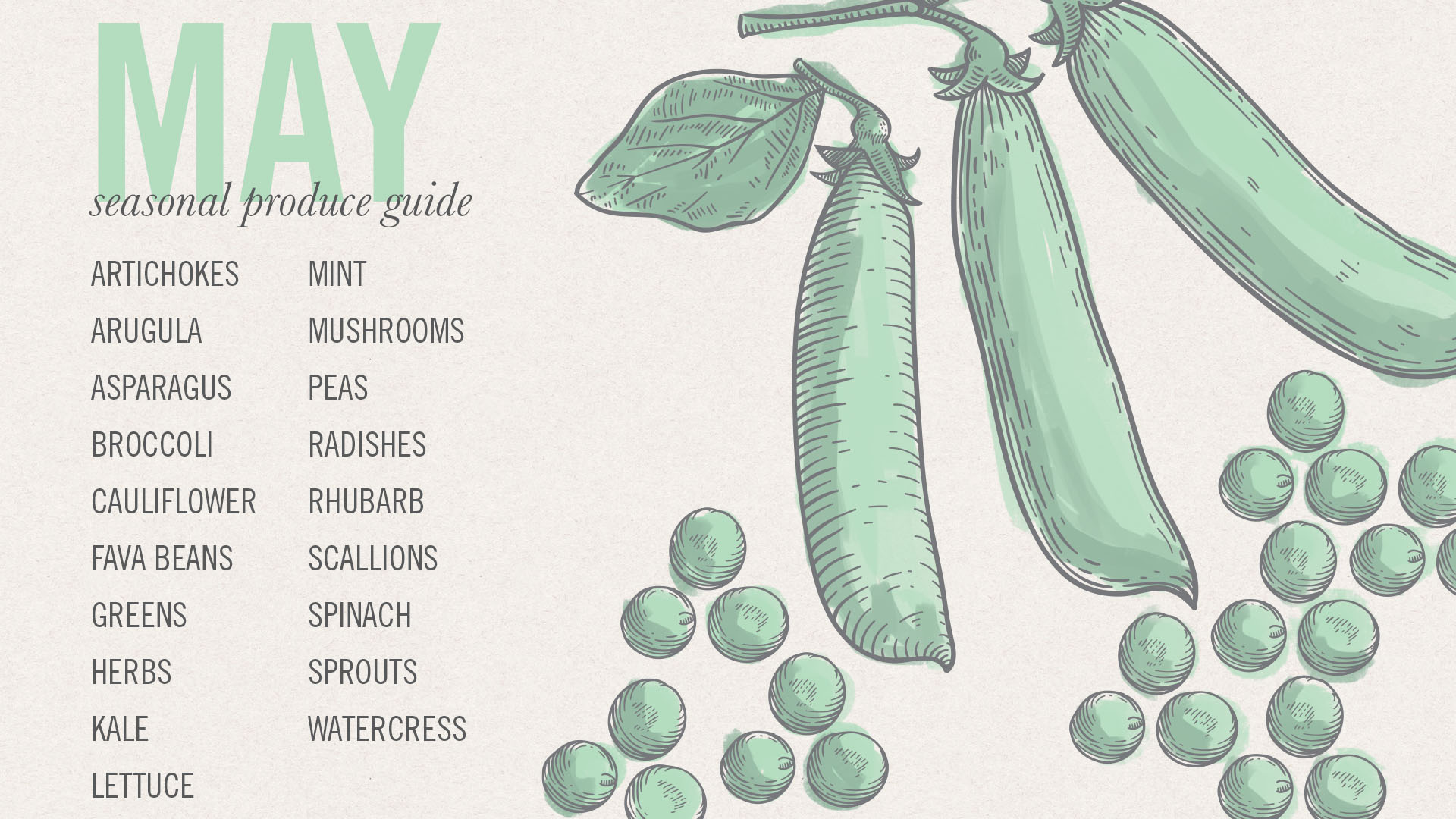 For even more inspiration, check out the links below to see what some of my favorite food blogging ladies have cooked up this month. And be sure follow along with the hashtag #eatseasonal (and share your own creations as well!) for creative ideas that highlight the best of what May has to offer.
Cheers,
Liz
Ingredients
16 ounces button mushrooms
2 garlic cloves, minced
1 tablespoon white miso paste
1 tablespoon extra virgin olive oil
4 tablespoons unsalted butter
1/2 tsp. salt
1/4 tsp. black pepper
2 tsp. fresh basil leaves
2 tsp. fresh parsley leaves
2 tsp. fresh thyme leaves
Instructions
Pre-heat your oven to 425 degrees. Wipe the mushrooms clean with a damp towel. Leave the stems on, but trim any ends that are woody and dry looking. Add the mushrooms to a medium bowl along with the minced garlic.
Add the miso paste, olive oil and butter to a microwave safe bowl. Microwave until the butter is melted. Then whisk the mixture to help incorporate the miso paste. It's OK if it's not completely dissolved. Pour the mixture over the mushrooms and garlic, tossing gently until the mushrooms are well coated. Transfer the coated mushrooms to a large rimmed baking sheet. Season with salt and pepper.
Transfer to your pre-heated oven and roast for 20-25 minutes, stirring once half way through. Remove and set aside.
While the mushrooms are roasting, make the herb garnish. Place the basil, parsley and thyme together in a small pile on a cutting board. Using a knife, mince the herbs until they are very finely chopped.
Sprinkle the herb garnish over the roasted mushrooms, adding as much or as little as you like to suit your taste preferences. Serve while still warm.
Leftovers can be stored in your refrigerator in an airtight container for 1-2 days.
Notes
1. Not all brands of miso paste are gluten free. So make sure to check the labels if you are gluten intolerant. And if you haven't bought miso paste before, look for it in the refrigerated section of the produce aisle.
https://www.floatingkitchen.net/miso-roasted-mushrooms-with-fresh-herbs/
May Eat Seasonal Recipes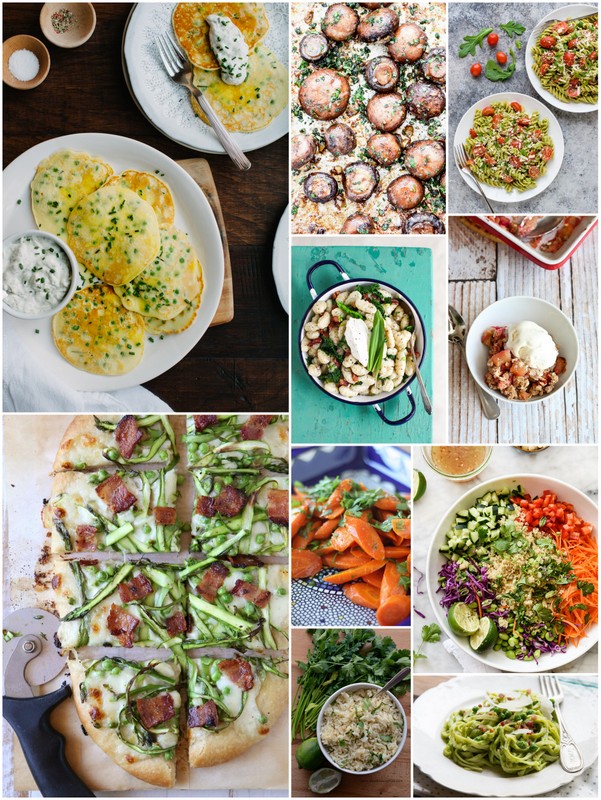 Pea Pancakes with Tzatziki by Kitchen Confidante
Spicy Avocado Pesto Pasta by Well Plated
Sour Cream & Ramp Gnocchi with Sautéed Kale and Crispy Bacon by Simple Bites
Rhubarb, Apple & Pecan Crisp {Low Sugar} by Cookin' Canuck
Shaved Asparagus, Pea and Bacon Pizza by Completely Delicious
Roasted Carrots with Fresh Sorrel by Project Domestication
Thai Quinoa Salad by Foodie Crush
Simple Santa Fe Rice with Cilantro and Garlic by Bless This Mess
Fresh Pea Carbonara by Vintage Mixer