The post was originally published here on May 4, 2015. I've since updated the photographs and text.
Hi from Nashville!
I'm here on a little vacation with some girlfriends and let me tell you, we're having NO FUN AT ALL. Absolutely ZERO fun.
I should probably hurry up and get back to having a terrible time. But I wanted to pause briefly to share the recipe for these Miso Butter Roasted Mushrooms with Fresh Herbs.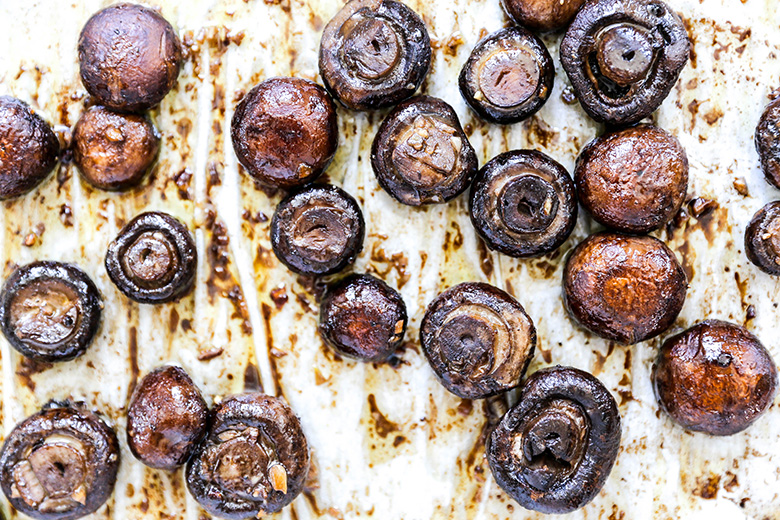 This is an older recipe that I kind of forgot about (= food blogger brain). And when I re-made them a couple of weeks ago, they were even better than I remembered. So I knew immediately that I needed to give them a refresh, and share them with you all again. Because if I had forgotten about them, then surely you had forgotten about them, too. And they definitely deserve to be in the spotlight.
These Miso Butter Roasted Mushrooms with Fresh Herbs are the definition of umami. Which is a word that I find hard to describe, but I kind of just know it when I taste it. It's like savoriness, but with a luxurious mouth feel. I don't know. I'm probably doing a terrible job here. So let's just say that these mushrooms are deliciously addicting. To the point where you could easily eat the entire tray in just one sitting. And I bet you could even convert some mushroom haters with these babies!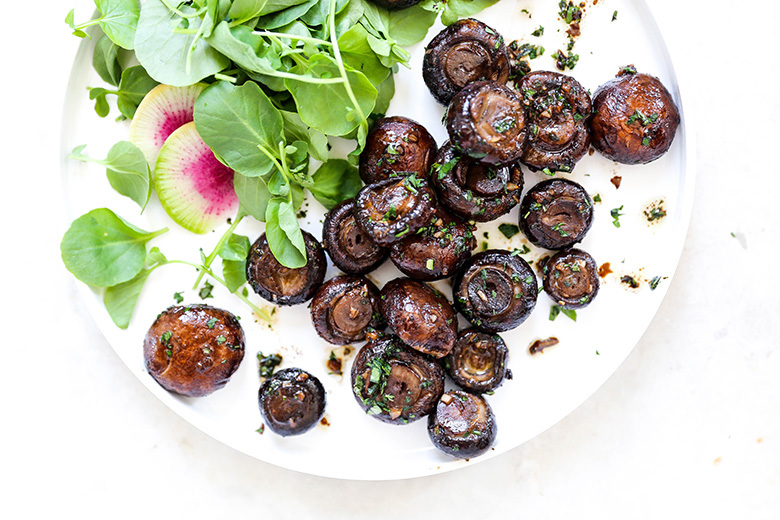 In addition to being delicious, I just love the versatility of this recipe. You can serve these mushrooms as an appetizer, add them to fresh salads or use them as a side-dish. These Miso Butter Roasted Mushrooms with Fresh Herbs can do it all!
Miso paste can typically be found in the refrigerated produce section of your grocery store. If you have a gluten intolerance, be sure to read the labels as not all brands are gluten free.
Cheers,
Liz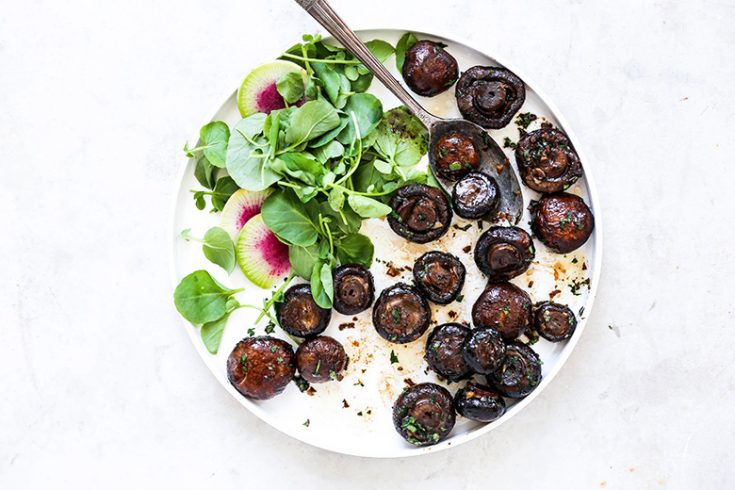 Miso Butter Roasted Mushrooms with Fresh Herbs
Yield: 4-6 servings
Prep Time: 10 minutes
Cook Time: 25 minutes
Total Time: 35 minutes
Ingredients
16 ounces button mushrooms
2 garlic cloves, peeled and minced
4 tablespoons unsalted butter
1 tablespoon extra-virgin olive oil
1 tablespoon white miso paste
1/2 tsp. salt
1/4 tsp. black pepper
1-2 tsp. fresh basil leaves
1-2 tsp. fresh parsley leaves
1-2 tsp. fresh thyme leaves
Instructions
Pre-heat your oven to 425 degrees. Line a large rimmed baking sheet with parchment paper and set aside.
Wipe the mushrooms clean with a damp towel. Leave the stems on, but trim off any ends that are woody/dry. Place the cleaned mushrooms and minced garlic in a medium bowl. Set aside.
Add the butter, olive oil, miso paste, salt and black pepper to a microwave safe dish. Microwave until the butter is completely melted, about 30-60 seconds. Then whisk vigorously to combine the ingredients. Pour this mixture over the mushrooms and garlic, tossing gently to coat the mushrooms.
Spread the coated mushrooms (and any of the accumulated miso butter mixture) out onto your prepared baking sheet. Transfer to your pre-heated oven and roast for 11-12 minutes. Then flip the mushrooms over and roast for an additional 11-12 minutes. The mushrooms should be soft and browned. Remove from your oven and set aside.
Finely mince all the herbs. Then sprinkle them over the roasted mushrooms. Serve while the mushrooms are still warm.
Leftovers can be stored in an airtight container in your refrigerator for 1-2 days.