Hello!
With only one week to go until Thanksgiving, I wanted to try and sneak in an extra dish. So I'm deviating from the normal schedule to bring you this brand spanking new recipe on a Thursday.
And people say I'm not spontaneous. How dare they!?!?
I'm guessing a lot of you already have your menu for the big day fully mapped out. If so, go you! That's awesome! But if you have any wiggle room for an extra side dish, you might want to consider these Crispy Smashed Potatoes with Miso Butter. Because Thanksgiving dinner isn't complete without ALL THE POTATOES!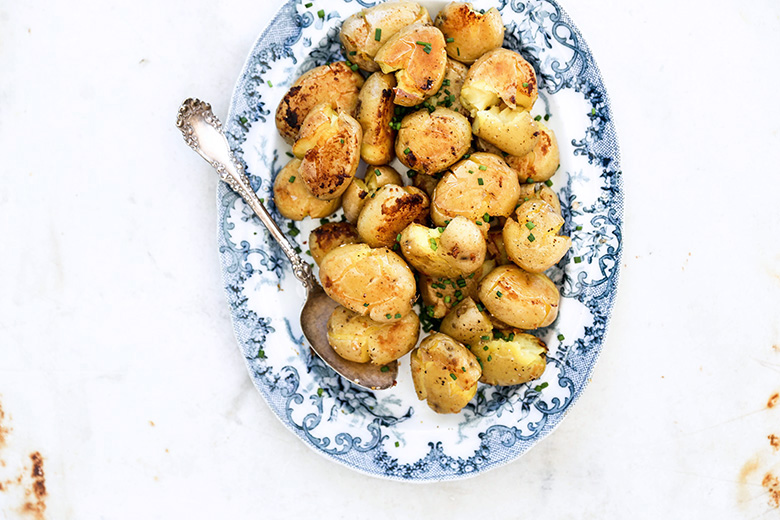 Smashed potatoes have kind of fallen off my radar in the last couple of years. You'd imagine that a person who thinks about food every single day wouldn't completely forget about certain ingredients/preparations/dishes, but it seems to happen to me on a fairly regular basis. I guess my brain can only handle so much deliciousness at any given moment.
But now I'm back on the smashed potato train. And I think you should get on board as well. Crispy, golden exteriors and soft, fluffy interiors. Seriously, folks. What's not to love about that?!?!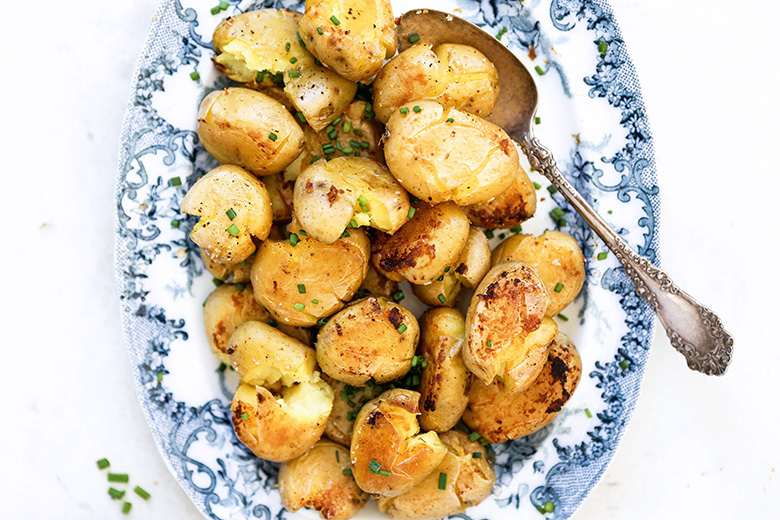 Miso paste might be an ingredient that you wouldn't normally associate with traditional Thanksgiving recipes. But here it provides an extra oomph of umami goodness, making these crispy smashed potatoes even more irresistible than they already are.
If you or one of your guests has a gluten intolerance, be sure to read the label on your miso paste. Not all brands/varieties are gluten free.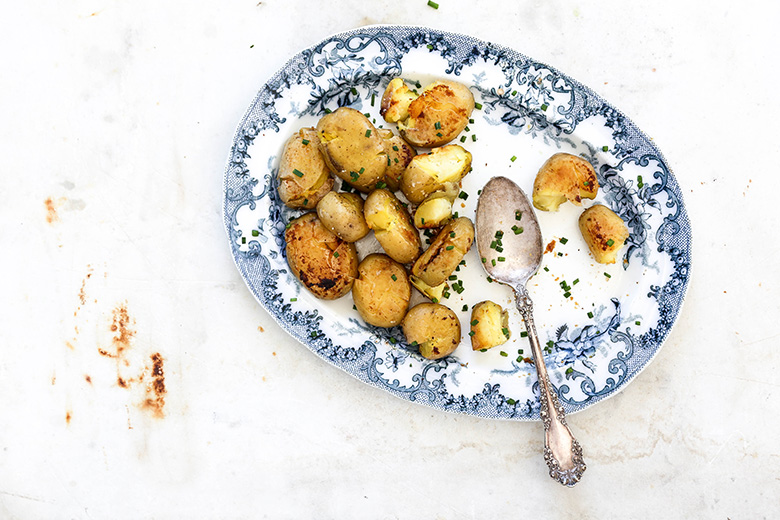 I know I'm hyper-focused on Thanksgiving and Christmas right now. But these potatoes would seriously be great served alongside ANY dinner. With salmon, pork, or even piled high on top of a big, crunchy salad. You can't go wrong. So if you don't have the chance to try out these Crispy Smashed Potatoes with Miso Butter for the Holidays, bookmark them for later. I won't be mad.
Need some more miso paste inspiration (miso-piration?)? Then check out these Miso Butter Mashed Potatoes from I am a Food Blog and this Roasted Delicata Squash with Miso Butter from The Bojon Gourmet.
Cheers,
Liz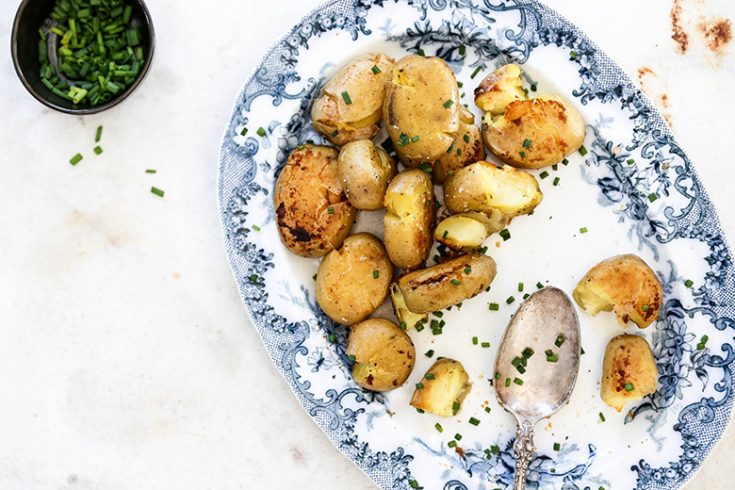 Crispy Smashed Potatoes with Miso Butter
Yield: 6-8 servings
Prep Time: 10 minutes
Cook Time: 35 minutes
Total Time: 45 minutes
Ingredients
2 lbs baby potatoes (leave the skins on)
4 tablespoons unsalted butter
1 tablespoon extra-virgin olive oil
1 tablespoon white miso paste
1/2 tsp. salt
1/2 tsp. black pepper
2-3 tablespoons minced fresh chives
Instructions
Place the potatoes in a large pot and cover them with cold, salted water. Bring to a boil over medium-high heat. Then reduce the heat to maintain a simmer. Cook the potatoes, uncovered, for about 12 minutes. You should be able to pierce the potatoes with a small paring knife, but still feel some resistance towards the center. The potatoes will finish cooking in the oven.
Drain and spread the potatoes out onto a large rimmed baking sheet. Let them cool for about 5 minutes. Then place a second rimmed baking sheet on top and press down firmly to smash the potatoes (alternatively, you can use the bottom of a mug/bowl to smash each potato individually). The potatoes should be flattened and the skins broken around the edges in several places, but the potatoes should still maintain their overall structure. Set aside.
Meanwhile, pre-heat your oven to 425 degrees.
In a small saucepan over medium heat, combine the butter, olive oil and miso paste until smooth. Remove from the heat and pour the warm liquid over the smashed potatoes. Using a pair of tongs, gently flip each smashed potato over to ensure they are coated on both sides. Then sprinkle the tops with the salt and black pepper.
Transfer the baking sheet to your pre-heated oven and roast for 18-20 minutes. The potato skins should be browned in some places and the flesh should be soft and cooked all the way through to the center.
Gently transfer the smashed potatoes to a serving dish. Top with chives. Serve immediately.