Disclosure: This post is sponsored by Harry & David. All opinions are my own. Thank you for supporting brands and companies that support Floating Kitchen.
YOU GUYS! I am so excited to finally be sharing this recipe with you today. Because cheeeeeeese!!!
This Cranberry-Pear Baked Brie with Pecans is to die for. You NEED to make it for Thanksgiving. And then again for Christmas. And then probably a third time for New Year's Eve. Seriously. It's that good.
What makes it so good, you ask? Well, let me tell you.
(1) The brie is warm and gooey
(2) The topping has all the Fall/Winter flavors that we're loving
(3) It's easy and feeds a crowd
(4) It's looks festive
(5) AND IT'S INSANELY DELICIOUS
I'm so smitten with this recipe. And I know you will be, too!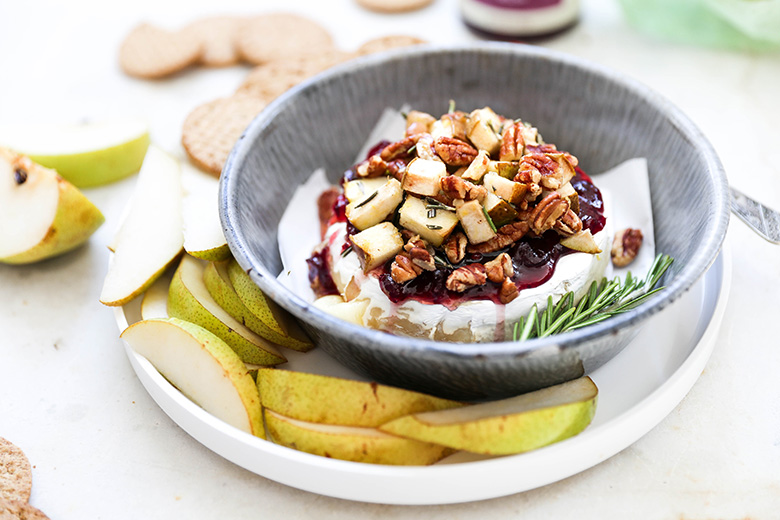 I've partnered with Harry & David to be able to bring you this recipe today, which features some of my favorite seasonal Harry & David products. Harry & David is one of my go-to destinations for gourmet foods, entertaining ideas and festive Holiday gifts. Shopping with Harry & David is easy (and fun!) and it will certainly help to alleviate some of your Holiday stresses. I highly recommend it.
I've been known to stock up on their Moose Munch like nobody's business. It's a serious addiction!
Today's recipe showcases their Country Cranberry Relish, which is a new-to-me product but one that's quickly gained a permanent spot on my condiment shelf (I've been spreading it in my turkey sandwiches and HOLY YUM!). And their famous Royal Riviera Pears. If you're a person who thinks they don't like pears, I get it. The ones from the grocery stores are usually never ripe, devoid of flavor and have a grainy texture. But Harry & David's Royal Riviera Pears are WAY different. They are sweet, juicy and buttery smooth. Perfect for eating out of hand. Or using in recipes. I guarantee they will convert you to a bona fide pear lover!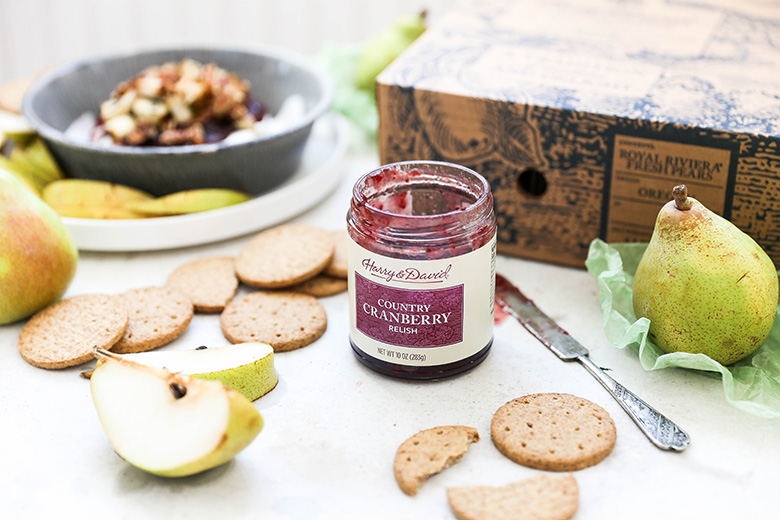 Preparing this Cranberry-Pear Baked Brie with Pecans is as easy as pie. It goes a little something like this: (1) spread a layer of Harry & David's Country Cranberry Relish on top of a wheel of brie cheese, (2) pile on a mixture of chopped Harry & David's Royal Riviera Pears (you don't even have to peel them!), pecans, brown sugar, butter, rosemary and lemon zest, (3) bake and (4) devour. Less than 20 minutes stands between you and appetizer nirvana.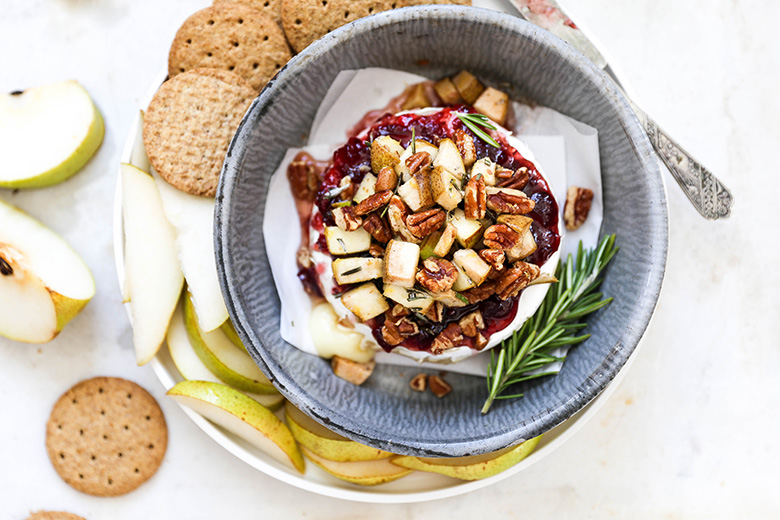 We all know that warm brie cheese upstages cold brie cheese any day of the week. And when combined with this fruity, nutty, citrusy and herby topping, you've got a real winner on your hands. This baked brie will have you and all your friends and family coming back for bite after bite after bite.
Let's talk party logistics as it relates to this Cranberry-Pear Baked Brie with Pecans. If you're having a decent size gathering, you'll most likely want/need more than a single 8-ounce wheel of brie cheese. Because more cheese = more fun. Right?!?! So to handle a hungry crowd (and still maintain optimal levels of cheesy melty-ness!), I'll prepare two wheels of brie cheese as written through step 2 in the recipe below. But then I'll only bake off and serve one of those two wheels at a time. My guests stay well fed and happy. And I'm not stressed out because I know all I need to do is just pop the second wheel into the oven as soon as I notice the first one has started to get picked over. Hostess WIN!
If you try my Cranberry-Pear Baked Brie with Pecans this Holiday season, let me know! I'd love to hear from you!
Cheers,
Liz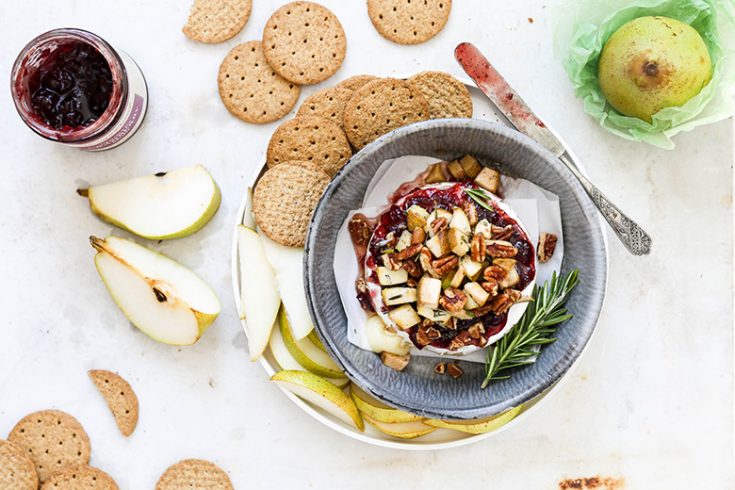 Cranberry-Pear Baked Brie with Pecans
Yield: 12-16 servings

Prep Time: 5 minutes

Cook Time: 15 minutes

Total Time: 20 minutes
Ingredients
For the Brie:
2 wheels (8-ounces each) brie cheese
About 1/2 cup Harry & David Country Cranberry Relish
1 Harry & David Royal Riviera Pear, cored and chopped
1/2 cup chopped pecans
1 tablespoon brown sugar
1 tablespoon melted butter
1 tsp. chopped fresh rosemary
1 tsp. lemon zest
For Serving:
Harry & David Royal Riviera Pears, cored and cut into wedges
Sliced bread
Crackers
Instructions
Pre-heat your oven to 350 degrees. Line two small baking dishes with parchment paper. Place one wheel of brie cheese in the center of each dish (on top of the parchment paper). Spread about 1/4 cup of the cranberry relish on top of each wheel. Set aside.
In a medium bowl, combine the chopped pears, pecans, brown sugar, melted butter, rosemary and lemon zest. Then spoon this mixture over the cranberry relish layer.
Transfer to your pre-heated oven and bake for 12-14 minutes. The brie should be warm and the topping slightly browned. If you're hosting a party, consider baking off one wheel at the start of the party, and the second wheel later in the evening!
Serve warm with pear wedges, sliced bread and crackers of your choice.
SaveSave
SaveSave