Not only do I plan on leaving Santa a big selection of Christmas cookies. But I also plan on leaving him a plate of these Persimmon Crostini with Manchego, Crispy Pancetta and Pomegranate. Because Santa might be hungry for something savory, right? And I want to make sure that I stay on his good side.
I'm not above bribing someone with food! Especially the big man in red!
If you're still looking for a quick and easy appetizer for Christmas or New Years Eve, then you're in luck! Because these Persimmon Crostini with Manchego, Crispy Pancetta and Pomegranate are a breeze to make (almost zero cooking required). And they take advantage of some wonderful Winter produce that's currently available (i.e. persimmons and pomegranate), so they really sparkle and shine with the colors and flavors of the season.
To build these crostini, start with some slices of your favorite French bread. Brush the slices with a little olive oil and broil them until they start to take on a bit of color. Then top each slice with a piece of Manchego cheese, a piece of persimmon, a sprinkle of cooked pancetta, a couple pomegranate arils and some fresh mint. It really is a beautiful, vibrant display of colors. And a great combination of textures, too.
It's easy to make a whole tray of these Persimmon Crostini with Manchego, Crispy Pancetta and Pomegranate. And since they're best enjoyed at room temperature, you can put them out for your guests and not give them a second worry.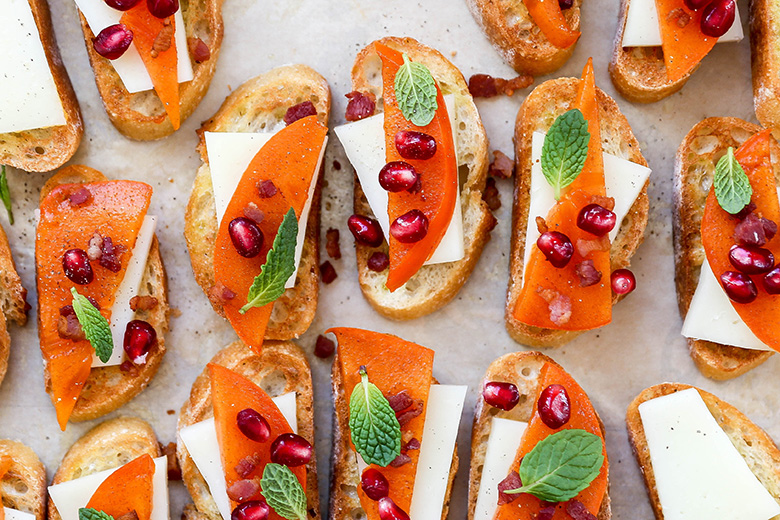 You'll want to make sure you use a Fuyu persimmon for this recipe. These are a type of sweet or non-astringent persimmon. They have a mild flavor that has been described as honey-like or mango-like. And they can be enjoyed at various stages of ripeness (from still somewhat firm to very soft). Their flesh is smooth and their skin is edible.
Persimmons in the grocery store should be labeled as either Fuyu or Hachiya. But just in case they're not, you can identify them by their shape. Fuyu persimmons are short and squat and resemble an orange tomato. Hachiya persimmons are larger and shaped like an egg or an acorn.
And if all this fruity goodness isn't your thing, check out my French Onion Puff Pastry Pinwheels from earlier in the week. I've got an appetizer idea for everyone on your list…naughty or nice!
Cheers,
Liz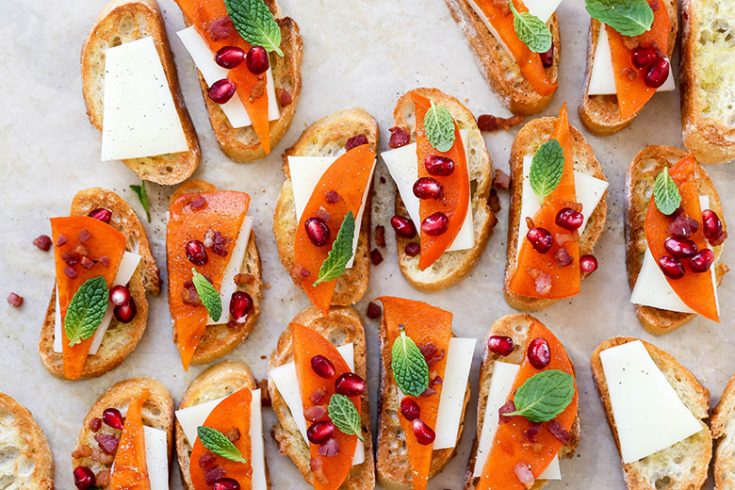 Persimmon Crostini with Manchego, Crispy Pancetta and Pomegranate
Yield: Makes 16 crostini
Prep Time: 5 minutes
Cook Time: 5 minutes
Total Time: 10 minutes
Ingredients
1 ounce diced pancetta
16 slices French baguette
1 tablespoon extra-virgin olive oil
1 Fuyu persimmon
16 slices Manchego cheese
About 1/3 cup pomegranate arils
Fresh mint leaves, torn if large
Instructions
Place a small dry skillet over medium-high heat. Add the pancetta and cook, stirring frequently, until fully cooked and crispy, about 3-5 minutes. Transfer the pancetta to a paper towel-lined plate to drain.
Pre-heat your broiler. Brush the baguette slices with olive oil and spread them out onto a large baking sheet. Place the baking sheet under your pre-heated broiler and broil until the edges of the baguette slices start to brown, about 1-2 minutes. Remove and set aside.
Slice the persimmon into 4 rounds. Then slice each round into 4 pieces for a total of 16 pieces.
Transfer the baguette slices to a serving plate. Top each with a slice of Manchego cheese and a piece of persimmon. Then top with some of the pomegranate arils, crispy pancetta and fresh mint.