I did it! I did the thing where you transfer all of your belongings (both physical and emotional) from one place to another place. I think it's calling "moving". But I don't know. I call it torture.
All joking aside, I can't really complain. Everything went as smoothly as it could possibly go. Yes, there were some hiccups. Yes, I'm tired in a way that I haven't been in a long time. And yes, I had a few minor panic attacks over the course of the whole ordeal. But in the end, I came out on the other side no worse for wear. I'm successfully in my new home. AND HOLY SHIT YOU GUYS I LOVE IT. Like, I really love it. I can't even believe how much I love it.
I never felt as if my old house was really "me". But this house, well, it might just be my forever home (sounds sappy, I know). Which makes all the anxiety, money, time and energy that went into the renovations and moving very well worth it in the end. Times a thousand.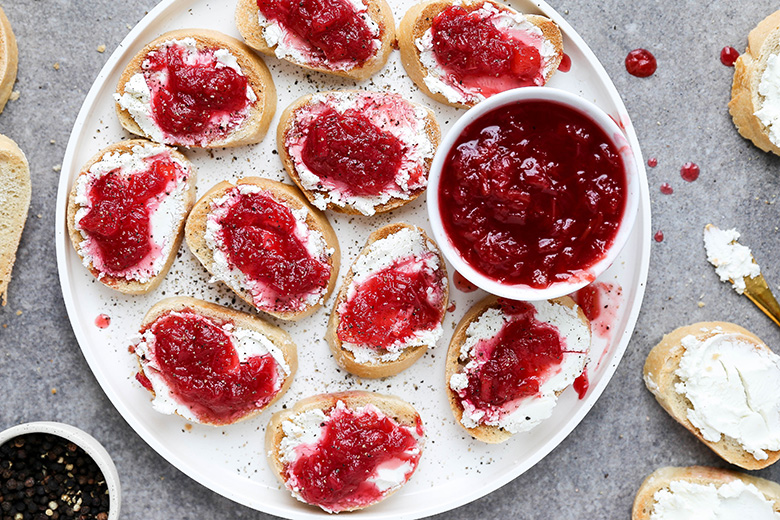 I'm celebrating this new chapter of my life (and the fact that I survived this past week with only minor perturbations to the system) in the second best way that I know how: with carbohydrates.
The first best way being with ice cream. Obviously. But we'll save that for another day.
I've still got rhubarb on the brain (and in my crisper drawer) from last week's electric colored cake. But this time, I took things in a savory direction by cooking down the rhubarb with some diced shallots and a few pantry stables to create a quick and easy compote. Then I slathered this savory-sweet compote onto some toasted bread with creamy goat cheese (you could substitute ricotta cheese) and topped it off with a few grinds of black pepper (the black pepper is clutch, so don't skip it!). It's a delicious – and somewhat unexpected – way to enjoy seasonal rhubarb. And I just know you're going to love it!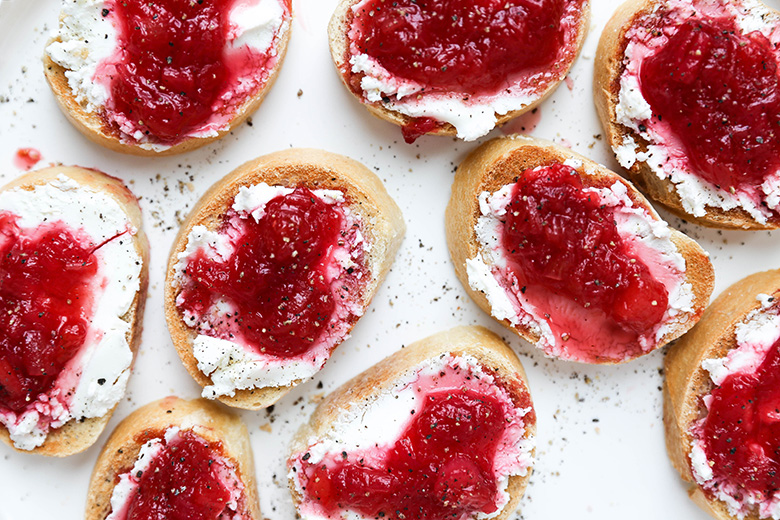 These bite-sized Rhubarb-Shallot Crostini would be a perfect appetizer for Mother's Day. Or you could serve them at your first outdoor gathering to help kick off the start of patio-weather season. And some people (*cough*) might even consider serving them up for a housewarming party.
Cheers,
Liz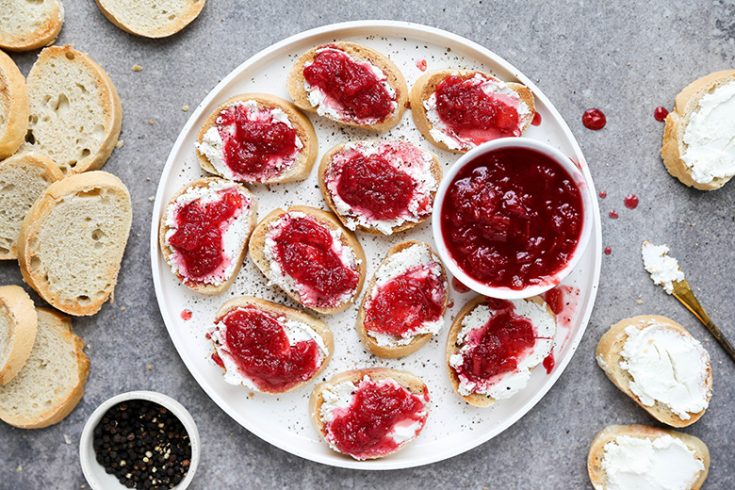 Rhubarb-Shallot Crostini
Yield: 10-12 servings

Prep Time: 5 minutes

Cook Time: 15 minutes

Total Time: 20 minutes
Ingredients
1 tablespoon extra-virgin olive oil
3/4 cups diced shallots
3 cups chopped rhubarb
1 cup sugar
1 tablespoon fresh squeezed lemon juice
1 tablespoon balsamic vinegar
1/8 tsp. ground cinnamon
1 rustic French baguette
8 ounces goat cheese, softened
Freshly ground black pepper
Instructions
Warm the olive oil in a heavy bottom saucepan over low-medium heat. Add the diced shallots and cook, stirring frequently, until softened but not browned, about 5 minutes. Stir in the rhubarb, sugar, lemon juice, balsamic vinegar and cinnamon. Bring the mixture to a simmer and cook for about 5-10 minutes. The rhubarb should be mostly broken down and the compote will be somewhat liquidy. Remove the saucepan from the heat and allow the compote to cool (it will thicken as it does). Once cooled to room temperature, you can use the compote immediately, or transfer it to an airtight container and store it in your refrigerator for several days.
Slice the French baguette into 1/2-inch slices. You can warm or toast the slices, if desired. Then spread some goat cheese onto each of the bread slices. Top with a spoonful of the compote and freshly ground black pepper. Serve and enjoy!
SaveSave
SaveSaveSaveSave
SaveSave