Hi. I'm stressed.
My moving day is only two days away. And I haven't even started to pack up my kitchen yet.
Yikes.
I'm feeling the pressure from all angles. And well, all I have to say is thank goodness for the existence of brightly colored cakes.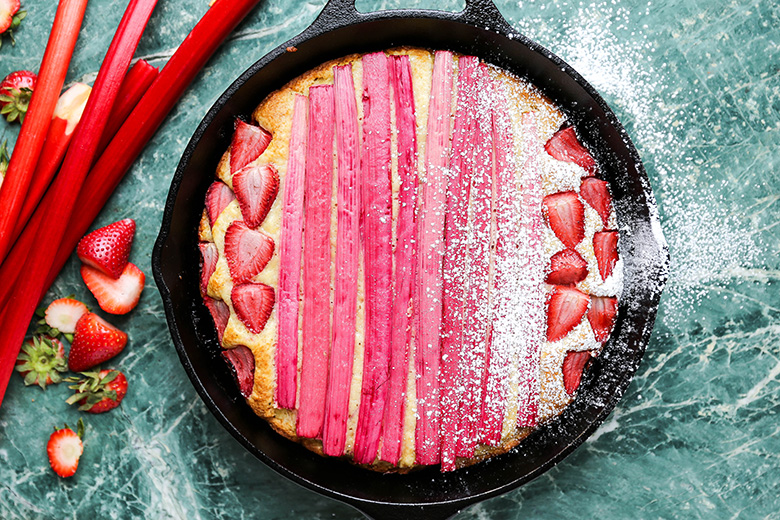 Given that my "to-do" list is like a mountain that needs climbing (myself being the out-of-shape climber that might require an emergency extraction off the side of said mountain), I'm going to keep things relatively brief today. I've got things to do. And you've got to get yourself into the kitchen ASAP to bake up this Strawberry-Rhubarb Vanilla Skillet Cake.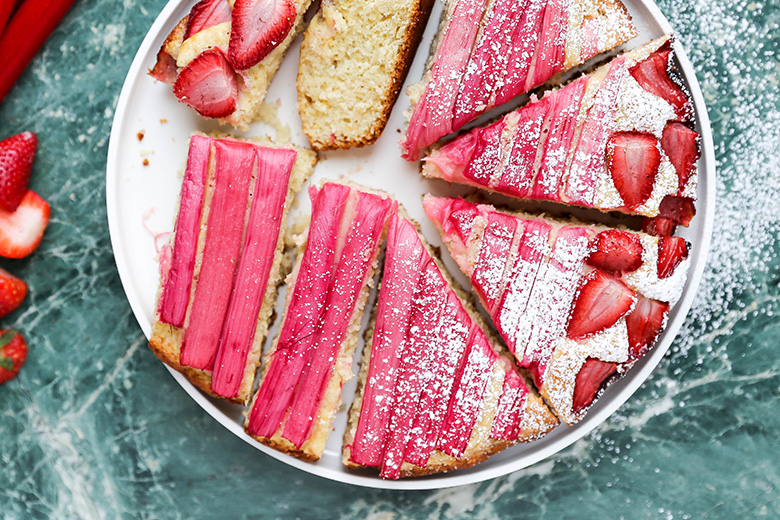 I'm a big fan of rhubarb. In the past, I've combined rhubarb with cherries, raspberries and even radishes for a savory application. But rhubarb and strawberries is a classic combination for a reason. And I couldn't resist putting the two of them together once again.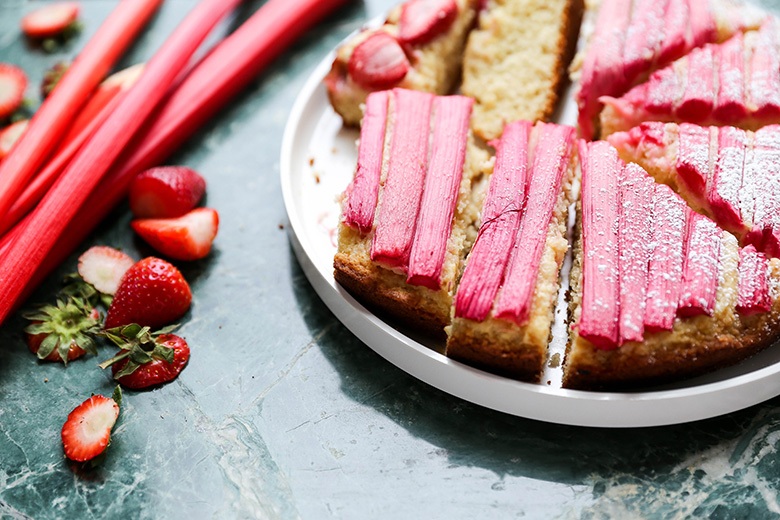 This cake is a breeze to make. So I figured it would be a good opportunity to take some time to play with the arrangement of the rhubarb and strawberries on top. You can make any pattern you like (chevron was a consideration, but I'm not THAT patient!) or go free spirited and forgo making a pattern all together. Whatever floats your boat! The only thing to really consider is making sure your rhubarb stalks are on the thinner side to ensure that they cook evenly. So cut them lengthwise in half or in quarters, as necessary depending on their original size.
OK. I better go do some stuff. The clock is ticking! Wish me luck!
Cheers,
Liz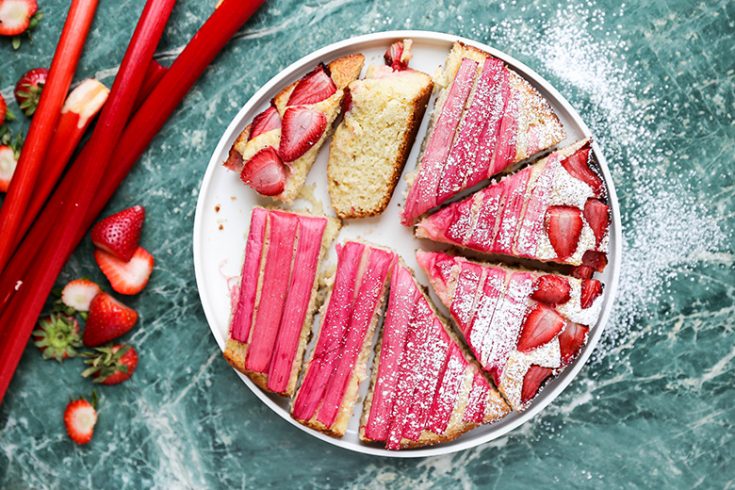 Strawberry-Rhubarb Vanilla Skillet Cake
Yield: 8 servings

Prep Time: 15 minutes

Cook Time: 35 minutes

Total Time: 50 minutes
Ingredients
1/4 cup (4 tablespoons) unsalted butter, softened at room temperature
3/4 cups granulated sugar
1 tsp. vanilla extract
1 vanilla bean, seeds scraped
1 egg
Zest from 1 lemon
1 1/4 cups all-purpose flour
1/2 tsp. salt
1/2 tsp. baking powder
1/4 tsp. baking soda
1/2 cup Greek yogurt (I used full fat)
About 1 cup fresh strawberries, trimmed and halved
About 4-8 stalks fresh rhubarb, trimmed to fit your skillet
Powdered sugar for serving, if desired
Instructions
Pre-heat your oven to 375 degrees. Spray a 10-inch cast iron skillet with non-stick cooking spray and set it aside.
In the bowl on your stand mixer with the paddle attachment, cream together the butter and sugar until light and fluffy, about 2-3 minutes. Add the vanilla extract, scraped vanilla bean seeds, egg and lemon zest. Beat until combined.
In a separate bowl, combine the flour, salt, baking powder and baking soda. Add about half of the dry ingredients to your mixer and beat on low speed. Then beat in about half of the Greek yogurt. Repeat with the remaining dry ingredients and Greek yogurt, beating just until no more white streaks remain. The batter will be very thick.
Spread the batter out into your prepared cast iron skillet. Top with sliced strawberries and rhubarb, arranging them in any pattern you wish. I covered the entire surface of the cake with the strawberries and rhubarb, but you can leave more open space, if you prefer.
Transfer the skillet to your pre-heated oven and bake for 35 minutes. The edges of the cake should be slightly golden. Set aside to cool for about 30 minutes before slicing and serving. Sprinkle slices with powdered sugar before serving, if desired.
SaveSave
SaveSave
SaveSave