Disclosure: Thank you Stonewall Kitchen for sponsoring this post! I am grateful for the opportunity to work with companies and brands that I love and trust. Their support helps keep my kitchen afloat! All opinions are my own.
I love each and every recipe here on Floating Kitchen. I would never post a recipe that I didn't love. But there are certain recipes that, for whatever reason, capture my heart more than others.
I'm feeling particularly smitten with these Individual Blackberry Jam and Almond Tarts. Maybe more so than any other dessert recipe I've posted in the recent months. Their fun size and adorably decorated tops is enough to make me swoon. And the fact that they are as delicious on day 1 as they are on day 4 is note-able as well.
But I think it's the way in which the sweet, fruity filling pairs so perfectly with the buttery, shortbread crust that has me totally turning into a lovesick 16 year old girl.
I just want to write "Individual Blackberry Jam and Almond Tarts" in loopy cursive all over my notebook and draw tons of obnoxious big puffy hearts.
Is that weird? I think it might be weird.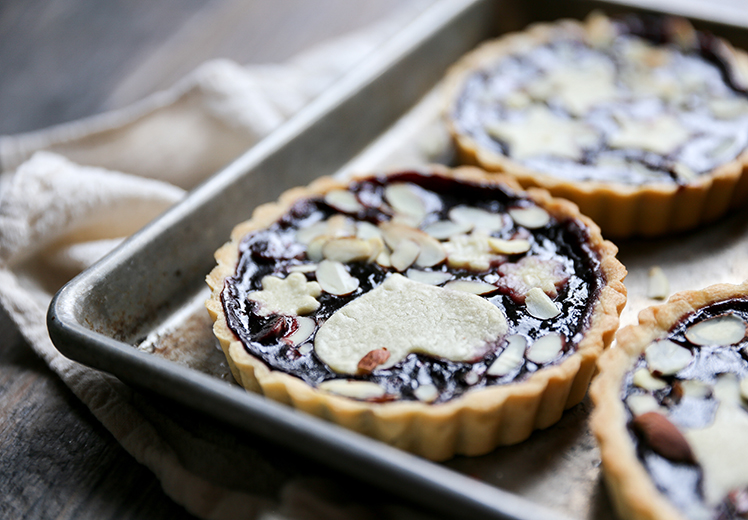 I'm partnering with my friends at Stonewall Kitchen today to bring you this recipe, which uses their brand spanking new Seedless Blackberry Jam. If you like blackberries, but don't necessary love picking seeds out of your teeth, then you're going to fall in love with this jam. I've been stirring it into my morning yogurt and making an unsettling number of peanut butter and blackberry jam sandwiches. I'm obsessed.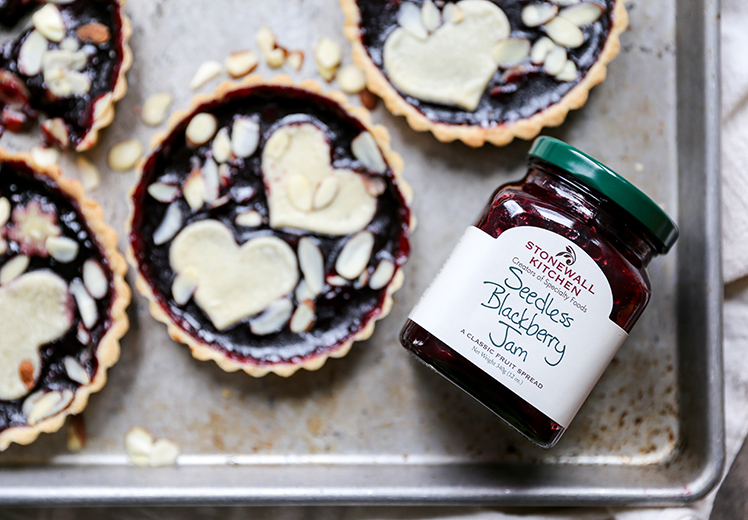 These Individual Blackberry Jam and Almond Tarts have a secret: despite their impressive look, they are CRAZY easy to make. Trust me. The dough comes together in the food processor. And the filling is a whopping two ingredients. AND you can make them in advance. Like a whole day or two (or three!) in advance.
Because I was aiming for maximal cuteness factor, I went with my individual tart pans (mine are 4 1/2-inches in diameter). But you could certainly make this recipe in a single large tart pan. You should have enough dough to cover a 10- or 11-inch pan. And if necessary, adjust the filling amount so the level reaches about three-quarters of the way up the sides of the pan.
Cheers,
Liz
Tart dough barely adapted from my Chocolate-Swirled Pumpkin Tart
Ingredients
For the Tart Dough
1 egg yolk
1 tablespoon heavy cream
1/2 tsp. almond extract
1 1/4 cups all-purpose flour
2/3 cups powdered sugar
1/4 tsp. salt
1/2 cup (8 tablespoons) unsalted butter, cubed and chilled

For the Filling
About 2 cups Stonewall Kitchen Seedless Blackberry Jam
6 tablespoons sliced almonds
Instructions
Make the dough. In a small bowl, whisk together the egg yolk, heavy cream and almond extract. Set aside. In the bowl of your food processor with the blade attachment, pulse together the flour, powdered sugar and salt. Add the butter and pulse 10-12 times. Then add the egg mixture and process until the dough comes together and starts to form a ball around the blade attachment. Remove the dough from the food processor and form it into a disk. Wrap it tightly in plastic wrap and refrigerate it for at least 1 hour or up to two days.
Place your individual tart pans with removable bottoms (mine are 4 1/2-inches in diameter) on a rimmed baking sheet and set aside. Remove the dough disk from your refrigerator and let it sit at room temperature for about 10 minutes. Lay a large piece of parchment paper down on your countertop and sprinkle some flour on top. Then roll the dough out onto your floured parchment paper into a circle approximately 12- to 13-inches in diameter. Using a knife, cut out circles that are approximately 1-inch larger than the diameter of your pans (you can arrange the tart pans on top of the dough as a guide). You won't be able to cut out all 6 rounds at once. Re-roll the dough scraps and continue cutting out rounds until you've got 6 rounds.
Transfer the dough rounds to your individual tart pans. Using your fingers, press the dough into the bottom and sides of the pans. Run your rolling pin over top of the tart pans to remove any excess dough. If the dough has torn in any spots or appears thin, use a little of the excess dough to patch/reinforce it. Transfer the tart pans to your refrigerator (keeping them on the baking sheet) to chill for 30-60 minutes.
Re-roll the dough scraps and cut out shapes using small cookie cutters. Place the cut-outs on a parchment paper lined baking sheet or plate and place in your refrigerator to chill.
Pre-heat your oven to 375 degrees.
Assemble the tarts. Remove the tart pans from your refrigerator. Stir the blackberry jam to loosen it slightly. Then spoon about 1/3 cup of the jam into each of the tarts, spreading it out evenly. The tarts should be approximately three-quarters full. Don't overfill them, or the filling will bubble over as it cooks. Arrange the cut-outs on top of the jam layer. Then sprinkle each tart with 1 tablespoon of the sliced almonds.
Transfer the tarts on their baking sheet to your pre-heated oven. Bake for about 25 minutes, or until the filling is bubbling and the crust has started to brown in a few places. Remove from the oven and set aside to cool.
Allow the tarts to cool completely before removing the outer ring and serving.
Leftovers can be wrapped and stored in your refrigerator for 3-4 days.
https://www.floatingkitchen.net/individual-blackberry-jam-and-almond-tarts/