Disclosure: I am an ambassador for Rodelle, which means they occasionally provide me with ingredients to use in my kitchen. And sometimes sponsor fun giveaways like this one! All opinions are my own. Thanks for supporting brands and companies that I love and trust.
You guys!!! This post is kind of a big deal. Because it's my first pumpkin recipe of 2015. Which officially makes me 6-8 weeks behind every other food blogger in the universe.
Good thing I work for myself, or else I probably would have gotten fired by now for insubordination. Seriously.
The thing is, I just don't get all googly eyed about pumpkin. It's good. And if you put a slice of pumpkin pie and a cold glass of pumpkin beer in front of me, I'll happily indulge in both. But I don't want to dedicate 3 months of my life to the stuff. Sorry/not sorry.
I do, however, want to dedicate 3 months of my life (or more) to making and eating chocolate cookies. The fact that these babies are also loaded with pumpkiny goodness is just a bonus for all you pumpkin lovers out there.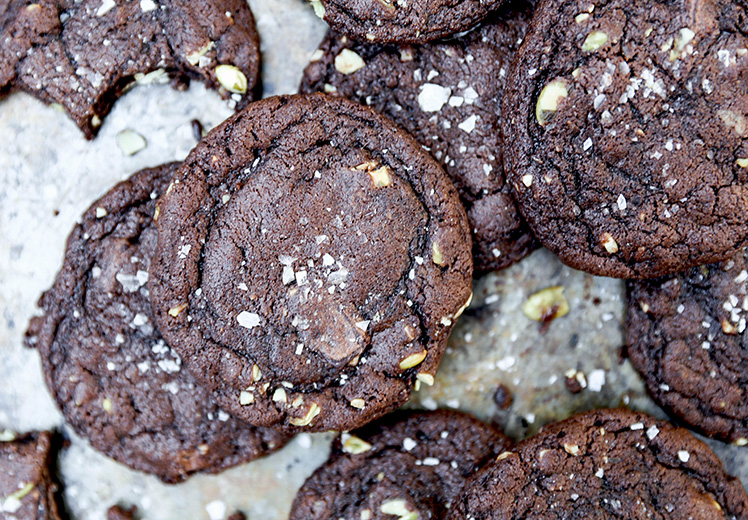 Just how loaded with pumpkin are these Chewy Dark Chocolate-Pumpkin Cookies? Well, they contain pumpkin seeds, pumpkin purée, a mixture of pumpkin spices AND Rodelle's Pumpkin Spice Extract. So the answer to the question is VERY. As in they are very loaded with pumpkin. It's pretty much coming at you from all angles.
In honor of Fall baking season (which is the best baking season, in my humble opinion), I've teamed up with my friends at Rodelle to give away a set of three fabulous baking essentials to one lucky Floating Kitchen reader. Yeah! The set includes (1) one 8-ounce container of Gourmet Baking Cocoa, (2) one 8-ounce container of Cinnamon Sticks and (3) one 2-ounce bottle of Pumpkin Spice Extract. Scroll down past the recipe to check out all the details of the giveaway and enter to win using the Rafflecopter widget. Good luck! Update: This giveaway has ended and a winner has been selected. Thank you to everyone who participated. And thanks Rodelle for generously sponsoring this giveaway!
Cheers,
Liz
Recipe adapted from Bon Appétit
Ingredients
2 1/2 cup all-purpose flour
1/2 cup Rodelle Gourmet Baking Cocoa
2 tsp. salt
1 tsp. ground cinnamon
1/2 tsp. baking soda
1/4 tsp. paprika
1/8 tsp. ground nutmeg
1/8 tsp. ground cloves
1/8 tsp. ground ginger
1 1/2 cups brown sugar, packed
1 1/3 cups granulated sugar
1 cup (16 tablespoons) unsalted butter, softened at room temperature
2 eggs
3 tablespoons pumpkin purée
1 tsp. Rodelle Pumpkin Spice Extract
1 1/2 cups dark chocolate chunks
1 cup toasted pumpkin seeds (also called pepitas)
Flaky sea salt
Instructions
In a large bowl, whisk together the flour, cocoa, salt, baking soda and spices. Set aside.
In your stand mixer with the paddle attachment, beat the sugars and butter until light and fluffy, about 3-4 minutes. Add the eggs one at a time, beating after each addition, the pumpkin purée and the extract. Mix until well combined.
With your mixer on low speed, slowly add in the flour mixture, beating until well blended. Fold in the chocolate chunks and the pumpkin seeds.
Cover and refrigerator the cookie dough until well chilled, at least 2 hours or up to overnight.
Pre-heat your oven to 350 degrees. Line your baking sheets with parchment paper. Using your hands, portion and form the cookie dough into balls, using about 2 tablespoons of dough for each ball. Place the dough balls on your parchment paper lined baking sheets, spacing them about 2-inches apart. Sprinkle the tops with a little bit of the flaky sea salt.
Transfer to your pre-heated oven and bake for 10 minutes. Then rotate the baking sheets and bake for an additional 2-4 minutes. The edges of the cookies should be firm, but the centers will still be slightly soft. Remove the baking sheets from your oven and let the cookies cool on their baking sheets for about 5 minutes before transferring to a wire rack to continue cooling.
Once completely cooled, transfer to an airtight container for storage. The cookies will keep for up to 5 day.
https://www.floatingkitchen.net/chewy-dark-chocolate-pumpkin-cookies/