I'm excited to FINALLY share with you my most treasured Christmas cookie of all-time: My Favorite Cream Cheese Spritz Cookies!
Like pizzelles, spritz cookies require a special piece of equipment. This time you'll need a cookie press (I have an older version of this model). So like with the pizzelles, I have always been hesitant to share the recipe here for worry that some of you won't be able to make them. But since I won't be celebrating the Holidays with my family in the usual ways this year, I'm determined to hit up all my childhood (and adult!) favorites. The nostalgia is strong when it comes to my most beloved baked goods!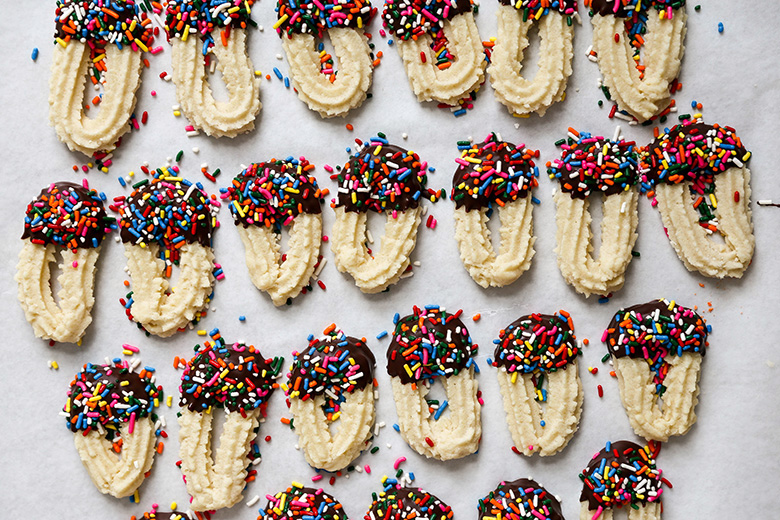 Spritz are a popular cookie around the Holidays. You've probably seen them pressed into festive shapes, like little Christmas trees, snowflakes and candy canes. My cookie press has all those disk attachments, too. But my family has always made them into a pinched together semi-circle/oval shape, then dipped one end in melted chocolate and covered them with rainbow sprinkles. I don't know how or why we started making this particular shape/style, but I do know that it was always the first cookie to disappear from the cookie tin. My Great Auntie Dot made dozens of cookies each year. But these spritz were the most sought after.
So My Favorite Cream Cheese Spritz Cookies might not look very Christmasy. But they symbolize Christmas to me.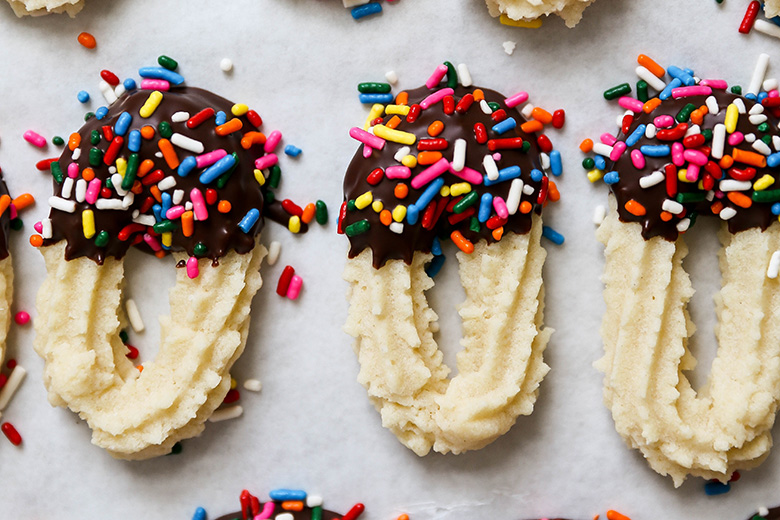 In addition to being delicious little two-bite treats, spritz cookies have a lot of other attributes that make them a worthy cookie to add into your baking rotation. One, the dough doesn't need to be refrigerated, so there is very little wait time in the recipe. Two, the cookies don't rise or spread significantly, so you can really pack them close together on your baking sheets. I can typically fit up to 2 dozen cookies on one standard sheet! And three, they will stay fresh for a couple weeks (if you can get them to last that long!), which makes them ideal for gifting and cookie tins.
Do you have a cookie press? Have you made spritz before? I'd love to know!
Cheers,
Liz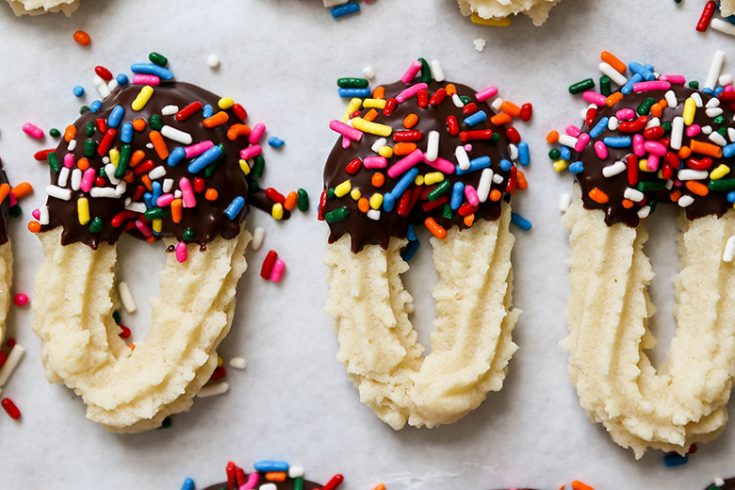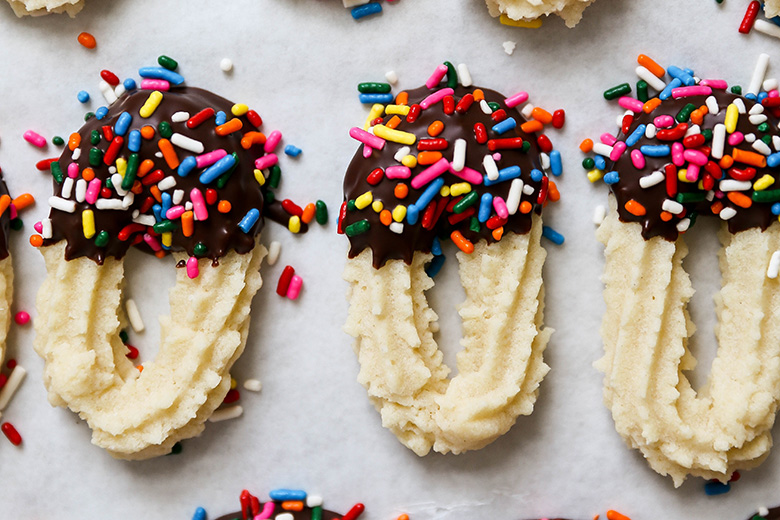 My Favorite Cream Cheese Spritz Cookies
Yield: Makes about 4 dozen cookies
Prep Time: 15 minutes
Cook Time: 15 minutes
Additional Time: 15 minutes
Total Time: 45 minutes
Ingredients
1 cup (16 tablespoons) butter, softened at room temperature
3 ounces full-fat cream cheese, softened at room temperature
1/2 cup granulated sugar
1 tsp. vanilla extract
2 cups all-purpose flour
8 ounces semi-sweet chocolate, chopped
Decorating sprinkles
Instructions
Pre-heat your oven to 300 degrees.
In your stand mixer fitted with the paddle attachment, beat together the butter and cream cheese on medium speed until light and fluffy, about 2-3 minutes. Scrape down the sides of the bowl. Add the sugar and vanilla extract and beat until well combined. Sift the flour and start slowly adding it to the bowl of your mixer while beating on low speed. Once all the flour has been added, stop to scrape down the sides of the bowl. Then beat on medium speed just until the flour is fully incorporated and no more white streaks remain.
Fit your cookie press with the star-shaped disk and fill the tube with some of the dough.
Press the dough out onto ungreased baking sheets. Start by creating semi-circles/ovals that are about 2 1/2 to 3-inches in length. Then go back and pinch the ends together to form a closed shape. You can place the cookies close together on the baking sheets because they won't rise/spread significantly. Continue adding dough to the tube and pressing/forming the cookies until all the dough has been used up.
Transfer the baking sheets to your pre-heated oven and bake for 15 minutes. The cookies should be set, but not browned.
Remove the baking sheets from your oven and let the cookies rest on their baking sheets for about 5-10 minutes. Then use a spatula to transfer them to a wire rack to finish cooling.
Once the cookies are completely cooled, gently melt the chopped chocolate either in a double boiler or in your microwave in 30 second intervals.
Dip one end of the cookies into the melted chocolate, letting the excess drip off before placing on a baking sheet lined with wax paper. Once you have about 6-8 cookies dipped, coat the chocolate portion with sprinkles. Continue working until all the cookies have been dipped and decorated with sprinkles.
Let the chocolate completely harden before transferring the cookies to an airtight container. Spritz cookies will stay fresh in an airtight container at room temperature for up to 2 weeks.