This post was originally published here December 15, 2014. I've adjusted the recipe slightly and updated the text and photographs to reflect those changes. Now go ahead and treat yourself to these decadent cookies!
Cooooooookies!
That's my December mood. You feel me?
With all the potential baked goods at our disposal, you'd think there would be more of a variety during the month of December. But cookies always seem to steal the show. It's all cookies. All the time.
I'm not complaining. Just observing.
So naturally, here I am with my offering: Soft and Chewy Nutella Cookies with Chocolate Ganache.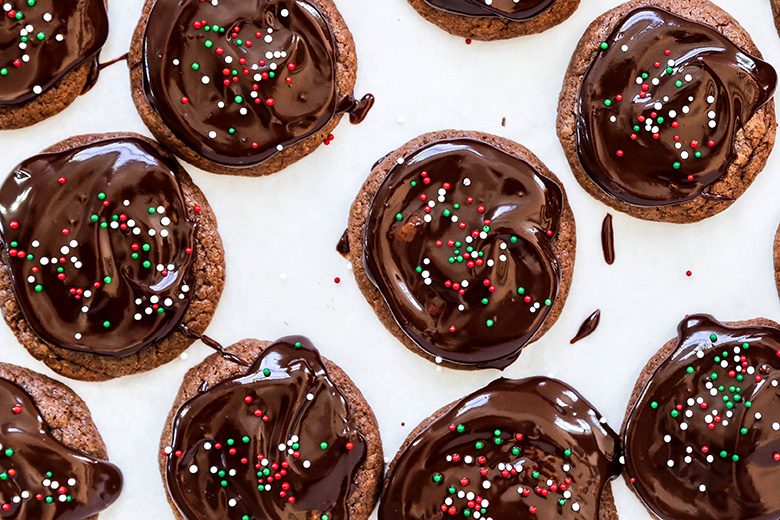 With so many new cookie recipes coming out this month on the internet, combined with the fact that we all have our traditional family favorites that we like to dig into each Holiday season, I know it seems like a big favor to ask you to consider a new cookie. But I'm hoping you'll be in a generous spirit this month and you'll want to give my Soft and Chewy Nutella Cookies with Chocolate Ganache a try!
Love chocolate? I've got you covered!
Craving a soft, chewy cookie? Look no further!
In need of a cookie that will stay fresh for up to seven days? It's here!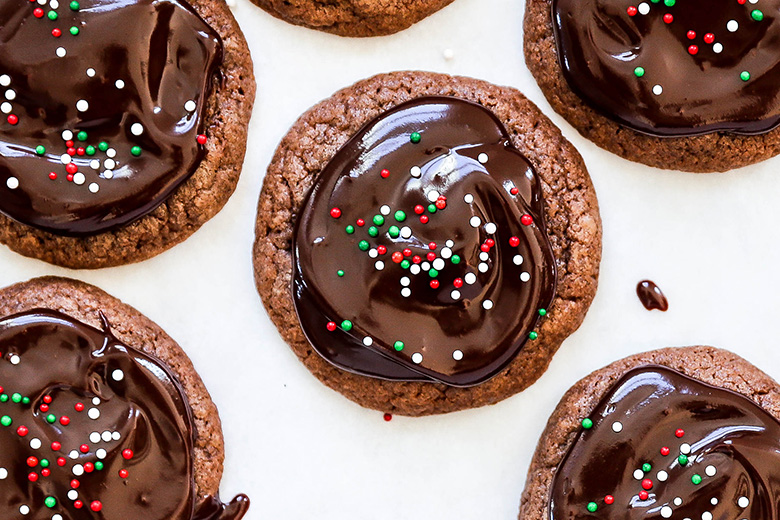 Ok. I'll stop with all the questions now. But let me just reiterate that final point. Because I feel it's the most important. Here we go. These cookies will stay flawlessly fresh for an entire week. Yup. Which makes them an ideal candidate for a cookie exchange, gift giving, shipping, or even just to keep around your house for when those unexpected carolers show up at your doorstep. These cookies (which by the way, are almost brownie-like in texture!), are here to save the day.
If you try my Soft and Chewy Nutella Cookies with Chocolate Ganache please let me know. I would love to hear about how they turned out!
Cheers,
Liz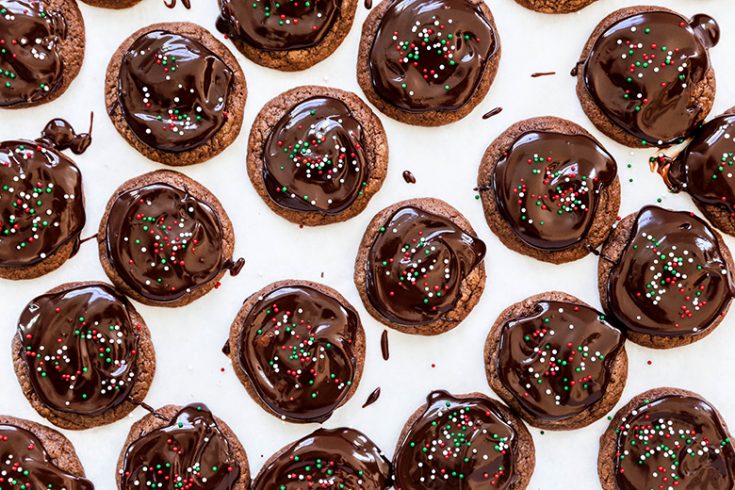 Soft and Chewy Nutella Cookies with Chocolate Ganache
Yield: Makes about 3 dozen cookies
Prep Time: 30 minutes
Cook Time: 15 minutes
Additional Time: 2 hours
Total Time: 2 hours 45 minutes
Ingredients
For the Cookies:
1/2 cup (8 tablespoons) unsalted butter, melted
1/2 cup packed brown sugar
1/4 cup granulated sugar
2 eggs, room temperature
1 tablespoon vanilla extract
1 cup Nutella
2 cups all-purpose flour
1 tsp. baking powder
1/2 tsp. salt
For the Ganache:
6 ounces dark chocolate, chopped
1/4 cup Nutella
3/4 cups heavy cream
Instructions
In a large bowl, stir together the melted butter, brown sugar and granulated sugar with a wooden spoon. Then add the eggs and vanilla extract, stirring until well combined.
Warm the Nutella in your microwave for 20-30 seconds and then add it to your bowl, stirring to combine it with the other ingredients. Add the flour, baking powder and salt and stir until the flour is fully incorporated and no more white streaks remain. Cover the bowl with plastic wrap and place it in your refrigerator to chill the dough for at least 2 hours or up to overnight.
Pre-heat your oven to 350 degrees.
Form the chilled cookie dough into balls, using about 1 1/2 to 2 tablespoons of dough for each ball, and place the balls about 1 1/2-inches apart on parchment paper lined baking sheets. Transfer the baking sheets to your pre-heated oven and bake the cookies for 8 minutes. Then rotate the pans and bake the cookies for an additional 3 minutes. The centers may still look slightly underdone, but the edges should be firm.
Remove the baking sheets from your oven and let the cookies rest on their baking sheets for 5 minutes. Then transfer them to a wire rack to continue cooling.
Once all the cookies are baked and cooled, make the ganache. Place the chopped chocolate and Nutella in a medium bowl. Set aside. In a small saucepan, warm the heavy cream over medium heat just until small bubbles start to form around the edges. Do not let the cream come to a full boil. Pour the warmed cream over the chopped chocolate and Nutella and let it sit for 1-2 minutes. Then whisk until the chocolate is fully melted and the mixture is glossy and completely smooth.
Let the ganache cool for 10-15 minutes. Then spoon about a tablespoon of the ganache over the top of each cookie. Decorate as desired with sprinkles, candies, nuts, etc.
These cookies can be stored in an airtight container at room temperature for up to 1 week.