This post was originally published here on April 25, 2014. I've since updated the photographs and text. These éclairs do take a bit of extra time and effort to make. But they are totally worth it for a special occasion!
Re-visiting this blog post was a trip down memory lane. I originally made these Lavender Éclairs back in 2014 as part of Lindsay's Kitchen Challenge. At the time, I was living in Seattle and working in both a bakery and a French restaurant. So making éclairs (or at least making all the parts of éclairs), was like second nature to me. My days were filled with pâte à choux, pastry cream and chocolate glaze.
It was a terrible time. I hated it.
That's sarcasm, in case you couldn't discern my tone through the computer screen.
Those days seems very far away now. But with Easter and Mother's Day coming up, I thought it would be fun to refresh my memory (and the terrible photographs featured in that old post!) on the basics of éclairs. So here we go.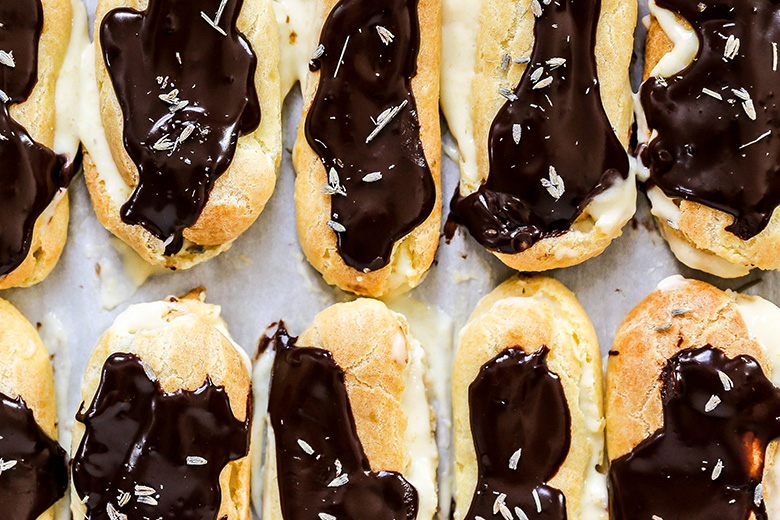 Are éclairs hard to make? Yes and no. None of the individual components (the pâte à choux, pastry cream and chocolate glaze) are particularly complicated. But the process can be time consuming. And the piping does require a bit of hand-eye coordination that I still haven't fully mastered (my éclairs are rustic, right?!?!). But they are totally do-able. And a fun project for a special occasion or Holiday.
My best advice is first and foremost, don't stress. They probably won't look perfect the first time you make them and that's OK. Heck, mine certainly don't. Second, do yourself a favor and make the pastry cream the night before. This will give it sufficient time to chill and firm up. And it's one less task to do on the day of (and éclairs really should be enjoyed the day they are made). Third, if you don't have a pipping bag and a tip, this would be a good time to invest in one. You certainly can pipe the pâte à choux using a zip-closure bag with the corner snipped off. But it will be more challenging to achieve consistent results this way. Four, don't feel like you need to make the éclairs long. The ones you can buy in pastry shops can be 5- or 6-inches in lenght. I ALWAYS make mine short (closer to 3-inches). They are much easier to pipe. And the likelihood that they'll "puff up" is much higher. And five, any mishaps can be hidden with a thick layer of chocolate glaze. And that's always true!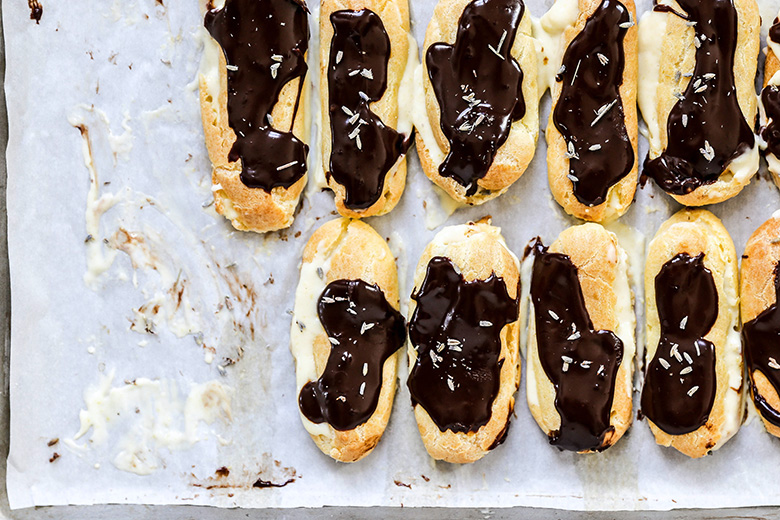 I flavored my pastry cream with lavender (make sure you buy dried culinary lavender), because I just love the flavor and it totally screams SPRING to me. If you're sensitive to that taste (I know some people find it overpowering and think it tastes like soap), you can use a bit less, or just leave it out entirely. Traditionally, the pastry cream is "injected" into the pastry shells using a piping bag fitted with a smaller tip. But I have never had great success at doing this (I never seem to be able to get enough of the delicious filling inside!). So instead, I split the éclairs in half lengthwise and spoon the pastry cream into the bottom half of the shells, and then place the second half back on top. Voilà!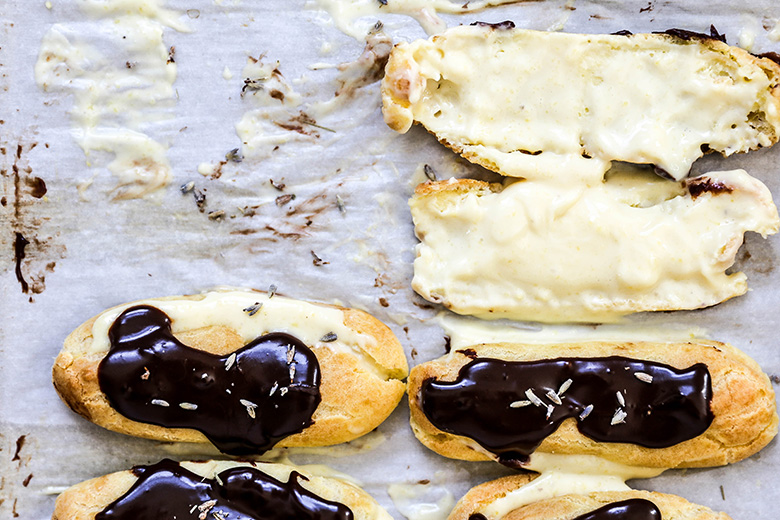 If you try making my Lavender Éclairs, please let me know. I'd love to hear about it! And always remember, a thick layer of chocolate glaze covers any imperfections!
Cheers,
Liz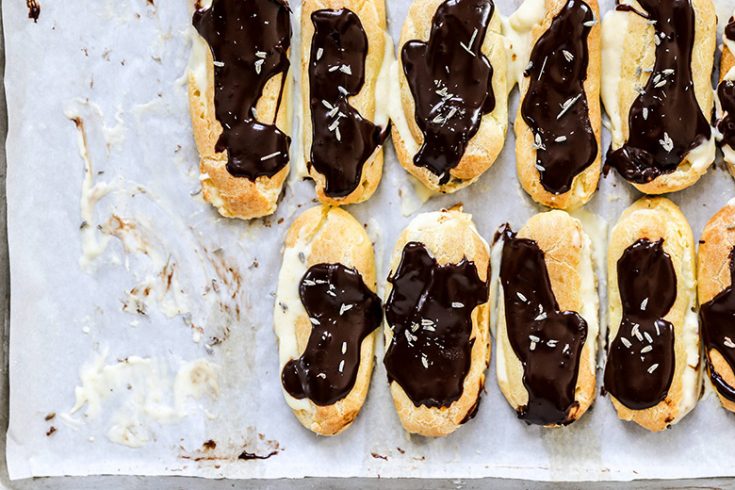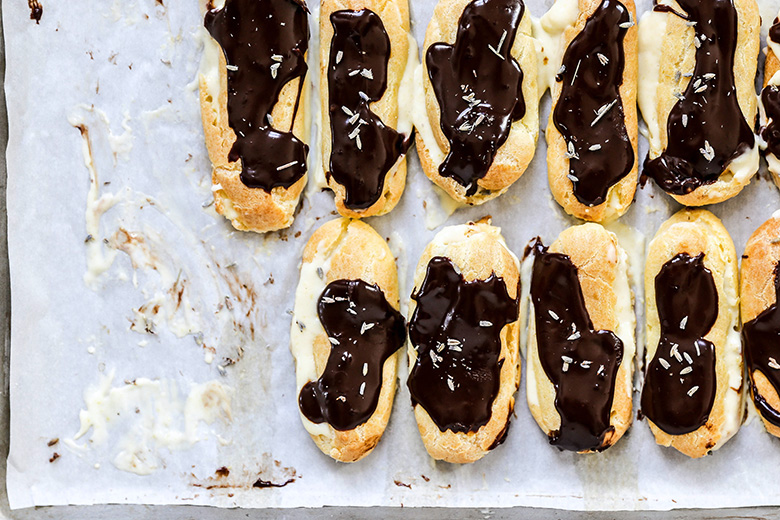 Lavender Éclairs
Yield: Makes one dozen 3-inch éclairs
Prep Time: 6 hours
Cook Time: 1 hour
Total Time: 7 hours
Ingredients
For the Lavender Pastry Cream:
5 egg yolks
3 tablespoons cornstarch
1/2 cup granulated sugar, divided
2 cups half and half
1 tsp. vanilla extract
1/8 tsp. salt
2-3 tsp. dried culinary lavender
4 tablespoons unsalted butter, cubed
For the Pâte à Choux:
6 tablespoons water
5 tablespoons unsalted butter, cubed
2 tablespoons whole milk
1 1/2 tsp. granulated sugar
1/2 tsp. salt
1/2 cup all-purpose flour
2 eggs, plus 1 egg white, beaten
For the Chocolate Glaze:
1/3 cup heavy cream
3 ounces bittersweet chocolate, chopped
1 tablespoon powdered sugar
Instructions
To make the pastry cream, start by whisking together the egg yolks, cornstarch and 2 tablespoons of the sugar in a medium bowl. The mixture will be thick. Set aside. Then in a medium heavy-bottom saucepan, combine the remaining 6 tablespoons of sugar with the half and half, vanilla extract, salt and lavender. Bring to a simmer over medium-high heat, stirring occasionally, until the sugar is dissolved.
Whisk about 1/2 cup of the hot liquid into the egg yolk mixture to temper the eggs. Then slowly whisk the tempered eggs into the remaining hot liquid in the saucepan. Turn the heat down to medium and cook, whisking constantly, until the mixture starts to bubble and becomes thick, about 1-2 minutes. Remove the saucepan from the heat and whisk in the butter.
While the pastry cream is still hot, strain it through a fine mesh strainer into a clean bowl. Use a spoon or a whisk to help push the pastry cream through the strainer. Discard any solids. Then place a piece of plastic wrap directly over the surface of the warm pastry cream to prevent a skin from forming. And refrigerate it until it's completely chilled and firm, about 4 hours or up to 3 days.
When you're ready to finish making the éclairs, pre-heat your oven to 400 degrees. Line two baking sheets with parchment paper. Then use a pastry brush to brush a small amount of water all over the surface of the parchment paper to moisten it (the water will bead up, that's OK). Set aside.
To make the pâte àchoux, start by combining the water, butter, milk, sugar and salt in a medium heavy-bottom saucepan over medium-high heat. Once the butter is melted and the mixture is simmering, turn the heat down to low and add the flour. Stir the dough constantly with a wooden spoon, using the spoon to press the dough into the sides and bottom of the pan as you stir, and cook for about 2-3 minutes. The dough will clump into a ball and appear slightly matte. Remove from the heat.
Transfer the warm dough to your stand mixer fitted with the paddle attachment. Mix on the lowest speed for 2 minutes to help the dough cool slightly. Then increase the speed to medium and add the beaten egg mixture about 1/3 at a time, mixing well after each addition. The dough will appear curdled at first, but it will come together as the mixer runs. After a couple of minutes, it should appear smooth, thick and shiny.
Fit a pastry bag with a large (1/2- to 3/4-inch), plain round pipping tip and fill it with the warm pâte àchoux. Twist/fold the top of the pastry bag to keep it closed.
Note: You can do this using a large zip-closure bag with the corner snipped off, but it will be harder to achieve a more consistent size and shape.
Using steady, even pressure, pipe the pâte àchoux into "logs" onto your prepared baking sheets. Make each log about 3-inches long and 1-inch in diameter, spacing them about 2-inches apart from each other. Once they are all piped out, you can use the back of a teaspoon dipped in cold water to even out the shapes and/or smooth the surfaces, if necessary.
Transfer your baking sheets to your pre-heated oven and bake the pastry shellsfor 15 minutes. Then without opening your oven door, turn the temperature down to 350 degrees and bake for an additional 8-10 minutes. The pastry shells should be golden and puffed.
Remove the baking sheets from your oven and turn your oven off. Using a small paring knife, create a small hole in the side of each pastry shell to allow steam to release. Then place the baking sheets back in your still-warm oven, leaving the oven door ajar, for about 20 minutes to dry out the pastry shells. Transfer the pastry shells to a wire rack to cool completely.
To fill the pastry shells, start by carefully splitting each one in half lengthwise. You can slice them in half using a small paring knife, or gently pry them apart using your fingers (this is what I do).
Remove the pastry cream from your refrigerator and whisk it to briefly to "loosen" it up. Then spoon a couple of tablespoons of the pastry cream into the bottom half of each of the pastry shells. Place the other half of the pastry shell back on top, covering the pastry cream. Set the filled éclairs aside while you prepare the chocolate glaze. If you have any leftover pastry cream (this is likely), you can refrigerator it for up to 3 days and save it for another purpose.
To make the chocolate glaze, warm the heavy cream in a small heavy-bottom saucepan over medium-high heat. Once it starts simmering, add the chocolate and powdered sugar and stir until the chocolate is completely melted. Remove from the heat and let the chocolate glaze sit for about 5 minutes to thicken and cool slightly. Then spoon it generously over each of the filled éclairs. Top each éclair with a few culinary lavender buds, if desired.
Éclairs are best when they are enjoyed within a few hours of assembling.