The post was originally published here on June 10, 2013. I've since updated the photographs and text.
Got dinner problems? Well, you've come to the right place. Because I'm solving them ALL with this One-Pan Chicken and White Beans with Tomatoes, Garlic and Herbs.
That's a bold statement. I know. But trust me. This recipe is a keeper for sure.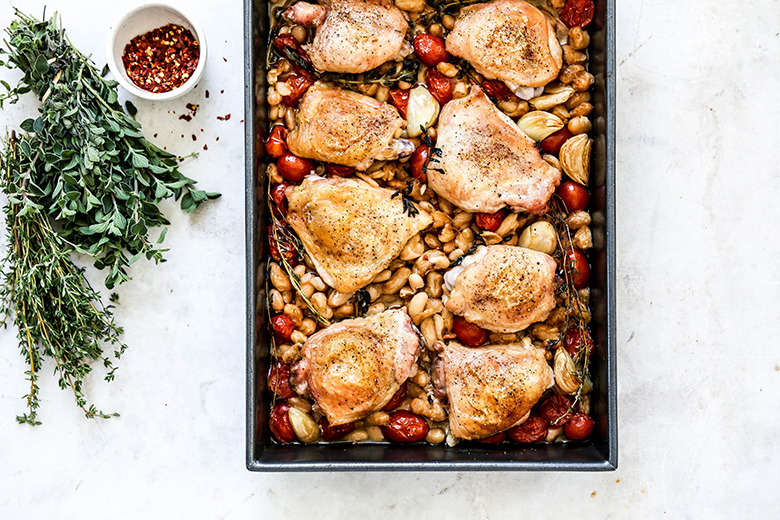 There are a lot of easy, sheet-pan dinners floating around in the milieu of the internet. And over the years, I've tried my fair share of them. With varying degrees of success.
But even the highest achieving ones have never bested this One-Pan Chicken and White Beans with Tomatoes, Garlic and Herbs. It's my tried and true favorite. And I think it will become one of yours as well.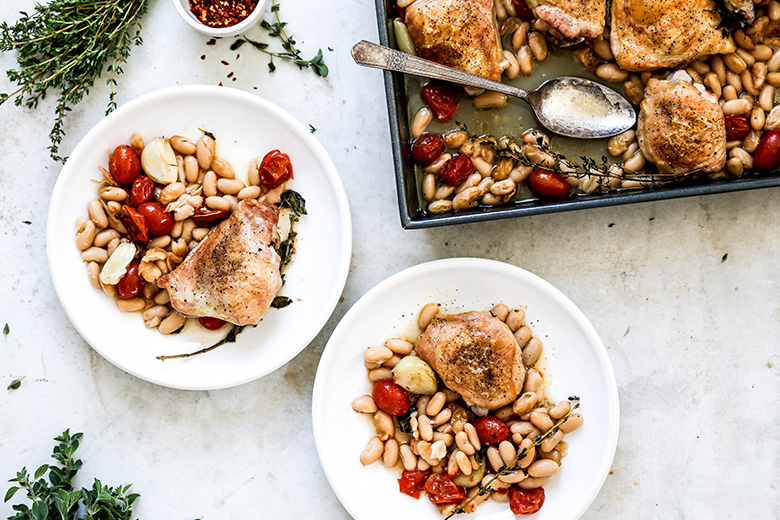 So what makes this sheet-pan dinner better than all the rest? First, there are literally like ZERO DISHES created in the making of this recipe. You don't even need a mixing bowl. Just a single cutting board and your trusty 9 X 13-inch baking pan will do the trick. Second, the broth is to die for (hello white wine flavored with chicken and fresh herbs!), and it will have you eating your weight in crusty bread as you try to sop up every delicious, flavorful drop. And third, it's pretty much an entire meal in and of itself. I've had this many nights just "as is", and I've been more than satisfied (but a side of roasted broccoli or asparagus pairs well here, if you're so inclined).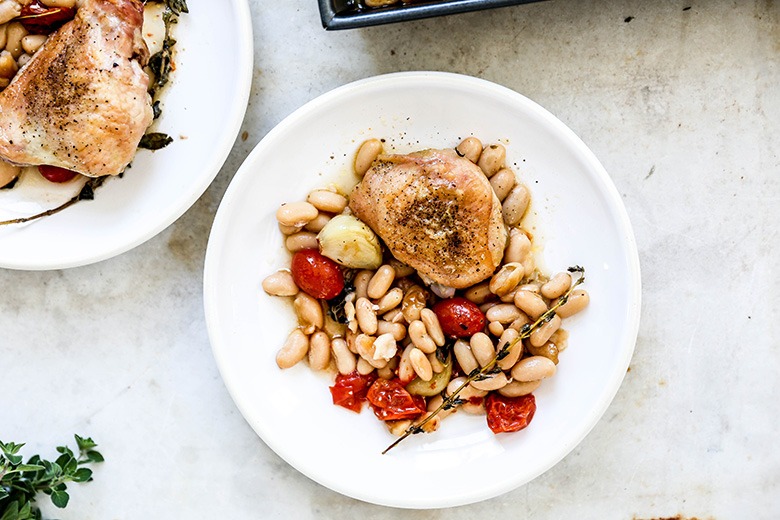 But my absolute favorite part of this dish might just be the whole garlic cloves, which turn into plump little flavor bombs when roasted. They are so freaking good. Vampires: stand down.
Cheers,
Liz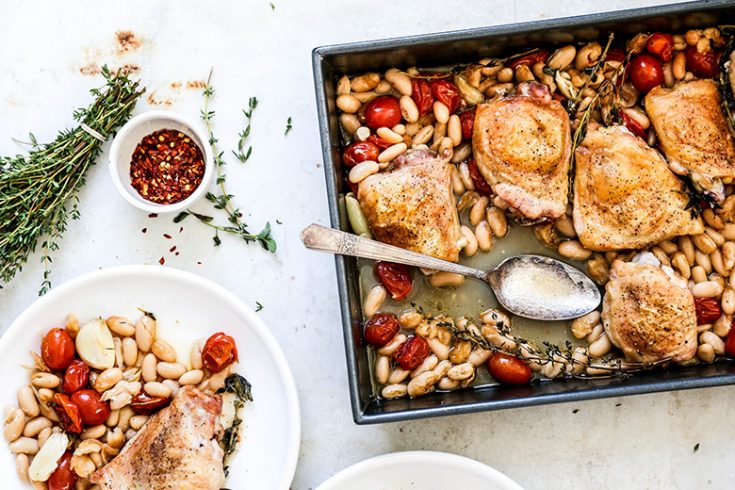 One-Pan Chicken and White Beans with Tomatoes, Garlic and Herbs
Yield: Serves 4
Prep Time: 5 minutes
Cook Time: 45 minutes
Total Time: 50 minutes
Ingredients
2 (15-ounce) cans white beans, rinsed and drained
1 pint grape tomatoes
8-10 garlic cloves, peeled and lightly smashed
4 sprigs fresh thyme
4 sprigs fresh oregano
1/2 cup white wine
About 2 tablespoons extra-virgin olive oil, divided
About 1 tsp. salt, divided
About 1/2 tsp. black pepper divided
1/4 tsp. red pepper flakes
8 bone-in, skin-on chicken thighs
Instructions
Pre-heat your oven to 425 degrees.
Add the white beans, tomatoes, garlic, thyme, oregano, white wine, 1 tablespoon of the olive oil, 1/2 tsp. of the salt, 1/4 tsp. of the black pepper and the red pepper flakes to a 9 X 13-inch baking pan. Toss gently until everything is well coated. Then spread the white bean mixture out into an even layer.
Place the chicken thighs on top of the white bean mixture. Pat the tops of the chicken thighs dry with a paper towel. Then rub them with a little olive oil. Season with salt and black pepper.
Transfer the baking pan to your pre-heated oven and roast until the chicken is golden on top and cooked through, about 40-45 minutes. Remove from the oven and let rest for 5-10 minutes before serving.
Leftovers can be stored in an airtight container in your refrigerator for 1-2 days.