This post was originally published here on May 29, 2013. I've since updated the photos and text.
It's my Birthday!
I'm 37 years old today. And apparently, I'm celebrating my most recent successful trip around the sun by re-visiting this recipe for Panzanella Salad with Roasted Garlic. It's a dish that first appeared here on the blog over 4 year ago. And it's one that I still love to make and enjoy all Summer long.
So…is this what 37 looks like? Is my choosing to post a sensible salad recipe on my Birthday, instead of a towering three-tiered cake covered with chocolate frosting and sprinkles, indicative of old age? Or maturity? Or senility?
Honestly, I'm not sure. But whatever the reason, I'm OK with it. Because I'm pleased to report that 37 actually feels pretty gosh darn good.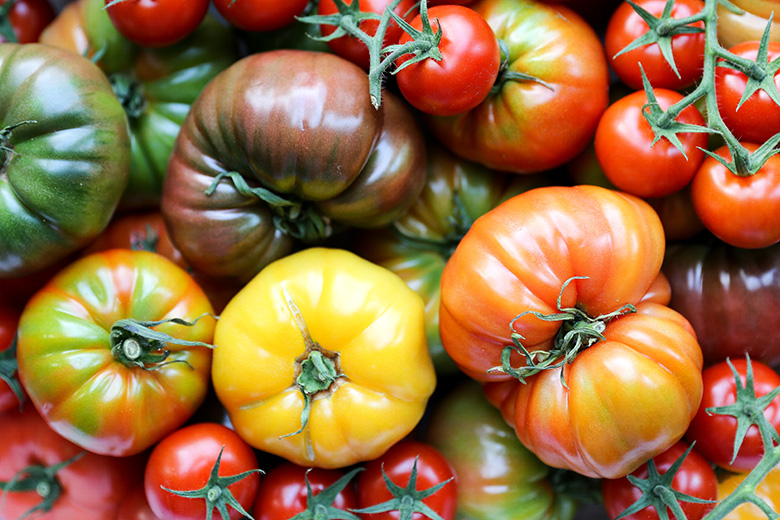 So, let's chat about this salad. It's a recreation of a dish that I enjoyed (i.e. devoured) at a tiny Italian restaurant on Orcas Island several years ago, back when I was living in the state Washington. And while I can't remember everything about that exact dish, their use of whole roasted garlic cloves in the salad is what stood out most in my mind. It's what made their panzanella salad different from those I had eaten in the past. And it's a trick that I've now adopted at home to help take my panzanella salads over the top.
The rest of this salad is composed of your typical Summer staples: juicy tomatoes (get heirlooms if you can!), fresh basil and tender mixed greens. And of course, we can't forget about the toasted bread cubes. I mean, it wouldn't really be a panzanella salad without the bread. I usually buy a loaf of whatever happens to catch my eye at the bakery that week. An Italian Pugliese or French Boule are always sensible choices. But don't be afraid to play with different types of bread. I've learned from past experiments that rye bread can really add an extra punch of flavor. Or try cornbread if you need to make a gluten-free version.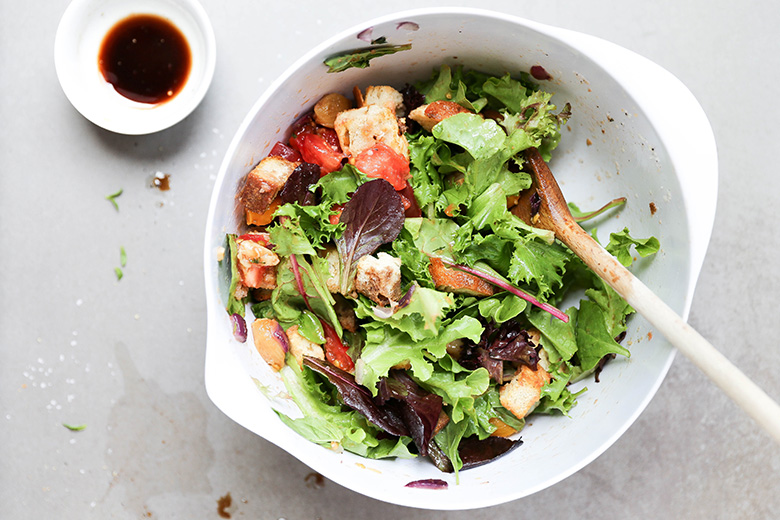 This isn't one of those salads that you can just toss together in a few minutes. It takes time to roast the garlic and prepare the other ingredients. But it's totally worth it for those nights when you have a little bit of extra wiggle room in your schedule. Because the layers of flavors here are seriously on point.
The original version of this recipe included some buffalo mozzarella, but I've since started enjoying it sans cheese. Skipping the mozzarella makes this recipe vegan (just be sure to check the ingredient label on your bread), which means I get to save my "dairy points" for things like ice cream or strawberry shortcake with fancy whipped cream. Because at 37 years of age, I'm learning that life is all about balance.
Cheers,
Liz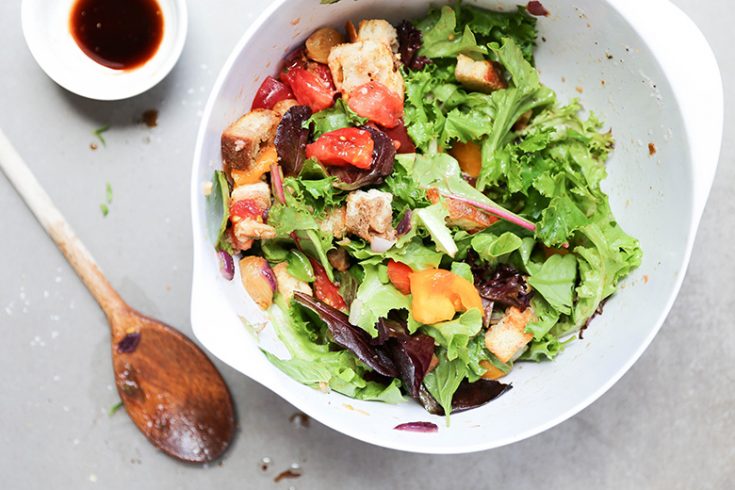 Panzanella Salad with Roasted Garlic
Yield: 4-6 servings
Prep Time: 10 minutes
Cook Time: 1 hour 30 minutes
Total Time: 1 hour 40 minutes
Ingredients
For the Salad:
2 heads of garlic
About 1/4 cup extra-virgin olive oil, divided
4 cups cubed bread
1/2 red onion, peeled and roughly chopped
1 tsp. fresh thyme leaves
1/2 tsp. salt, divided
1/4 tsp. black pepper
4-5 medium sized tomatoes
2 cups mixed greens
1/4 cup fresh basil leaves, torn
For the Dressing:
2 tablespoons extra-virgin olive oil
2 tablespoons balsamic vinegar
Reserved tomato juices
1/4 tsp. salt
1/4 tsp. black pepper
Instructions
Using a sharp knife, remove the top portion of the garlic heads, exposing the individual cloves. Place the garlic heads cut-side up on a piece of aluminum foil. Drizzle each garlic head with 1 teaspoon of olive oil and then fold over the aluminum foil to cover the tops.
Place the garlic heads in your oven, then turn it on to 300 degrees. After 30 minutes, carefully uncover the garlic heads, drizzle the tops with another teaspoon of olive oil and place them back in your oven to roast for an additional 45 minutes. Remove the garlic from the oven and let it cool slightly. Once it's cool enough to handle, carefully remove the individual garlic cloves from their skins and place them in a small bowl. Set aside.
Turn your oven up to 400 degrees. In a large bowl, toss the bread cubes and chopped red onion with the thyme leaves, 1/4 tsp. salt, the black pepper and about 2 tablespoons of the olive oil. Transfer to a large rimmed baking sheet and roast in your pre-heated oven for 15 minutes, stirring once halfway through. The bread should be crisp and lightly golden brown. Remove from the oven and set aside to cool slightly.
Meanwhile, chop the tomatoes into large chunks. Place the chopped tomatoes in a strainer placed over a bowl so you can collect the juices (you will use the juices for the dressing). Sprinkle the chopped tomatoes with 1/4 tsp. salt, tossing gently. Let the tomatoes sit for 5-10 minutes.
To make the dressing, whisk all the ingredients together, including the reserved tomato juices.
To assemble the salad, place the roasted bread cubes and red onion in a large bowl. Add all of the dressing and toss to combine. Then add the roasted garlic cloves, chopped tomatoes, mixed greens and basil leaves. Toss gently to combine. Serve immediately.