This post was originally published here August 29, 2016. I've since updated the text and photographs.
We're in prime salad eating territory right now. So buck up everyone! Because I've got another Big F*cking Salad to share with you! And this one has lots of bread in it. So you know it's going to be extra tasty!
I'm a big fan of panzanella salads and I've got a few other versions here on the blog. They're an ideal "main meal" salad for me, because the bread really gives them some extra bulk. This Tomato, Melon and Cornbread Panzanella Salad is the one that really hits home come mid- to late-Summer. It's filled with sun-ripened cherry tomatoes, juicy melon, greens, basil, bacon and lots of toasted cornbread cubes (i.e. the best part!).
It's basically Summer in a bowl!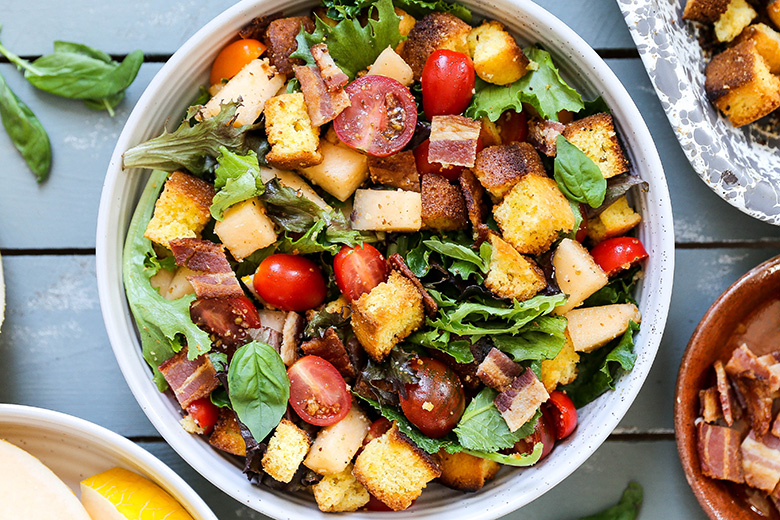 What's the best cornbread to use for this salad? Whatever your favorite cornbread is will be the one that works best. Whether it's homemade, from a box mix or store-bought. Anything works. My best tip is to make sure it's a day or two old. Stale bread usually works best for panzanella salads, because not only is it primed to soak up the juices and flavors from all the other ingredients, but it also holds its shape better and doesn't fall apart in the salad.
What's the best melon to use for this salad? I've made this recipe with both cantaloupe and honeydew melon. And both are great and I would recommend trying either. Although sometimes a different variety will catch my eye and I'll grab that instead (these photographs show this salad made with a Canary melon). This is the time of year when you might find more unique melons at your farmer's market or grocery store. So feel free to try something new and different!
This Tomato, Melon and Cornbread Panzanella Salad is somewhat "self-dressing", which means there are usually ample juices from the tomatoes and melon to sufficiently coat all the other ingredients. So I find a couple tablespoons of olive oil and vinegar is all I typically need to add to help round things out. But if it seems dry to you, feel free to add a little bit more.
Have you tried cornbread in a panzanella salad before? If you make my Tomato, Melon and Cornbread Panzanella Salad, please let me know. I'd love to hear about it!
Cheers,
Liz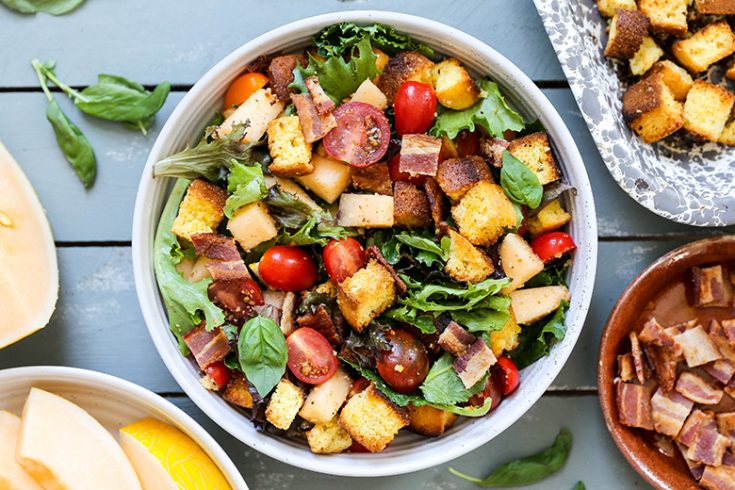 Tomato, Melon and Cornbread Panzanella Salad
Yield: Serves about 4
Prep Time: 10 minutes
Cook Time: 15 minutes
Additional Time: 10 minutes
Total Time: 35 minutes
Ingredients
6 strips bacon
4 cups cubed cornbread (preferably a day old)
4 tablespoon extra-virgin olive oil, divided
4 cups cubed melon (I typically choose cantaloupe or honeydew melon)
2 cups halved cherry tomatoes
2 tablespoons red wine or sherry vinegar
1/4 tsp. salt
1/4 tsp. black pepper
3-4 cups mixed greens
1/4 cup fresh basil leaves, torn
Instructions
Pre-heat your oven to 425 degrees. Line a rimmed baking sheet with parchment paper and lay the bacon strips out into a single layer. Transfer the baking sheet to your pre-heated oven and bake the bacon strips for 12-15 minutes, checking for doneness at 12 minutes. I prefer my bacon to be more on the crispy side for salads, so I usually continuing cooking the strips for an additional 2-3 minutes. Remove the baking sheet from your oven and carefully transfer the bacon strips to a paper-towel lined plate to drain and cool. Once completely cooled, chop into bite-sized pieces.
Meanwhile, add the cubed cornbread to a large bowl and drizzle with 2 tablespoons of the olive oil, tossing to coat. Spread the cornbread out onto a second rimmed baking sheet and transfer to your pre-heated oven. Bake for 12-15 minutes, or until crisp and dry. Remove the baking sheet from your oven and set it aside to cool.
Add the melon, tomatoes, and cornbread to a large bowl. Drizzle with the remaining olive oil and the vinegar, tossing gently to combine. Sprinkle with the salt and black pepper. Let sit for 5-10 minutes at room temperature. Then fold in the greens, basil and chopped bacon.
Divide the salad between serving bowls. Enjoy immediately.