Standout salads aren't anything new around these parts. But this Summer, I really stepped up my salad game.
At the start of the Summer, I committed to a new practice of making a Big F*cking Salad (or what I now affectionately refer to as a "BFS") every day for either lunch or dinner. I usually toted them over to the pool for a little al fresco dining experience (because why not, right?). But other days, I simply ate them while I sorted through my emails or edited photographs for the blog. My goal was to increase the number and variety of plants that I consumed on a daily basis. And the BFSs allowed me to do that fairly easily.
In doing so, I've revisited many of my tried and true "go-to" salad recipes. But I've also come up with a lot of new combinations during this time. This Red Pepper and Tomato Breakfast Panzanella Salad being one that was particularly exciting to me. So it's making it's official debut on the blog today!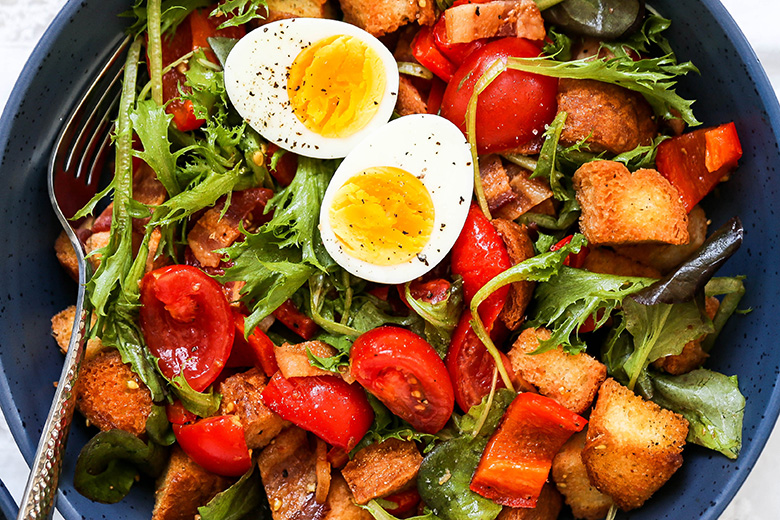 Let's start with the idea of a salad for breakfast. Are you into it? Or are you skeptical? I've eaten this salad for breakfast a couple of times and I assure you it's not weird at all. It's got eggs, bacon and toast. Which I'm confident you'll immediately recognize as some very typical breakfast-type foods. Perhaps they're being presented in a slightly different format from what you're used to. But I'm hoping their familiarity will encourage and entice you.
Still not feeling the breakfast salad situation? That's cool. Don't force it. Despite the name I've given this recipe, there is no rule about when it can be enjoyed. Lightning won't strike if you eat this breakfast salad for lunch or dinner. Trust me. I've done it. And I'm still here.
I realize the recipe instructions are long. But their wordy-ness isn't a true reflection of the overall difficulty of this recipe. Because it's not difficult at all. The red peppers, bread and bacon do need to be cooked in separate baking pans, which is why it looks cumbersome. But it's really not. And you could even do some of the steps in advance (like hard boiling the eggs), if that helps you to streamline things.
I usually divide all the ingredients for this Red Pepper and Tomato Breakfast Panzanella Salad into two large servings. Because hey, it's not called a BFS for nothing! But it can easily be made into four servings, if your appetite for salads isn't as voracious as mine!
Cheers,
Liz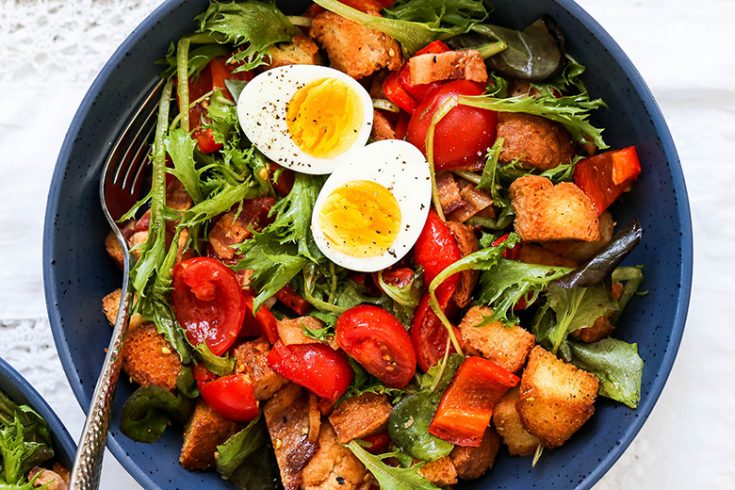 Red Pepper and Tomato Breakfast Panzanella Salad
Yield: Serves 2-4
Prep Time: 20 minutes
Cook Time: 35 minutes
Total Time: 55 minutes
Ingredients
2 eggs
2 red bell peppers, cored, stemmed and cut into strips
4 cups cubed bread
4 strips bacon
2 cups chopped tomatoes (I used a combination of cocktail tomatoes and heirlooms)
Olive oil
Salt
Black pepper
1/2 tsp. granulated sugar
1 tablespoon balsamic vinegar
1/2 tablespoon fresh squeezed lemon juice
About 6 cups mixed greens
1/4 cup fresh basil leaves, torn
Instructions
Place the eggs in a small saucepan and cover them with about 1-inch of cold water. Place the lid on the saucepan and bring the water to a boil over high heat. Turn off the heat and let the eggs sit in the hot water for 7-10 minutes, depending on your preferred level of doneness. Remove the eggs from the saucepan using a slotted spoon and place them in a bowl of ice water to stop the cooking. Once cooled, transfer the eggs to your refrigerator until you're ready to use them.
Pre-heat your oven to 425 degrees.
Place the red pepper strips in a large bowl and drizzle with 1 tablespoon of olive oil and season with salt and black pepper. Toss to coat. Then lay the red pepper strips cut side-up in a single layer in a baking pan.
Place the bread cubes in the same bowl and drizzle with 2 tablespoons of olive oil and season with salt and black pepper. Toss to coat. Then spread the bread cubes out into a second baking pan.
Line a third baking pan with parchment paper and lay the bacon strips out in a single layer.
Transfer all three baking pans to your pre-heated oven. After 12-13 minutes, check the bread cubes and bacon strips for doneness, continuing to cook them for an additional 2-3 minutes if necessary. The bread cubes should be golden brown and dry to the touch. The bacon strips should be just shy of your desired level of crispness, as the will continue to crisp as they cool. The red pepper strips will take a total of 22-25 minutes to cook. The red pepper strips should be well softened and have a few blackened spots.
Place the cooked bacon on a paper towel-lined plate to drain. Set the other two baking pans aside to cool. Once the bacon and red pepper strips are cool enough to handle, chop them into bite-sized pieces.
Meanwhile, place the chopped tomatoes in the same large bowl you used to coat the red pepper strips and bread cubes. Sprinkle the tomatoes with the granulated sugar and 1/2 tsp. of salt. Then let them sit at room temperature for at least 10 minutes.
Add the balsamic vinegar, lemon juice and 1 tablespoon of olive oil to the tomatoes. Stir to combine. Then add the bread cubes and chopped red pepper strips, tossing to coat. Let this sit for 5 minutes to give the bread cubes time to soak up some of the liquid. Then add the chopped bacon, mixed greens and basil. Toss gently to combine.
Divide the salad between serving plates. Peel the hard boiled eggs, discarding the shells, and slice each one in half. Add the eggs to the salad and season with salt and black pepper. Enjoy immediately.