This post was originally published here August 13, 2013. I've since adjusted the recipe. And I've updated the text and photographs to reflect those changes.
So how does a person eat an entire head of broccoli in one sitting? Just add bacon!
I joke. I joke. But honestly, that's what ended up happening to me. And I'm not sorry about it.
Usually I don't like adding bacon to dishes. I know. I'm weird. Don't get me wrong. I think bacon is great. I love it in a BLT. Or with waffles for breakfast. But I firmly believe that it doesn't belong in all the things. The flavor of bacon is strong. And it overpowers most dishes. So I typically like to enjoy it "as is". And I don't feel the need to "doctor up" vegetables with it. But this Crunchy Broccoli Salad with Apples, Apricots and Bacon is a different story.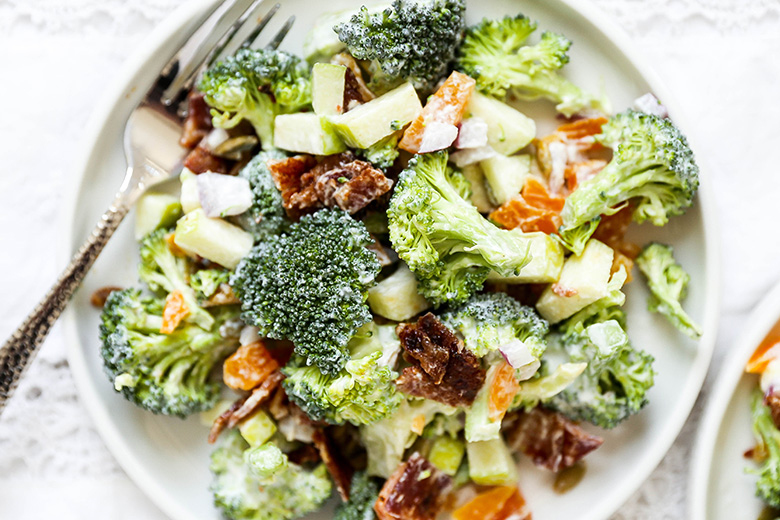 There are a lot of broccoli salad recipes on the internet. Is my Crunchy Broccoli Salad with Apples, Apricots and Bacon the best version? I don't know. Probably not. But I love it. And I think you'll love it too! Read on.
So what does my version look like? I leave out the mayonnaise and opt for full-fat Greek yogurt instead. I like to leave the broccoli raw (many recipes will have you steam it first) for maximum crunch. And I add in dried apricots and chopped apples for sweetness, which mingle oh so well with the salty bacon and pepitas. Overall, it's a nicely balanced salad that you can toss together in just a few minutes. And I find it holds up well for a day in the refrigerator (hooray for leftovers!) and it's sturdy enough to take with you to a party or potluck.
I started cooking my bacon in the oven several years ago, and I have to say it's one of the most life changing things I've done in my kitchen. It's hands free, there are zero splatters and you get perfect results every time. Here's the quick method, if you want to try it. Place the bacon strips in a single layer on a parchment or aluminum foil-lined rimmed baking sheet. Cook in a 400 degree pre-heated oven for 13-18 minutes, or until your desired level of doneness is reached. Transfer the cooked bacon to a paper towel lined plate to drain. And done!
Cheers,
Liz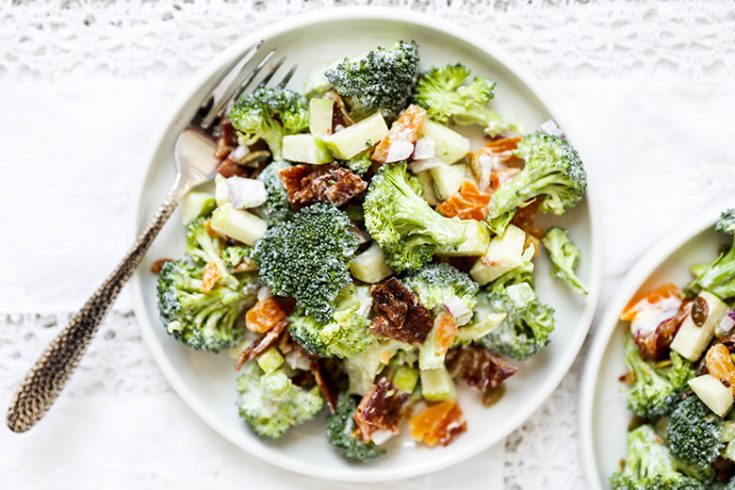 Crunchy Broccoli Salad with Apples, Apricots and Bacon
Yield: Serves 4
Prep Time: 10 minutes
Total Time: 10 minutes
Ingredients
1 large head broccoli, cut into florets (about 4-5 cups)
1 Granny Smith apple, cored and chopped
1 cup chopped dried apricots
1/3 cup peeled and diced red onion
1/4 cup roasted and salted pepitas
4 slices cooked bacon, chopped
1/4 cup full-fat Greek yogurt
2 tablespoons lemon juice
1 tablespoon honey
Instructions
Add the broccoli, apple, apricots, red onion, pepitas and bacon to a large bowl. Toss gently to combine. Set aside.
In a small bowl, stir together the yogurt, lemon juice and honey. Pour the dressing over the salad and toss to coat.
This salad can be served immediately. Or covered and refrigerated for up to 1 day.