I'm ready to put the polar vortex and the Super Bowl behind me. Phew! It was a crazy week!
Now I've got my sights set on Valentine's Day.
I know Valentine's Day can be a sore subject for a variety of reasons. And I'm sorry if the whole "Holiday" makes you want to stick your head in the sand and hide. I get it. I've been there.
But in recent years, I've learned to just take it as it is. Whether I'm single, coupled or somewhere in between, I try to not let myself get all bent out of shape over Valentine's Day. Reality check: it's just a day! And heck, it's a day filled with chocolate! So how bad can it actually be, right?!?!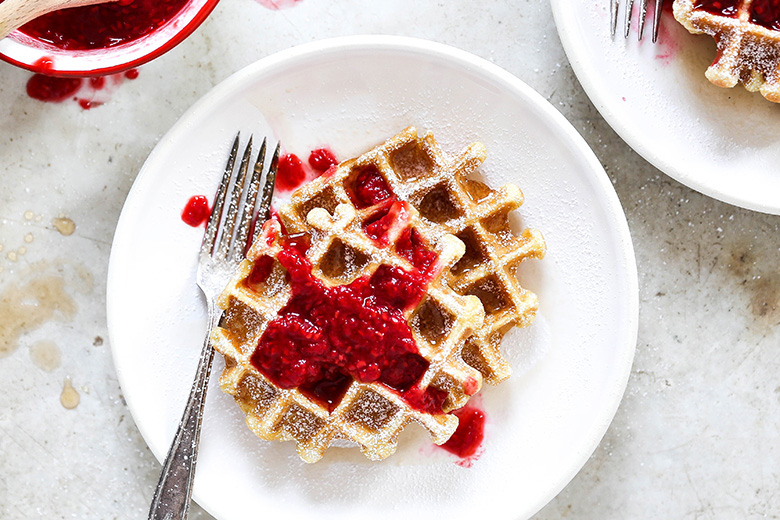 I have no formal plans to celebrate Valentine's Day this year. But I did want to mark the occasion with a few recipes that could be considered Valentine's Day-ish. Nothing heart shaped or studded with pink sprinkles. Just a couple of recipes that feel special in some way. Like these waffles.
When I was working on the recipe for these Buttermilk Waffles with Rosé Raspberry Sauce, I certainly had some far-fetched romantic notions swirling around in my head. A cozy breakfast in bed. A light snow falling outside. And a crackling fire to keep warm. You know, just all the typical Hallmark movie mainstays.
And if you and your sweetheart want to re-create that scene for Valentine's Day, then I say go for it. Celebrate your love! I won't stop you! In fact, I salute you!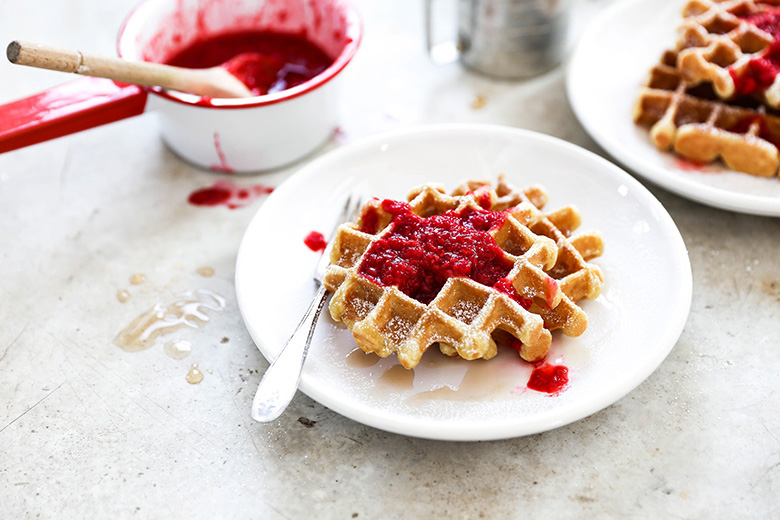 BUT. If that's not in the cards for you this year, don't panic. You certainly do not have to be in a relationship (or live in a place that snows or have a fireplace!) to make and enjoy these waffles (or these waffles!). In fact, I can 100% back up that claim. I am the proof. I made these babies for myself, froze the leftovers and lived to tell about it.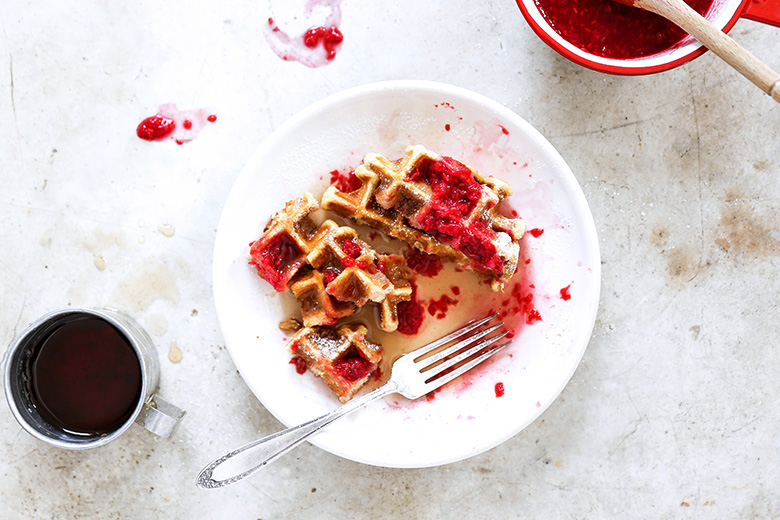 So, what can I say about waffles that hasn't already been said? I don't really know. But here are a few little tricks I've picked up over the years.
(1) This isn't the place to use a buttermilk substitute. Go out and buy a bottle of the real stuff!
(2) The cornstarch gives these waffles a crispy exterior.
(3) Separating the eggs helps to achieve a fluffy, soft interior.
(4) Don't overmix the batter. A few lumps/streaks are OK.
(5) Repeatedly opening/closing your waffle maker to check for done-ness will result in limp waffles. Try to dial in the cooking time on a "test waffle". Then no peaking!
(6) You can freeze any leftovers in a single layer, then transfer and store them in a ziplock bag. Just pop in your toaster to thaw and you can have breakfast in minutes!
(6) Don't be cheap with the maple syrup (= spoken like a true New Englander)!
Cheers,
Liz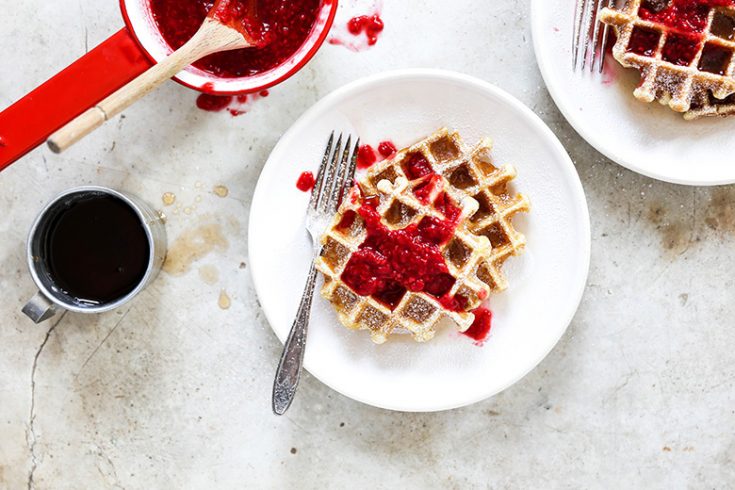 Buttermilk Waffles with Rosé Raspberry Sauce
Yield: Makes 1 dozen 4-inch waffles
Prep Time: 10 minutes
Cook Time: 35 minutes
Total Time: 45 minutes
Ingredients
For the Rosé Raspberry Sauce:
2 cups fresh raspberries
1/4 cup rosé wine
2 tablespoons sugar
For the Waffles:
1 1/2 cups all-purpose flour
1/4 cup cornstarch
1/4 cup sugar
2 tsp. baking powder
1 tsp. baking soda
1/4 tsp. salt
2 large eggs, separated
1 1/4 cups buttermilk, at room temperature
1/2 cup (8 tablespoons) unsalted butter, melted and cooled
1 tsp. vanilla extract
Zest from 1 lemon
Additional Toppings:
Maple syrup
Powdered sugar
Instructions
Combine all the ingredients for the raspberry sauce in a small saucepan over medium heat. Bring the mixture to a simmer and cook, stirring frequently, for about 5 minutes. Remove the saucepan from the heat and transfer the sauce to a clean bowl. Place in your refrigerator to chill. The sauce will thicken as it cools.
Meanwhile, pre-heat your waffle iron on the medium-high setting. Spray the cooking surfaces with non-stick cooking spray.
In large bowl, combine the flour, cornstarch, sugar, baking powder, baking soda and salt. Set aside.
In your stand mixer fitted with the whisk attachment, beat the egg whites until stiff peaks form. Then gently transfer the egg whites to a clean bowl and set aside.
Add the egg yolks, buttermilk, melted butter, vanilla extract and lemon zest to your stand mixer (no need to clean it out in between) and whisk together. Then pour this mixture into the dry ingredients and stir until just combined. Using a spatula, carefully fold in the egg whites.
Scoop the waffle batter into the wells of your pre-heated waffle iron, close the lid, and cook until the waffles are crisp and golden brown. I used about 1/3 cup of batter in each 4-inch well of my waffle iron and cooked them for 3-4 minutes. The amount of batter you use and the cooking time will vary slightly depending on the size of your waffle maker. Spray the cooking surfaces with non-stick cooking spray as needed between batches.
Carefully remove the cooked waffles and set them on a wire rack. Serve immediately with a spoonful of the roséraspberry sauce, maple syrup and powdered sugar.
If you won't be serving the waffles immediately, you can keep them warm in your oven that's been pre-heated on its lowest temperature setting.