This post was originally published here on May 8, 2013. Which means it's one of the original recipes posted here on Floating Kitchen! But that also means that it desperately needed a re-fresh! So here are some new photographs and an updated version of the text. Enjoy!
You guys! This is one of the original recipes published on the pages of Floating Kitchen. It goes back. Like WAAAAY back. Like all the way back to the first month that this little blog existed.
So needless to say, a bit of a makeover was necessary. Trust me when I tell you that those photos from 2013 were scary! I don't think anyone was ever going to be enticed to make this recipe based on those babies!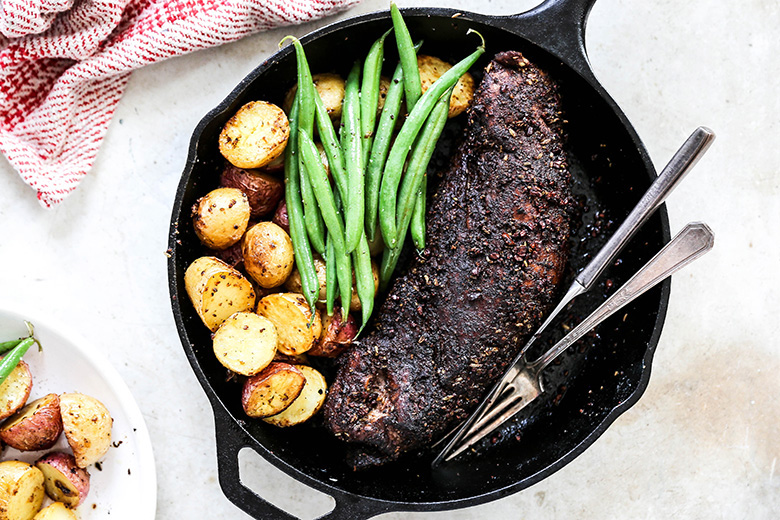 This Cacao Nib, Fennel and Coffee Encrusted Pork Tenderloin is one of my favorite recipes to make for special occasions (HINT: Valentine's Day!). Even as I've shifted my diet and lifestyle in the past couple of years to be more plant-based, I still find myself reaching for this recipe time and time again. It's perfect for date night or for a small dinner party. It's easy to prepare. And it packs a punch in the flavor department.
As the tenderloin cooks, the spice rub on the outside transforms into a deeply aromatic crust. Scents of chocolate, cinnamon and coffee will fill the air in your kitchen. And you WILL salivate. It happens to me every single time I make this recipe. Guaranteed. So get out some napkins.
The brown sugar gets slightly caramelized. And the cacao nibs and fennel seeds become slightly more crunchy.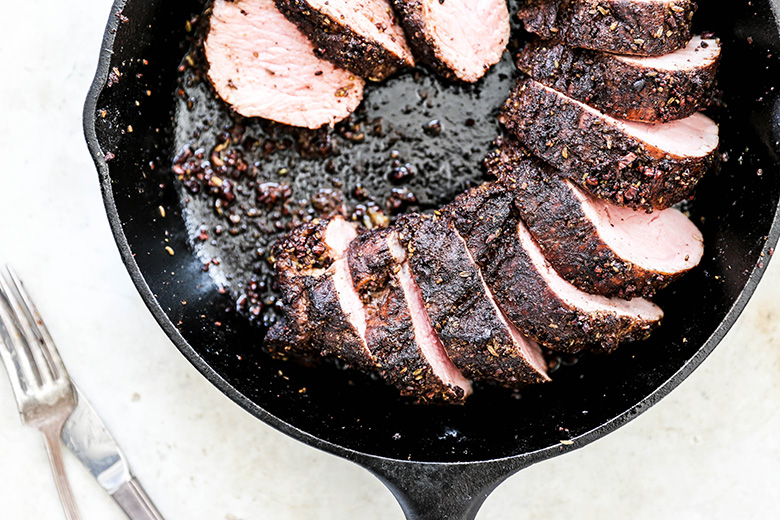 Taste, smell, texture. This Cacao Nib, Fennel and Coffee Encrusted Pork Tenderloin has got it going on in all departments.
If you try this recipe out on your sweetheart for Valentine's Day, let me know! I would love to hear about it (and live vicariously through you and your infinitely more exciting dating life!).
Cheers,
Liz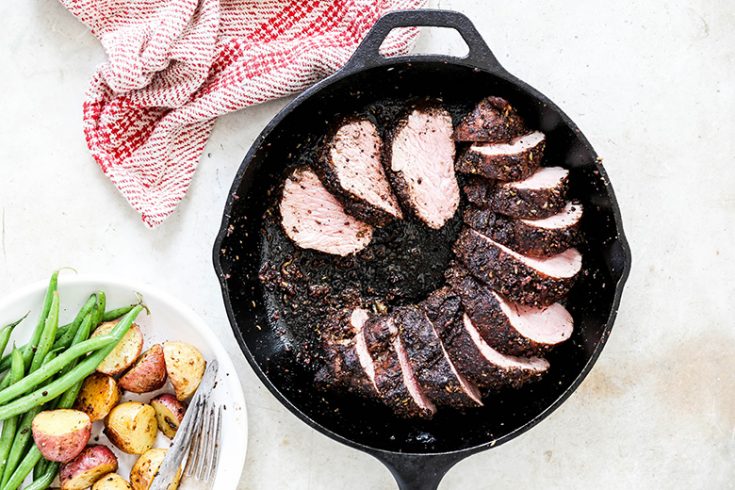 Cacao Nib, Fennel and Coffee Encrusted Pork Tenderloin
Prep Time: 15 minutes
Cook Time: 20 minutes
Total Time: 35 minutes
Ingredients
2 tablespoons cacao nibs
2 tsp. fennel seeds
1 1/2 tablespoons brown sugar
1 tsp. unsweetened cocoa powder
1/2 tsp. instant espresso powder
1/2 tsp. salt
1/8 tsp. ground cinnamon
1/8 tsp. cayenne pepper
1 pork tenderloin, about 1 - 1/4 lbs
2 tablespoons canola or vegetable oil, divided
Instructions
Pre-heat your oven to 425 degrees. Line the bottom of a roasting pan (the kind with a rack insert) with aluminum foil and set it aside.
Using a mortar and pestle or a spice grinder, grind the cacao nibs and fennel seeds until they are coarsely ground. Transfer them to a small bowl and stir in the remaining ingredients through the cayenne pepper. Set aside.
Trim and discard the silver skin and any excess fat from the pork tenderloin. Using your hands, rub 1 tablespoon of the oil evenly over the tenderloin. Then rub the spice mixture evenly over the tenderloin, pressing firmly so that it adheres. Set aside.
Warm the remaining tablespoon of oil in a large non-stick skillet over medium-high heat. Add the tenderloin and cook, turning it to achieve browning on all sides, for 5-6 minutes.
Transfer the tenderloin to your prepared roasting pan and place it in your pre-heated oven. Roast until a thermometer inserted into the thickest part of the tenderloin reaches 145 degrees Fahrenheit, about 13-15 minutes.
Remove the roasting pan from your oven and tent the tenderloin with a piece of aluminum foil. Allow it to rest for 5-10 minutes at room temperature before slicing and serving.
Notes
Recipe barely adapted from NPR.