This post was originally published here June 4, 2014. I've since adjust the recipe slightly. And I've updated the text and photographs to reflect those changes.
Who's ready for Fall recipes?!?!
If you had asked me that last week, I would have firmly answered "NO". At that time, I was still eating tomato salads, corn on the cob and ice cream. But then in just a single day the weather changed dramatically. And now it really feels like Fall here in New England. And my cravings for more comforting dishes kicked right in!
These Balsamic Roasted Chicken Thighs are one of my go-to chicken recipes to make this time of year. They are savory, juicy, tender and have a rather luxurious, silky mouth feel (one of the many reasons to cook bone-in, skin-on chicken thighs = the little bit of extra fat does wonders!). And the recipe is blissfully easy. Simply place the chicken thighs in a baking dish, pour in the marinade, and let them sit and soak up the flavors for anywhere from a couple hours to an entire day. When you're ready to cook them, just slide the entire baking dish into your pre-heated oven and walk away for just under an hour until they're done. This recipe couldn't be more hands free if you tried!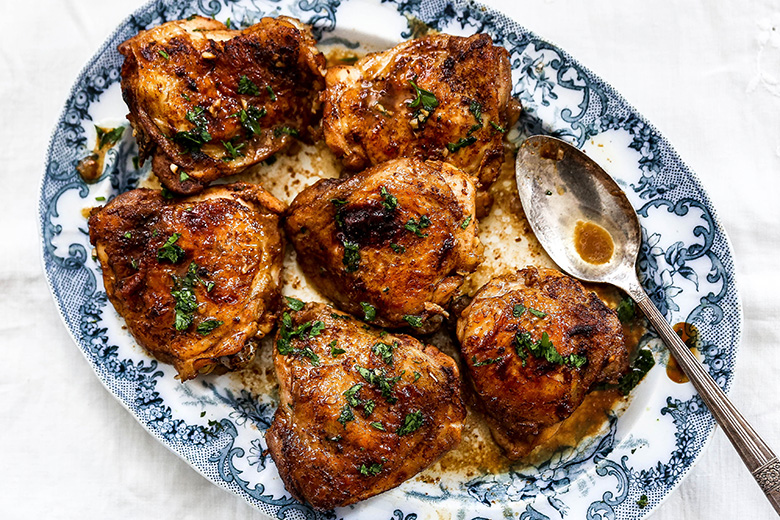 Before serving, I do briefly reduce some of the cooking liquid down to drizzle over top. But honestly, I've skipped this "extra step" many times and I've still been more than satisfied with the results. So just throwing that option out there, in case you were wavering on it.
These Balsamic Roasted Chicken Thighs are super versatile and they can be served with any number of side dishes or salads. Try them with my everyday kale salad. Or with my all-time favorite brussels sprout dish. I know they're going to become a go-to recipe in your house!
Cheers,
Liz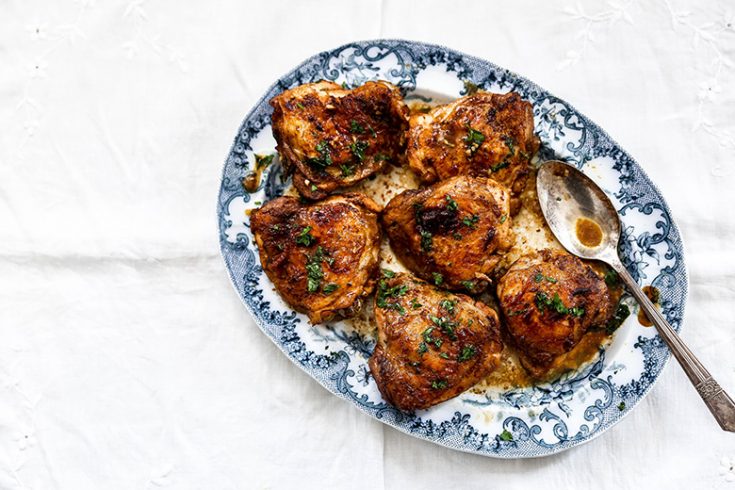 Balsamic Roasted Chicken Thighs
Yield: Serves 4 (2 chicken thighs/serving)
Prep Time: 10 minutes
Cook Time: 50 minutes
Additional Time: 2 hours
Total Time: 3 hours
Ingredients
8 bone-in, skin-on chicken thighs
1/2 cup balsamic vinegar
1/3 cup extra-virgin olive oil
1/4 cup Dijon mustard
3 garlic cloves, peeled and minced
Juice and zest of 1 lemon
1 tsp. salt
1/2 tsp. black pepper
2 tablespoons fresh parsley, roughly chopped
Instructions
Trim off and discard any excess skin/fat from the chicken thighs. Place them in a 9 X 13-inch baking pan and set aside.
In a bowl, whisk together the balsamic vinegar, olive oil, mustard, garlic, lemon juice and zest, salt and black pepper. Pour this mixture over the chicken thighs. Then cover the baking pan with aluminum foil and place it in your refrigerator. Allow the chicken thighs to marinate for at least 2 hours or up to 24 hours, flipping them occasionally during this time.
Pre-heat your oven to 400 degrees.
Place the baking pan, uncovered, in your pre-heated oven. Roast the chicken thighs, skin-side up, for 45-50 minutes. If the skin starts to darken too quickly, cover the baking pan loosely with aluminum foil for the remainder of the cooking time. The chicken thighs are done when the internal temperature reaches 165 degrees Fahrenheit.
Transfer the cooked chicken thighs to a serving plate and cover to keep them warm. Carefully pour about half of the cooking liquid from the baking pan into a small heavy bottom saucepan. Skim off and discard some of the excess olive oil/fat from the top layer. Then place the saucepan over medium-high heat and bring the liquid to a simmer. Cook until the liquid has reduced and thickened slightly, about 5 minutes. Remove and set aside.
Spoon some of the reduced liquid over the chicken thighs. Sprinkle with chopped parsley. Serve immediately.
Leftovers can be stored in an airtight container in your refrigerator for 1-2 days.