This post was originally published here July 3, 2013. I've since updated the text and photographs.
This simple, straightforward recipe is my absolute favorite way to enjoy corn on the cob during the Summer months.
In fact, it's so easy and intuitive that it's what I like to call a "non-recipe". Because it goes a little something like this: cook some corn on the cob, rub it with fresh lime wedges while it's still warm, sprinkle it with fresh cilantro, salt and red pepper flakes, and finally devour it. The end.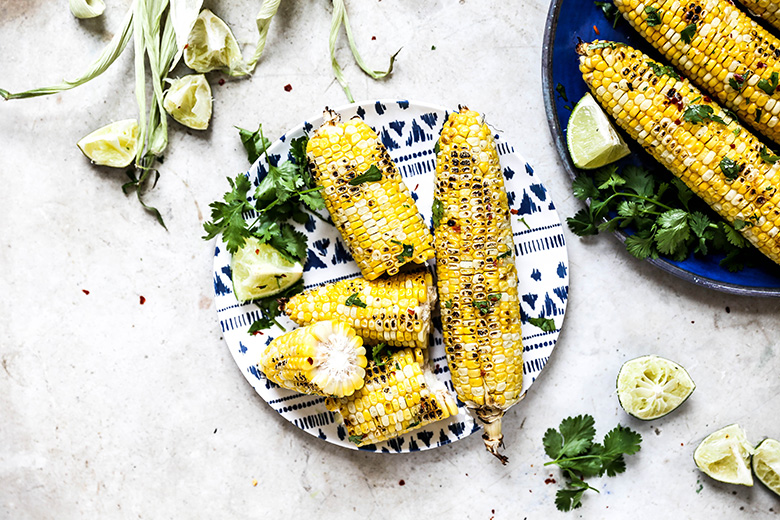 Be sure to have extra napkins nearby. And don't forget to go and floss your teeth at some point later that day (I know you all feel me on this one).
And that's it in a nutshell.
Are you wondering where the butter is? Yeah, I'm one of those weirdos that prefers my corn on the cob without butter. I know. Blasphemy. But I just find the taste of fresh, seasonal corn to be so deliciously sweet and subtle, that I don't want to cover it up with butter. Once in a while, I'll splurge BIG time with elote ( = Mexican street corn), but that's a rare occurrence. Mostly I'm just happy to enjoy my corn fairly unadulterated. And this combination of cilantro, lime, salt and red pepper flakes is just enough to make it pop, without overpowering it.
And bonus points that it's vegan, so it's a great "non-recipe" for a mixed crowd if you're having a Summer party or potluck.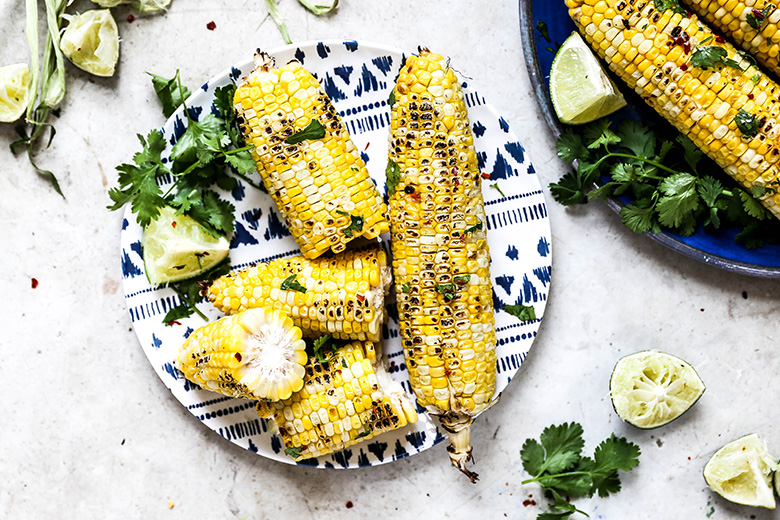 For this Cilantro-Lime Corn on the Cob, you can cook the ears anyway you like. I tend to grill mine, because I just like the ease of this method and it also makes for a pretty presentation. But you can certainly give the ears a quick boil (no more than 5 minutes!) instead, if you prefer.
Cheers,
Liz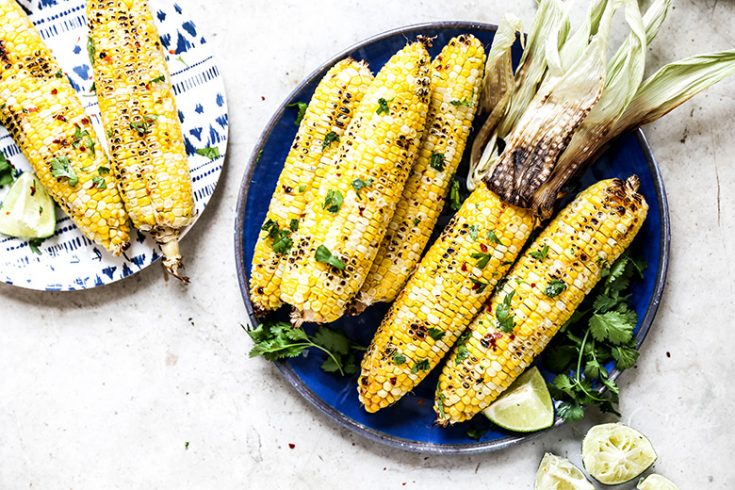 Cilantro-Lime Corn on the Cob
Yield: Serves 6
Prep Time: 5 minutes
Cook Time: 10 minutes
Total Time: 15 minutes
Ingredients
6 ears fresh corn
1 lime, cut into wedges
2 tablespoons fresh cilantro, roughly chopped
Sea salt
Red pepper flakes
Instructions
Pre-heat your grill to medium-high.
Remove and discard the husks and silks from the corn. Then rinse the corn cobs under cold water.
Place the corn cobs directly on the grill grates. Grill for 8-10 minutes, turning the corn cobs every couple of minutes, until some of the kernels have started to blacken. Remove the corn cobs from the grill.
While the corn cobs are still warm, rub them all over with the lime wedges. Then sprinkle each cob with cilantro and a couple pinches of salt and red pepper flakes. Enjoy immediately.