This ice cream recipe was supposed to be published last week. And it was a actually supposed to be a recipe for cake.
Let me explain.
You see, last week was my Birthday. And in the weeks leading up to my Birthday, I became obsessed with the idea of making a big fancy cake to publish here on the blog.
But I failed. Miserably. One cake tasted great, but was a soupy mess. One cake photographed beautifully, but tasted cheap and store bought. And the third cake. Well, I can't even remember what happened to the third cake. By the end of the whole endeavor, I was a ball of sugar-filled anxiety.
I don't work well under pressure.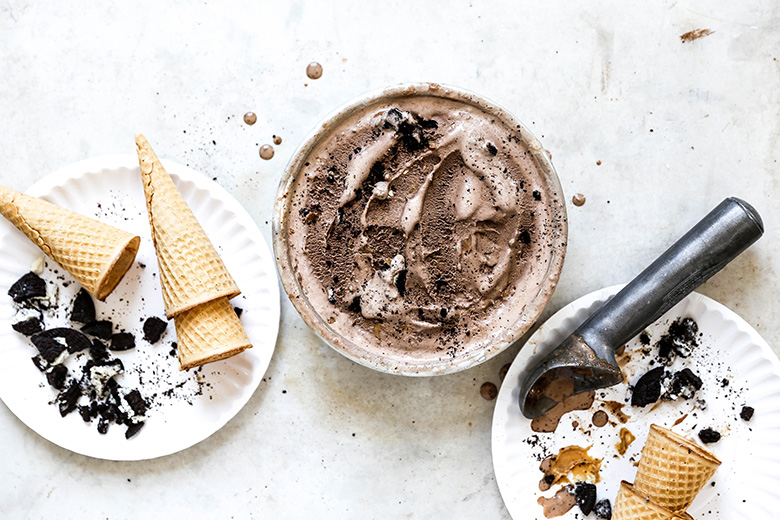 I eventually gave up on the whole cake idea and decided to make MY favorite dessert: ice cream. And let me tell you, this Chocolate Cookies and Cream Ice Cream with Peanut Butter did not let me down. Ice cream rarely does.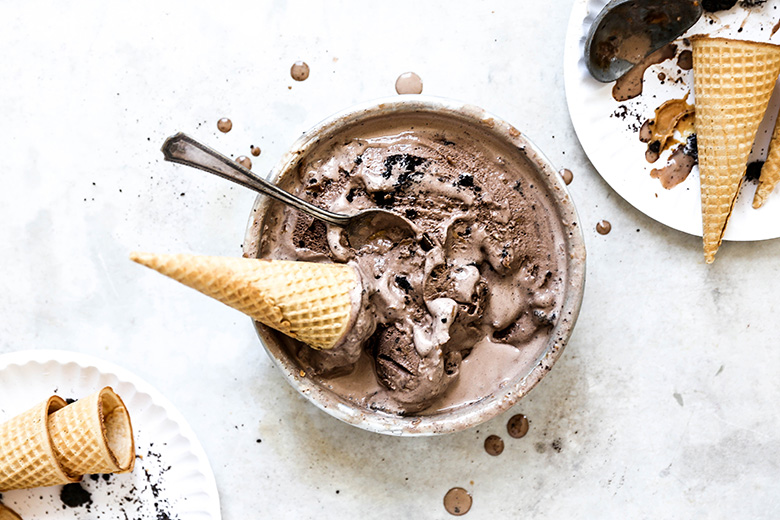 This Chocolate Cookies and Cream Ice Cream with Peanut Butter combines all my favorite flavors into one creamy concoction. It's got a decadent chocolate base. An ample amount of crushed chocolate sandwich cookies (I used Oreos, but you can use whatever brand you like). And a ribbon of smooth peanut butter. Pure heaven. I enjoyed two bowls of this ice cream on my Birthday. And all my cake worries were forgotten!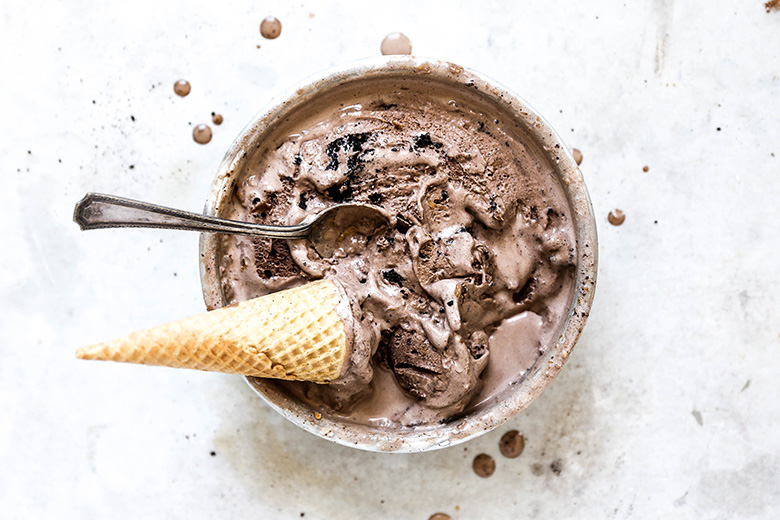 You will need an ice cream maker to churn the custard. So please keep that in mind. I've recently experimented with some no-churn ice cream recipes and frankly, I've been unimpressed. But I'm ready to change my mind! So if you have a REALLY good no-churn ice cream recipe, feel free to send it my way.
Cheers,
Liz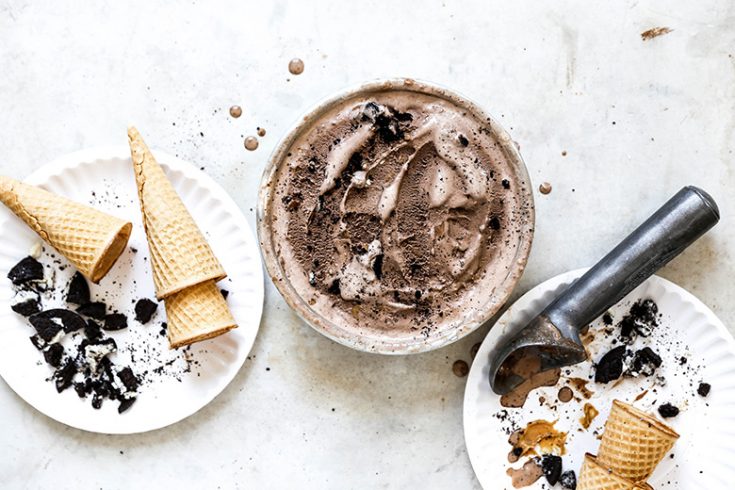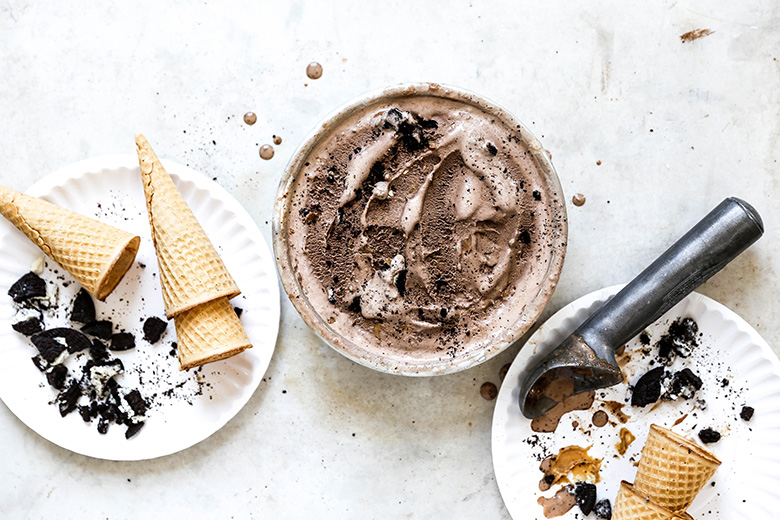 Chocolate Cookies and Cream Ice Cream with Peanut Butter
Yield: Makes about 1 quart
Prep Time: 30 minutes
Cook Time: 15 minutes
Additional Time: 8 hours
Total Time: 8 hours 45 minutes
Ingredients
1 1/2 cups whole milk
1 1/2 cups heavy cream
4 egg yolks
1/2 cup granulated sugar
2 tablespoons unsweetened cocoa powder
1/4 tsp. salt
6 ounces semi-sweet chocolate, roughly chopped
2 tsp. vanilla extract
1 cup crushed chocolate sandwich cookies
1/2 cup smooth, salted peanut butter
Instructions
In a heavy bottom saucepan over medium heat, warm the milk and 1 cup of the heavy cream until bubbles start to form around the edges of the pan. Do not let the mixture come to a boil.
Meanwhile, in a medium bowl whisk together the egg yolks, sugar, cocoa powder, salt and the remaining 1/2 cup of heavy cream until smooth. Set aside.
Remove the saucepan from the heat and quickly whisk about 1/2 cup of the warm liquid into the egg mixture. Then pour this mixture back into the saucepan, whisking constantly as you do so.
Place the saucepan back over medium heat and cook the custard, stirring with a wooden spoon, until it's thicken, about 5-6 minutes. Do not let the custard come to a boil. The custard should be thick enough to coat the back of the spoon.
Remove the saucepan from the heat. Add the chopped chocolate to the custard and stir until it's fully melted and smooth. Then stir in the vanilla extract. Strain the custard through a fine mesh strainer into a clean bowl. Discard any collected solids.
Cover the custard with plastic wrap, pushing the plastic wrap directly down onto the surface of the custard to prevent a skin from forming, and refrigerate until completely chilled, at least 4 hours or up to 24 hours.
Pour the chilled custard into your ice cream maker and churn according to the manufacturer's instructions. Once the custard is nearly frozen and the consistency of soft serve, add the crushed chocolate sandwich cookies. Then drizzle in the peanut butter. Do not over mix. You want some ribbons of peanut butter running through the ice cream.
Transfer the ice cream to a freezer safe container. Cover with plastic wrap and freeze until completely firm, at least 4 hours or up to 3 days.