Guess what? Rainier cherries are back!
And oh my gosh, I'm giddy with excitement over their re-appearance in the stores and markets. They are probably my favorite summer fruit. But sadly, they have a fairly limited season. So I'm making every effort possible to gobble up as many as I can. It's a tough job, but somebody has got to do it.
To savor all the precious goodness of Rainier cherries, I decided to make my favorite recipe for cherry ice cream. When you eat this ice cream you'll immediately know that there is something a little bit different about it, but you won't quit be able to put your finger on it. So let me just tell you the secret ingredient. It's cream cheese! YES! It gives this ice cream just a hint of a tangy-ness and helps to make it even more rich tasting. That's a win.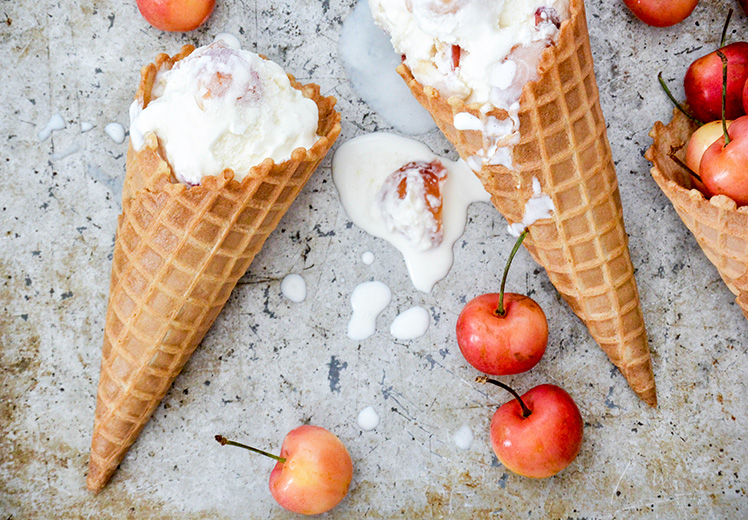 One little problem I've found with homemade ice creams is that they tend to get hard and icy rather quickly. A way to lessen this is by adding a little bit of alcohol to your ice cream during the churning process. The alcohol lowers the freezing point of the ice cream, helping it stay creamier and smoother. And of course, alcohol can impart some great flavors into your ice cream as well! For this recipe, I used a little bourbon. But brandy or rum would also be great. Or if you want something that you won't be able taste in the final product, you can use vodka.
David Lebovitz has a great post with some helpful tips for making homemade ice cream that you should check out if it's something you're planning on doing on a regular basis.
Cheers,
Liz
Recipe slightly adapted from Williams-Sonoma Ice Cream
Ingredients
6 ounces cream cheese, room temperature
1 1/2 cups whole milk
1 cup heavy cream
1 1/2 cups sugar, divided
1 tsp. vanilla extract
2 cups Rainier cherries, stemmed, pitted and halved
1/2 cup water
1 1/2 tablespoons alcohol (i.e. brandy, bourbon, rum, vodka), optional
Instructions
Before you start, make sure the canister of your ice cream maker is frozen. To freeze completely, the canister should be in the freezer for at least 6 hours.
Using your food processor with the blade attachment, process the cream cheese until smooth, about 30 seconds. Scrape down the sides of the bowl.
In a medium saucepan over medium heat, combine the milk, heavy cream and 3/4 cups of the sugar. Cook, stirring occasionally, for about 5 minutes or until all the sugar is dissolved and small bubbles form around the edge of the pan. Remove from the heat.
Add about 1/2 cup of the hot milk mixture to the bowl of your food processor with the cream cheese and process until smooth, about 30 seconds. Add the remaining milk mixture and process for another 30 seconds. Transfer the ice cream base to a clean bowl. Stir in the vanilla extract. Cover and refrigerate until chilled, at least 3 hours or up to 24 hours.
Meanwhile, in a small sauce pan over medium-high heat, combine the cherries, water and the remaining 3/4 cups of the sugar. Bring to a boil, stirring occasionally, until the sugar is dissolved, about 5 minutes. Remove the sauce pan from the heat and let the cherries steep for 30 minutes. After 30 minutes, drain the cherries and discard the syrup. Place the cherries in a small bowl, cover, and refrigerate for at least 30 minutes or up to 8 hours.
When you are ready to make the ice cream, pour the ice cream base into the canister of your ice cream maker and churn until the mixture is nearly frozen and the consistency of thick whipped cream. This should take about 15-20 minutes. Add the cherries and the alcohol and churn for another 2-3 minutes.
Transfer the ice cream to a container, cover with plastic wrap, pushing the plastic wrap all the way down to the surface of the ice cream, and place in your freezer. The ice cream should become firm in about 3 hours.
Notes
1. If you can't find Rainier cherries, you can use whatever fresh cherries are available to you. And if you have a cherry pitter, now is the time to use it! But a small, sharp knife will work equally well.
2. For the right consistency, use a commercial brand cream cheese and not a natural or low-fat cream cheese.
3. Chocolate chips would go very well in this ice cream. If you want to try this, I would recommend adding about 1 cup of chocolate chips at the same time when you add the cherries.
https://www.floatingkitchen.net/rainier-cherry-ice-cream/