It's a whole week of lovey-dovey treats here on Floating Kitchen! First were these vibrant Red Velvet Ice Cream Sandwiches. And now I'm sharing these fun and festive no-bake Chocolate Covered Peanut Butter Hearts. Woo hoo!
These bite-sized Chocolate Covered Peanut Butter Hearts were inspired by my favorite candy: Reese's Peanut Butter Eggs. I used to wait all year long for these special Easter treats. But now they make them in every shape and size you can imagine. And they are available year-round for all the Holidays. So I figured with Valentine's Day coming up, I would put my small heart-shaped cookie cutter to some good use and try my hand at making them at home. And they did not disappoint!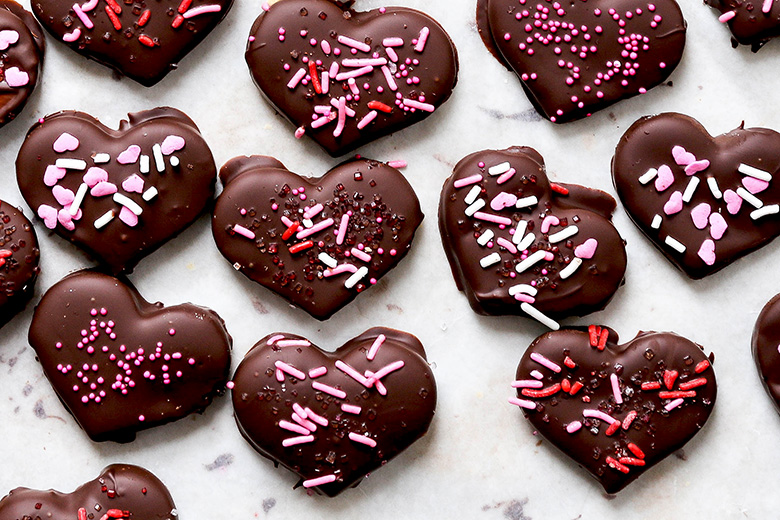 The peanut butter dough is made up of just six basic ingredients and it comes together very quickly in your stand mixer. Natural peanut butter will be too oily for this recipe, so stick with regular old creamy peanut butter (I'm a Skippy girl!). Once the dough made, roll it out between two pieces of wax paper. Then cut out the heart shapes with a small cookie cutter and place them on a wax paper-lined baking sheet or plate (you just want something that you can slide into your freezer) to chill for 1 hour.
Of course, you can make these any shape(s) you want. I've just got Valentine's Day on the brain, so I went with my small heart-shaped cookie cutter. You can even go free-hand with a small paring knife, if you're more artistically gifted than me!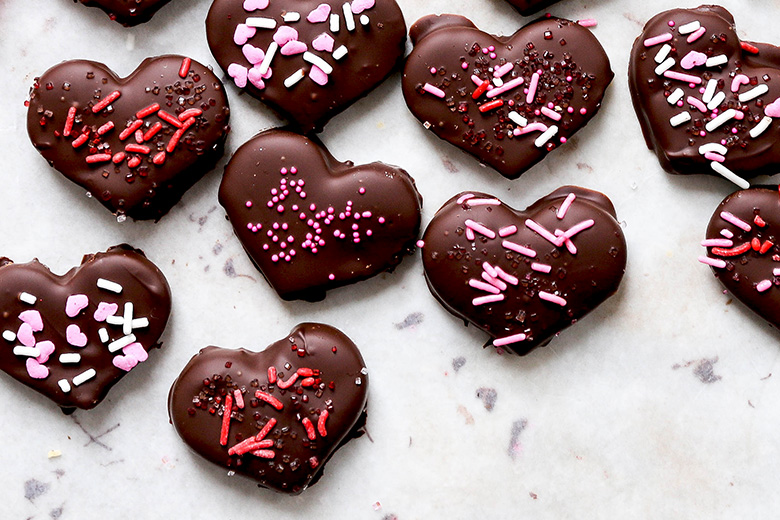 Once the peanut butter dough is chilled, gently melt the chocolate chips with a tablespoon of coconut oil. The coconut oil helps to keep the chocolate smooth and shiny. But you can substitute it with shortening if coconut oil isn't something that you keep in your pantry. Then dip, decorate and devour!
If your Valentine has a weakness for peanut butter and chocolate, then you definitely need to give this easy recipe a try. These Chocolate Covered Peanut Butter Hearts look so nice packaged up in a pretty little box. They are perfect for sharing with the people you love!
Cheers,
Liz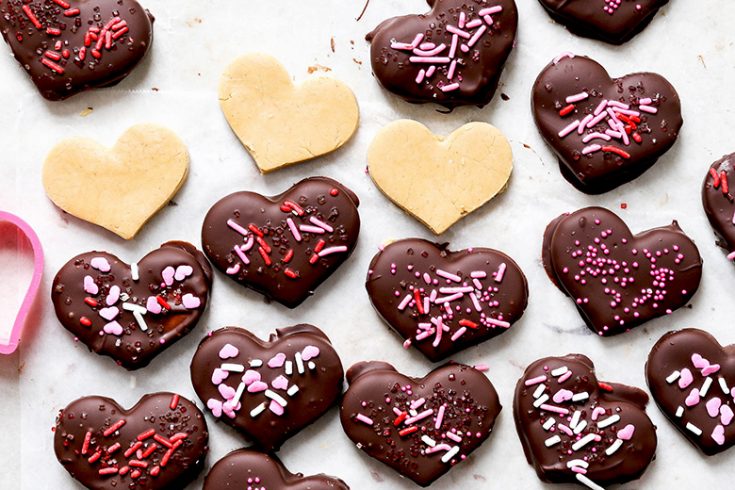 Chocolate Covered Peanut Butter Hearts
Yield: Makes about 2 dozen, depending on the size
Prep Time: 30 minutes
Cook Time: 5 minutes
Additional Time: 1 hour
Total Time: 1 hour 35 minutes
Ingredients
1 1/2 cups powdered sugar
3/4 cups creamy peanut butter
2 tablespoons butter, melted and cooled
1/8 tsp. salt
1 tablespoon milk
1/2 tsp. vanilla extract
2 cups semi-sweet chocolate chips
1 tablespoon coconut oil
Decorating sprinkles
Instructions
In the bowl of your stand mixer fitted with the paddle attachment, beat together the powdered sugar, peanut butter, butter and salt. Add the milk and vanilla extract and beat to combine. The mixture will be crumbly.
Scrape the dough out onto a piece of wax paper that has been lightly dusted with powdered sugar. Use your hands to bring the dough together into a disk. Then lightly dust the top of the dough disk with powdered sugar and place a second piece of wax paper on top. Roll the dough between the two pieces of wax paper until it's approximately 1/4 to 1/2-inch thick. Cut out shapes with a small heart cookie cutter. Place the hearts on a baking sheet lined with wax paper.
Re-form and re-roll any of the dough scraps, continuing to cut out heart shapes until all the dough has been used up.
Place the baking sheet in your freezer for 1 hour to completely chill the hearts.
In a heavy bottom saucepan over low-medium heat, slowly and gently melt the chocolate chips with the coconut oil, stirring until completely smooth. Remove the saucepan from the heat.
Working with one heart at a time, place it in the melted chocolate and turn to coat it on both sides. Lift the dipped heart from the chocolate using a fork, letting the excess chocolate drip off into the saucepan. Using a second fork, slide the dipped heart back onto the wax paper-lined baking sheet. Once you have about 3-4 hearts dipped, stop to add sprinkles. Then continue working until all the hearts have been dipped and decorated. If the chocolate begins to thicken during this time, you can re-warm it over low heat to help loosen it.
Let the chocolate completely set and harden before transferring the hearts to an airtight container. Store in your refrigerator for up to a week (or maybe longer, but they've never lasted more than 5-6 days in my house!).