This post was originally published here August 31, 2015. I've since updated the text and photographs. This easy, no-bake "adult-only" dessert will keep you cool in the Summer heat!
I'm swooping in today to bring you this REAL easy, no-bake, adult-only Summer treat. Let's go!
If this will be your first venture into granita territory, I'll give you a heads up now and tell you that you're very likely to become obsessed with them. They truly couldn't be any easier to make (if you can wield a fork, then you can make a granita!). And the flavor combinations are yours to get creative with.
To make this Red Wine Granita with Chocolate Flavored Whipped Cream, you'll start by combining water, sugar and red wine. Pour this liquid mixture into a baking pan and let it partially freeze. Then use a fork to scrape/break up the partially frozen mixture into granules. Wait 30 minutes and repeat that last step two more times. And voilà! You have a granita!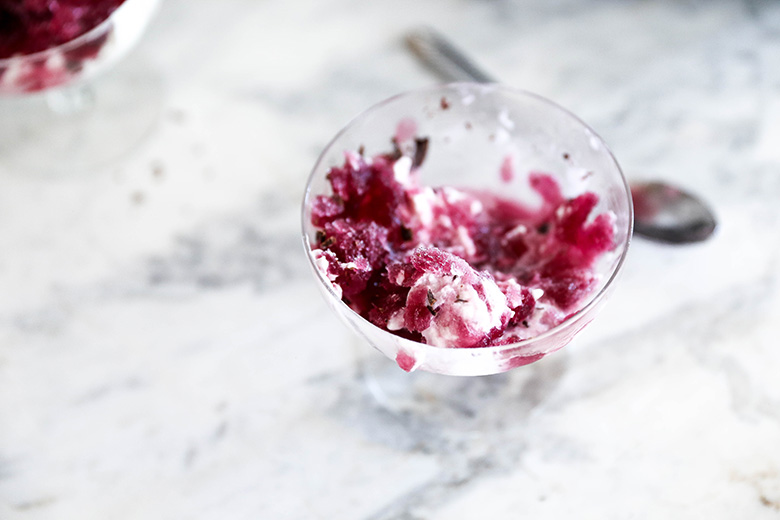 While you're going through the above freezing/scraping process, you can make the whipped cream. And I also recommend placing a couple serving glasses in your freezer to chill. Granitas melt quickly (especially in the heat of late August!) and pre-chilling your glasses will help them to last a bit longer so you can enjoy them at a more leisurely pace.
Personally, I love the subtle chocolate flavoring in the whipped cream because chocolate + red wine = YUM. But if chocolate extract isn't at your disposal, you can substitute in vanilla extract.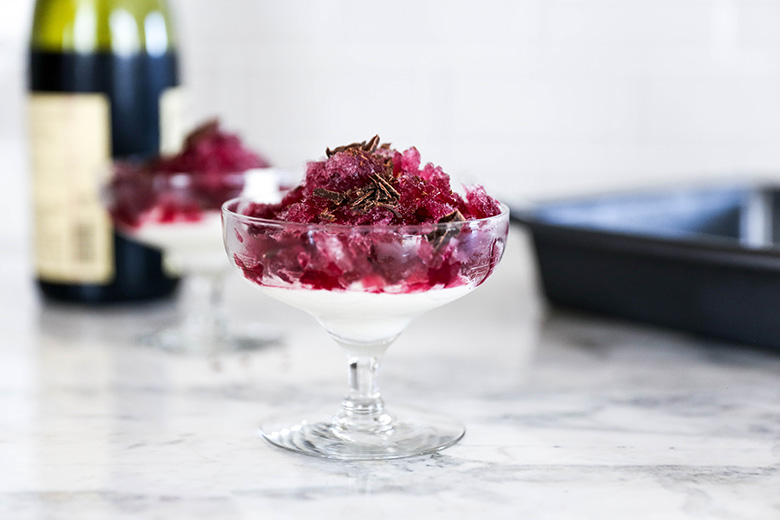 AND if you want to change things up even more, try making this recipe with a rosé. Or any of your favorite juice flavors for a non-alcoholic dessert. Like I said above, this frozen treat is totally customizable!
Cheers,
Liz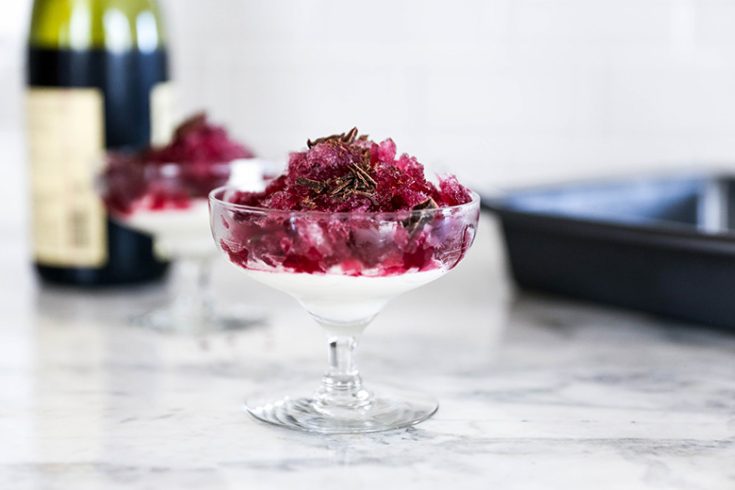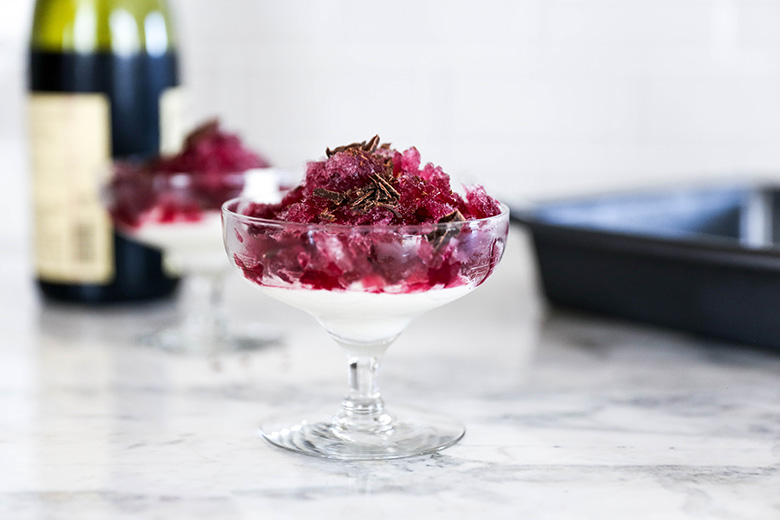 Red Wine Granita with Chocolate Flavored Whipped Cream
Yield: Serves about 6
Prep Time: 10 minutes
Cook Time: 5 minutes
Additional Time: 1 hour 30 minutes
Total Time: 1 hour 45 minutes
Ingredients
For the Granita:
1 cup water
1/4 cup granulated sugar
2 cups red wine (I used a Beaujolais)
For the Whipped Cream:
1 cup heavy whipping cream, cold
2 tablespoons powdered sugar
1 tsp. chocolate extract
For Topping:
Instructions
In a saucepan over medium-high heat, stir together the water and sugar until the sugar is dissolved. Set aside to cool. Once the mixture has cooled, stir in the wine.
Pour the wine mixture into a 9 X 13-inch baking pan and place it in your freezer. After an hour, remove the baking pan from your freezer and use a fork to scrape the mixture, breaking it down into smaller granules. The granules don't need to be uniform or very small at this stage. Aim for sizes anywhere between an almond and a cherry tomato.
Place the baking pan back in your freezer for 30 minutes. Then scrape the mixture a second time. Repeat this process one more time. Then cover the baking pan with plastic wrap and keep it in your freezer until you're ready to serve the granitas.
Meanwhile, place the bowl of your mixer and the whisk attachment in your freezer for about 5 minutes to chill them. Then remove them from the freezer and immediately add the heavy cream, powdered sugar and chocolate extract to the bowl and start whisking on medium-high speed. Once the cream starts to thicken, increase the speed to high and continue whisking until medium peaks form. Cover and refrigerate.
Place your serving glasses in your freezer for about 5 minutes to chill them.
To serve, spoon some of the whipped cream into the bottom of your chilled serving glasses. Then fill your glasses with the granita. Garnish with chopped dark chocolate, if desired. Serve immediately.