It's not very often that I whip up an entire cake. I'm definitely more of a cookie kind of gal. Or cupcakes. You know, something with built in portion control so I don't completely house an entire dessert in one sitting.
It's been known to happen. No judgment, please.
But today is a special day. Because we're here to celebrate Sarah of Snixy Kitchen and her soon-to-be arriving baby girl with a surprise virtual baby shower! Hooray!!!
I couldn't be more excited for Sarah and her husband, Lucas. It's a joyful and momentous occasion (= their first baby!). One that certainly deserves a proper dessert. Enter stage left: this No-Bake Meyer Lemon Cheesecake with Chocolate Ganache Layer.
If you're not familiar with Sarah's site, you better take yourself over there right now. Seriously. Sarah has some of the best food photography around. And a witty and quirky personality that just makes you instantly want to be her friend. I had the pleasure of spending a few days with Sarah this past summer, and I can't wait until we have the opportunity to hang out in person again. For now, I'll just have to settle for the internet.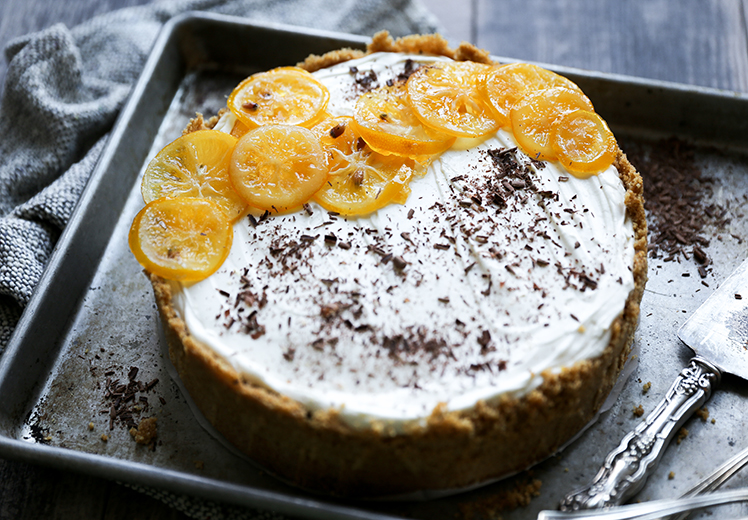 The theme for Sarah's virtual baby shower is Cheese & Sweets. So of course, I had to bake a cheesecake. OK, well I didn't actually bake a cheesecake. But I did make one. That's right. No oven required here. This light, fluffy cheesecake is completely no-bake. And it's got a surprise inside: a luscious little layer of dark chocolate ganache tucked in between the graham cracker crust and the cheesecake filling. It's totally dreamy.
You all know by now that I'm absolutely obsessed with Meyer lemons. They are my favorite citrus and they are in season right now. So of course, I needed to use them in this recipe. But you could certainly substitute the Meyer lemons with regular lemons, blood oranges, clementines…you get the idea.
Since Sarah is gluten free, I used gluten free graham crackers to make the crust. There are a couple brands that are widely available in most major grocery stores, so you shouldn't have any trouble finding some (I'm guessing some kind of gluten free cookie would work too). However, if you aren't concerned about making this recipe gluten free, then feel free to use regular graham crackers instead.
My fellow blogging friends totally brought their A-game to this party. Be sure to check out all the links below for enough cheese recipes, sweet recipes, and cheesy-sweet recipes to last you through the long, hard winter (and probably beyond!). And a BIG thank you to Alanna and Todd for organizing this #cheesebabyshower!
Cheers,
Liz
Recipe adapted from Martha Stewart
Ingredients
For the Crust
2 cups gluten-free graham cracker crumbs
1/2 cup (8 tablespoons) unsalted butter, melted
2 tablespoons granulated sugar
Finely grated zest from 1 Meyer lemon
1/4 tsp. salt

For the Ganache Layer
1/3 cup heavy whipping cream
1 tsp. honey
1/2 tsp. vanilla extract
4 ounces dark chocolate, chopped
2 tablespoons unsalted butter, cut into cubes

For the Cheesecake Layer
1 cup heavy whipping cream, cold
16 ounces full fat cream cheese, softened to room temperature
1 cup full fat Greek yogurt
3/4 cups powdered sugar
1 tablespoon cornstarch
2 tsp. vanilla extract
1/4 tsp. salt
Finely grated zest from 1 Meyer lemon

For the Candied Lemons
2 cups water
1 cup sugar
2 Meyer lemons, thinly sliced and seeds removed

For Topping
Dark chocolate shavings
Instructions
Cut out a round of parchment paper and fit it into the bottom of a 9-inch springform pan. Set aside.
Make the crust. In your food processor with the blade attachment, pulse together the graham cracker crumbs, melted butter, sugar, lemon zest and salt until the crumbs are moistened and everything is well combined. Dump the crumbs into your prepared springform pan and press them evenly into the bottom of the pan and approximately three-quarters of the way up the sides of the pan. Place the pan in your refrigerator to chill.
Make the ganache layer. In a saucepan over medium heat, bring the heavy cream, honey and vanilla extract to a simmer. Remove from the heat. Add the chopped chocolate and stir until melted. Then stir in the butter. Let the ganache sit at room temperature for about 5 minutes to cool slightly. Then spread it evenly over the graham cracker crust layer in your springform pan. Return the pan to your refrigerator to chill.
Make the cheesecake layer. In the bowl of your stand mixer with the whisk attachment, whisk the heavy cream until stiff peaks form. Transfer the whipped cream to a clean bowl and set it aside. In the bowl on your stand mixer (no need to clean it out from making the whipped cream), whisk the cream cheese until smooth and fluffy, about 3 minutes. Then whisk in the yogurt, powdered sugar, cornstarch, vanilla extract and salt. With a rubber spatula, fold in the whipped cream and lemon zest. Pour the cheesecake layer over the ganache layer, smoothing it out so the top is flat and even. Cover your springform pan and return it to your refrigerator to chill for at least 8 hours, or up to overnight.
Make the candied lemons. In a pot with a large surface area, combine the water and sugar over medium heat, stirring until the sugar is dissolved. Add the sliced lemons and adjust the heat to maintain a simmer. Cook the lemon slices for 30 minutes, checking on them occasionally. With a pair of tongs, remove the lemon slices and lay them out in a single layer on a piece of parchment paper to cool.
When you're ready to serve the cheesecake, run a sharp knife between the sides of crust and the springform pan. Then release the springform pan and lift off the outside ring. Carefully slide the cake off the bottom of the springform pan and onto a plate or serving tray. Top with the candied lemons and dark chocolate shavings. Slice and serve.
Leftovers can be stored in your refrigerator for 2-3 days.
https://www.floatingkitchen.net/no-bake-meyer-lemon-cheesecake-with-chocolate-ganache-layer-gluten-free/
Cheesy Things
Sweet Things
Cheesy & Sweet Things