This post was originally published here December 15, 2016. I've since updated the text and photographs. These Holiday cookies take a bit of extra time, but they are so beautiful and special. I hope you try them!
If you have an extra bag of fresh cranberries leftover from Thanksgiving, then put these Hazelnut Linzer Cookies with Vanilla-Cranberry Jam on your list of cookies to bake this week.
And even if you don't have an extra bag of cranberries, run out and buy one so you can make these cookies.
And if you need a third option, you could even use any leftover cranberry sauce you might have from Thanksgiving dinner (as long as it's not too savory!).
So basically what I'm saying is just do what you can to figure out a way to make these Hazelnut Linzer Cookies with Vanilla-Cranberry Jam.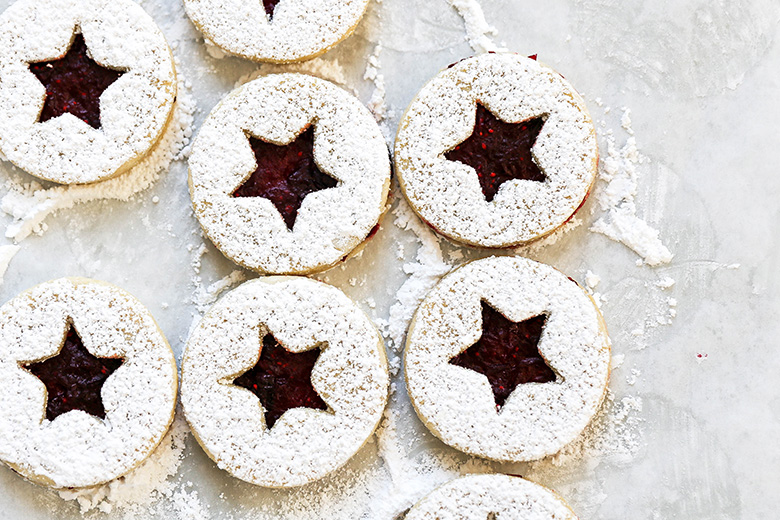 Linzer cookies require a bit more work and time to make than some other Christmas cookies (chilling the dough and cut-outs, assembling the cookie sandwiches, etc.). But I think they are totally worth it. So I always make sure to set aside some time to make a couple batches throughout the season. There is just something super festive about their heavy dusting of powdered sugar, like a fresh morning snow fall. And that peak-a-boo window of jam in the center that reminds me of the old-fashioned jewel-toned ornaments that used to hang heavy on my Grandmother's Christmas tree. They are a classic. And I love them despite the additional workload.
These Hazelnut Linzer Cookies with Vanilla-Cranberry Jam use half all-purpose flour and half hazelnut flour, which gives them a subtle nutty undertone. If you can't find hazelnut flour, you can substitute it for almond flour. Traditional linzers are filled with raspberry jam, but since I'm obsessed with all things cranberry right now, I went with a homemade cranberry jam flavored with a whole vanilla bean pod. In this instance, I think the vanilla flavor is much better/more pronounced than if you used vanilla extract, so I highly recommend using a vanilla bean pod if you can.
Linzer cookies soften pretty quickly once the jam has been added. And the powdered sugar will dissolve away within a day or two. So unless I'm taking a batch to a party and need a large amount, I've started assembling just a half dozen cookies at a time (steps 8 and 9 in the instructions below), then keeping the remaining undecorated cookies at room temperature and the jam in my refrigerator for assembly at a later date. This works really well and ensures I have fresh linzer cookies for a couple weeks.
Cheers,
Liz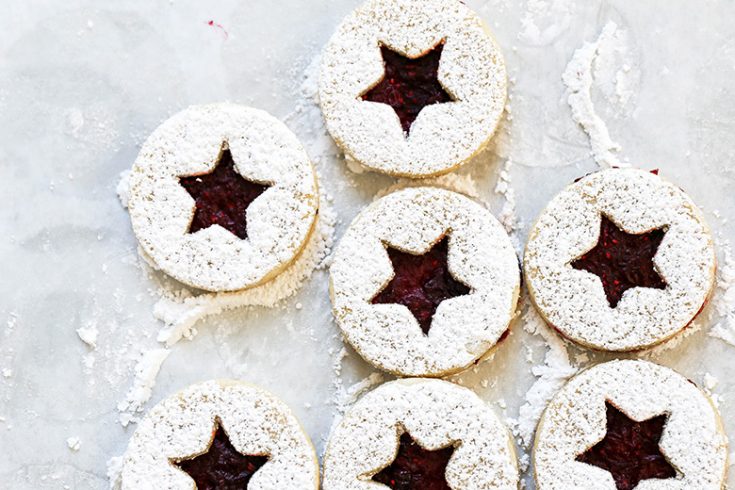 Hazelnut Linzer Cookies with Vanilla-Cranberry Jam
Yield: Makes about 2 dozen
Prep Time: 1 hour
Cook Time: 30 minutes
Additional Time: 3 hours
Total Time: 4 hours 30 minutes
Ingredients
For the Linzer Cookies:
3/4 cups (12 tablespoons) unsalted butter, softened at room temperature
1/2 cup granulated sugar
Finely grated zest from 1/2 lemon
1 egg yolk
1 tsp. vanilla extract
1 cup all-purpose flour
3/4 cups hazelnut flour
1/4 tsp. salt
Powdered sugar, for dusting
For the Vanilla-Cranberry Jam:
1 vanilla bean pod
2 cups fresh cranberries, thawed if frozen
1/2 cup granulated sugar
2 tablespoons cranberry juice
Instructions
In your stand mixer fitted with the paddle attachment, beat together the butter, sugar and lemon zest on medium-high speed until light and fluffy, about 2-3 minutes. Scrape down the sides and bottom of the bowl. Add the egg yolk and vanilla extract and beat until combined.
With your mixer on low speed, slowly add in the flours and salt, beating until no more white steaks remain. Remove the dough from the bowl and divide it into two portions. Wrap each portion in plastic wrap, flattening them to form a disk, then place the disks in your refrigerator to completely chill the dough completely, at least 2 hours or up to overnight.
Meanwhile, make the vanilla-cranberry jam. With a small paring knife, slice the vanilla bean pod in half lengthwise and scrape out the seeds. Add the seeds to a medium saucepan along with the cranberries, sugar and cranberry juice. Bring to a simmer over medium heat and cook, stirring frequently, until almost all the cranberries have burst open, about 5-6 minutes. Remove the saucepan from the heat. Use the back of a spoon to crush any cranberries that are still intact. Then transfer the jam to a clean container and refrigerate it until you're ready to use it.
On a well-floured work surface, roll out one of the chilled dough disks to a 1/4-inch thickness. Use a round cookie cutter (mine was about 2-inches in diameter) to cut out cookies. Then using a smaller round cookie cutter, make peak-a-boo cutouts in the center of half of the cookies. Transfer the cookie cut-outs to a parchment paper-lined baking sheet. The cookies won't spread significantly, so you can space them close together on the baking sheet. I can typically fit 14-16 cookies on each baking sheet.
Re-roll the scraps and continue to cut out cookies until the dough has been used up. Repeat with the second dough disk. If the dough is getting too sticky at any point, place it back in your refrigerator to chill for 20-30 minutes.
Place the baking sheets in your refrigerator to chill the cookie cut-outs for 30 minutes.
Pre-heat your oven to 350 degrees. Transfer the baking sheets directly from your refrigerator to your pre-heated oven and bake the cookies for 9-10 minutes. They should be lightly browned around the edges. Remove the baking sheets from your oven and let the cookies cool for 5 minutes before transferring them to a wire rack to continue cooling.
Once the cookies have completely cooled, you can assemble them with the jam. Place about 2 teaspoons of the jam in the center of the flat side of the intact cookies and spread it out to the edges into an even layer. Set aside.
Place the cookies with the peak-a-boo cutouts on a baking sheet. Generously dust the tops with powdered sugar. Then place these dusted cookies on top of the cookies with the jam to create a cookie sandwich.
Assembled linzer cookies can be stored in an airtight container for 2-3 days. The cookies will soften over time.