I am a total sucker for Cadbury Mini Eggs. Always have been. Always will be.
In addition to eating MANY bags of them throughout the Easter Holiday season, I also usually try to incorporate them into at least one dessert. They are such an easy way to make cakes and cookies look a little extra festive for Easter.
These Frosted Easter Sugar Cookie Bars are an ode to my above mentioned favorite Easter candy. They have the ease and speed of homemade blondies. And then they are made extra special with a rich buttercream frosting and of course, a heavy sprinkling of crushed sugar-coated mini chocolate eggs (Cadbury is my preferred brand, but you could certainly use another). They are a quick, crowd-pleasing dessert that will add a pop of color and fun to your Easter celebrations!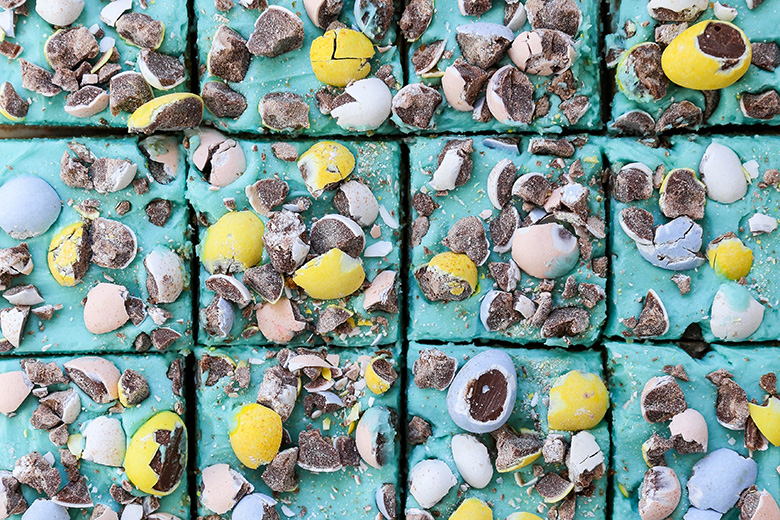 The batter for this recipe is very straightforward and simple. You only need a handful of kitchen staples and one mixing bowl to bring it all together. The batter will be thick, so don't fret if it takes you a minute to spread it out in your prepared baking pan. And it will seem impossibly thin, but it will rise and spread as it bakes. For such a short list of ingredients, the flavor of these bars is really quite complex. Salted butter, brown sugar and an extra egg yolk give them a rich, caramelized flavor.
Achieving a perfectly smooth, creamy buttercream frosting is something that I struggled with in the past. I had always attempted to use an electric beater and/or whisk attachment (as instructed by many recipes), but often times this left me with a mealy, grainy buttercream. Not good. And so much wasted butter. But once I switched to only using my stand mixer with the paddle attachment, I've had success every single time. I'm guessing I can't be the only person on the planet who's struggled with this, so I figured it was worth mentioning.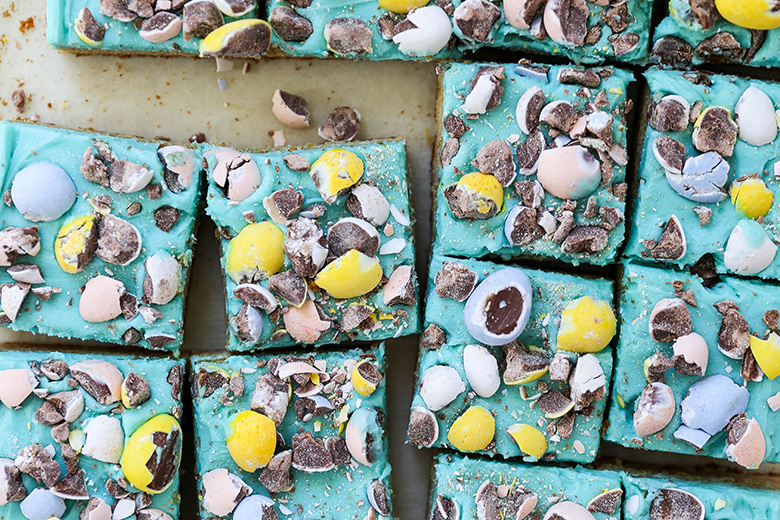 I like to tint the frosting blue, which gives these Frosted Easter Sugar Cookie Bars a robin egg-like appearance. But if you want to skip the food dye, I get it. They will still be very cute!
I've found the best way to crush the sugar-coated mini chocolate eggs is by adding them to a zip-closure bag and then giving it a few good whacks with a mallet or your rolling pin. Don't attempt to chop them with a knife unless you want to take a trip to the emergency room. Just saying.
Cheers,
Liz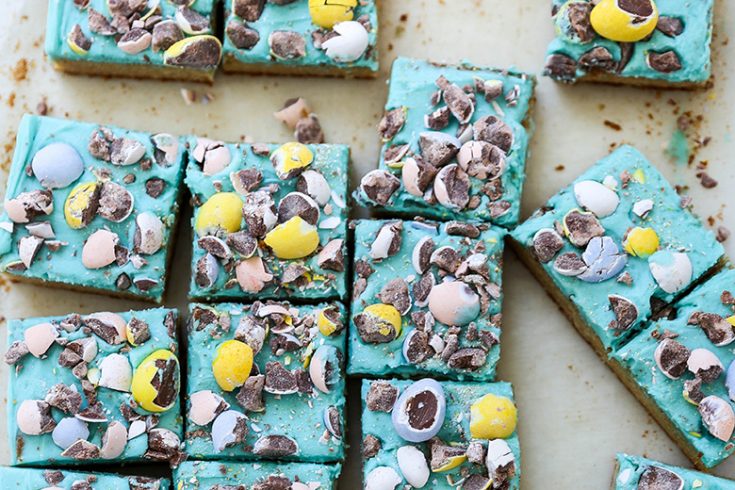 Frosted Easter Sugar Cookie Bars
Yield: Makes 16 bars
Prep Time: 15 minutes
Cook Time: 25 minutes
Additional Time: 1 hour
Total Time: 1 hour 40 minutes
Ingredients
For the Cookie Batter:
1/2 cup (8 tablespoons) salted butter, melted and cooled
1 cup packed brown sugar
1 egg
1 egg yolk
1 tsp. vanilla extract
1 cup all-purpose flour
1/2 tsp. baking powder
1/4 tsp. salt
For the Frosting:
6 tablespoons salted butter, cubed and at room temperature
1 cup powdered sugar
1 tsp. vanilla extract
1-2 tablespoons milk, at room temperature
Blue gel food coloring, optional
About 1 cup sugar-coated mini chocolate eggs (I used Cadbury)
Instructions
Pre-heat your oven to 350 degrees. Line a 9 X 9-inch baking pan with parchment paper, leaving about an inch hanging over the sides. Set aside.
In the bowl of your stand mixer fitted with the paddle attachment, combine the melted butter and brown sugar. Add the egg, egg yolk and vanilla extract and beat to combine. Stop to scrape down the sides and bottom of the bowl. Then add the flour, baking powder and salt and beat until the dry ingredients are just combined and no more white streaks remain. Do not overmix the batter.
Scrape the batter into your prepared baking pan and spread it out into an even layer. The batter will be thick. Transfer the baking pan to your pre-heated oven and bake for 23-25 minutes, or until the edges are set and the top is just starting to turn golden brown.
Remove the baking pan from the oven and place it on a wire rack to cool for 5 minutes. Then use the overhanging parchment paper to carefully lift the bars out from their baking pan and place them on the wire rack to continue cooling.
While the bars cool, make the frosting. In your stand mixer fitted with the paddle attachment, beat the butter until completely smooth. Add the powdered sugar in about one-third at a time, beating after each addition. Stop to scrape down the sides and bottom of the bowl. Then add the vanilla extract and 1 tablespoon of the milk, beating until combined. If the frosting seems too thick, you can add an additional tablespoon of milk. If you'd like to tint the frosting blue, add in a couple drops of blue gel food coloring while your mixer is on low speed.
Once the bars have completely cooled, spread the frosting in an even layer over the top. Add the chocolate eggs to a zip-closure bag and partially crush them using a rolling pin or mallet. Then sprinkle the crushed chocolate eggs over the surface of the frosting, pressing down slightly to help them adhere. Slice and enjoy.
Leftover bars can be stored in an airtight container at room temperature for 2-3 days.