Have I ever told you that my nickname is blondie? As one of the only tow-heads in our family (Armenians aren't particularly known for their light-colored locks!), my Grandfather started calling me that as a baby. And it stuck.
But despite this label, I was never that huge of a fan of blondies (I'm talking about the dessert now, in case that was unclear). I've always been a chocolate lover. So I used to view blondies as a "lesser" version of brownie. Why choose a blondie when you could choose a brownie? I didn't get it.
But now I do. Because I made Sarah's blondie recipe and I was BLOWN AWAY by how incredible they tasted. With deep notes of butter, caramel and vanilla, they were unlike any other blondie I had ever eaten. And they were thick, moist and chewy. So naturally, I instantly feel in love with them.
I've made them several times since then, adapting them here and there. And I eventually settled on these Thick and Chewy Blondies with Salted Caramel Pecan Topping as my new favorite rendition of them. If you're a fan of pecan pie, then these ooey-gooey blondies will be right up your alley. They are absolutely over the top. In the best kind of way possible.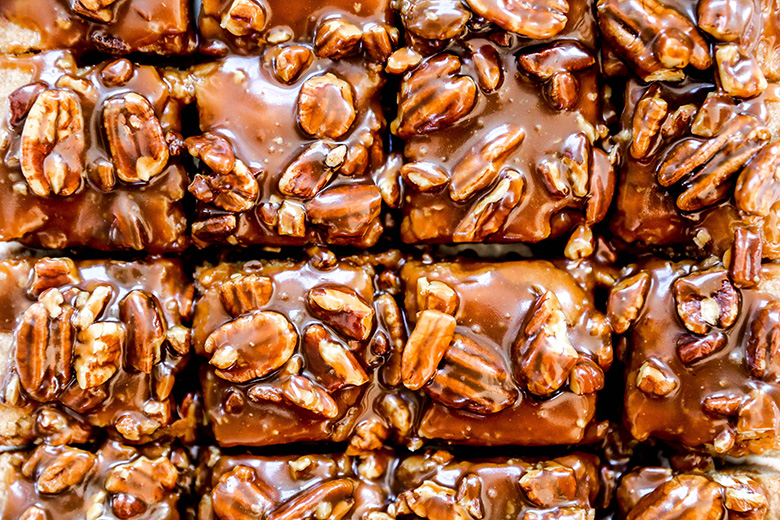 If you've made blondies (or brownies) in the past, then you know they are pretty straightforward. One bowl. Pantry staples. Easy peasy. The best advice I can give you is don't overbake them. A somewhat soft middle is a good thing here!
I typically prepare the topping while the blondies are cooling. But if you wanted to make the topping 1-2 days in advance and store it in your refrigerator, that's totally an option. It will firm up once refrigerated, but you can briefly microwave it to loosen it back up to a pourable consistency.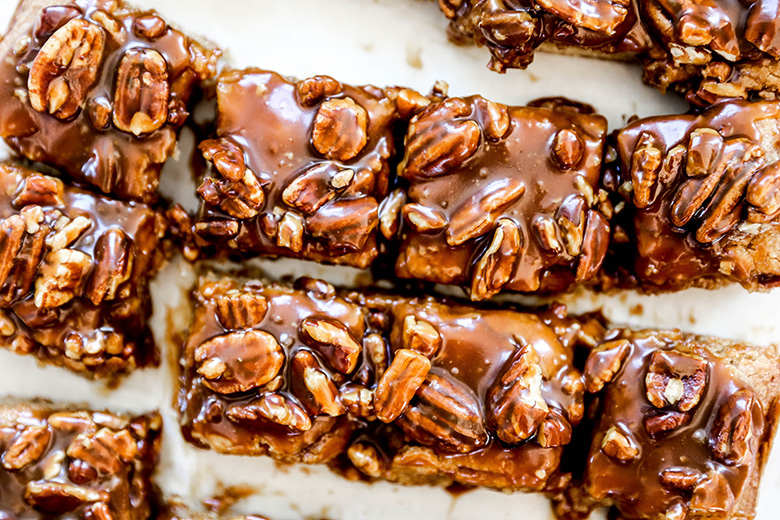 Caramel sauce isn't difficult to make. But unless you're a seasoned pro at it, I would recommend not walking away from your stovetop during the caramel making process. Because once the mixture starts to take on a golden color, it will very quickly advance from golden to deep caramel (which is what we want) to burned. So keep your eyes on your saucepan. And have your butter and heavy cream ready nearby, because adding those ingredients is what stops the cooking process and will prevent you from heading into burned caramel sauce territory.
The topping is sticky (YUM!), so be sure to store these treats in a single layer. And have a few napkins ready!
These Thick and Chewy Blondies with Salted Caramel Pecan Topping would be a great treat for Halloween. I also think they would be fun to bring to a Thanksgiving potluck. Everyone will go crazy for these NOT lesser version of a brownie!
Cheers,
Liz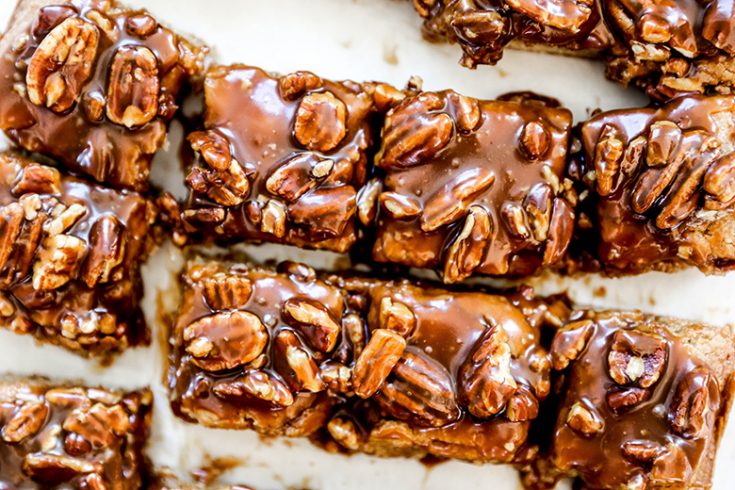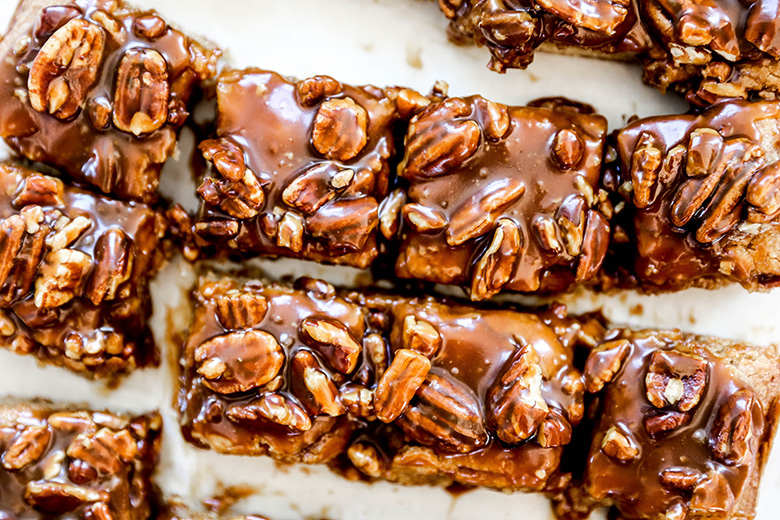 Thick and Chewy Blondies with Salted Caramel Pecan Topping
Yield: Makes 16 squares
Prep Time: 20 minutes
Cook Time: 45 minutes
Total Time: 1 hour 5 minutes
Ingredients
For the Blondies:
1 cup (16 tablespoons) salted butter, melted and cooled
2 cups packed dark brown sugar
2 eggs
1 egg yolk
1 tablespoon vanilla extract
2 cups all-purpose flour
1/2 tsp. baking powder
1/2 tsp. salt
For the Salted Caramel Pecan Topping:
1 cup granulated sugar
1/2 cup water
6 tablespoons salted butter, cubed and at room temperature
1/2 cup heavy cream
Sea salt
1 cup raw pecans, roughly chopped
Instructions
Pre-heat your oven to 350 degrees. Line a 9 X 9-inch baking pan with parchment paper, leaving about an inch hanging over the sides. Set aside.
In the bowl of your stand mixer fitted with the paddle attachment, combine the melted butter and brown sugar. Add the eggs, egg yolk and vanilla extract, beating until well combined. Then add the flour, baking powder and salt and beat until the flour is just combined and no more white streaks remain. Do not overmix the batter.
Scrape the batter into your prepared baking pan and spread it out into an even layer. Transfer the baking pan to your pre-heated oven and bake for 30-35 minutes, or until the edges of the blondies are set and the top is just starting to turn golden brown.
Remove the baking pan from the oven and place it on a wire rack to cool slightly. After 10-15 minutes, use the overhanging parchment paper to carefully lift the blondies out from their baking pan and place them on the wire rack to continue cooling.
While the blondies cool, make the salted caramel pecan topping. Spread the sugar out into the bottom of a heavy bottom saucepan. Pour the water over the sugar and swirl the saucepan gently to moisten the sugar evenly. Then place the saucepan over medium-high heat and bring the mixture to a boil. Allow the mixture to cook until it turns a deep caramel color, about 7-10 minutes. It will bubble quite vigorously during this time. Avoid stirring, if possible. If it's not cooking evenly, you can gently swirl the saucepan to mix/move the mixture around the bottom of the saucepan to prevent scorching.
Once the mixture is a deep caramel color, quickly remove the saucepan from the heat. Whisk in the cubed butter. Then gradually whisk in the heavy cream. Once fully combined, stir in a couple pinches of sea salt and the pecans. Carefully transfer the salted caramel pecan topping to a clean container. Set it aside until it's cool enough to handle.
Pour the cooled salted caramel pecan topping over the blondies. If the topping has firmed up, you can microwave it briefly (about 30 seconds) to return it to a more pourable consistency. Cut the blondies into squares and enjoy.
Blondies can be stored in a single layer in an airtight container at room temperature 2 days.