This post was originally published here on January 12, 2015. I've since updated the photographs and text. I hope you try it out!
Hi Friends! I'm going to keep things short and sweet today (and a little spicy, too!). Because there needs to be as little as possible standing between you and this snack mix. It's one of my favorite recipes to whip up for parties, game day gatherings, gift giving, etc. So I figured with Halloween on the horizon, today would be the perfect opportunity to re-visit this post and give it a little bit of a facelift. If you need a last minute recipe for tomorrow night, seriously consider giving this Sweet and Spicy Nut and Pretzel Mix with Beer a try. No tricks. Just treats. I promise.
It has chocolate AND beer. I mean, really. What more could a person ask for?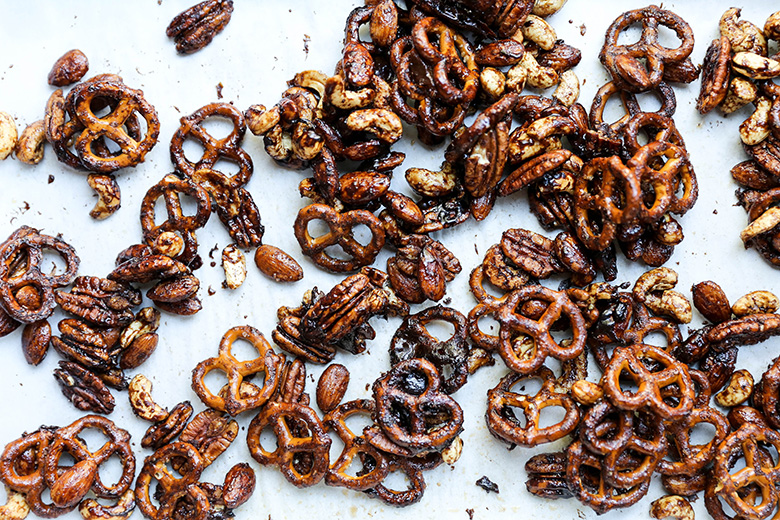 The very first time I made this recipe I went all out and put in a full teaspoon of cayenne pepper. And hot damn, that was a painful mistake that I won't ever be making again. I was literally sweating while eating that inaugural batch. And I think at one point, I even got momentarily light headed. So word of caution: go easy on the spice. A 1/2 teaspoon of cayenne pepper will provide you with a nice amount of heat, while still being relatively comfortable. If you're feeling more adventurous, you can certainly try adding more. But just don't say I didn't warn you.
For beers, I've made this recipe with both Wicked Weed Dark Age and Lagunitas Brewing Company Brown Shugga'. I'm sure other beers would also be excellent. My suggestion is to stick with something with "warm" flavor tones.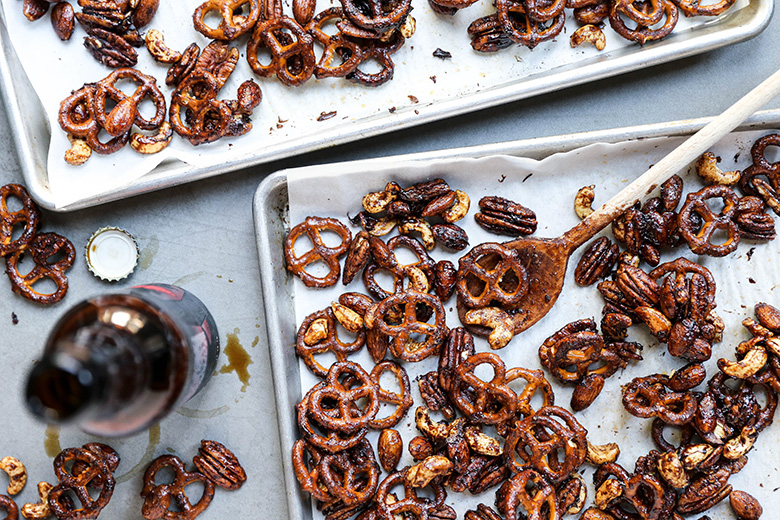 A couple of other notes on the actual recipe that I think are worth mentioning. First, I always use unsalted nuts and salted pretzels (mostly because I can never find unsalted pretzels). If you only have salted nuts, you might want to cut down on the amount of extra salt added in the recipe. Second, the snack mix will look wet initially, but it will dry as it sits and cools. So don't panic if it doesn't look dry enough at first. And third, depending on the beer you use, some parts of the snack mix might get pretty dark. It's OK! Just check on the snack mix closely as it's baking to make sure nothing is actually burning.
I hope you all have a safe and fun Halloween! Enjoy!
Cheers,
Liz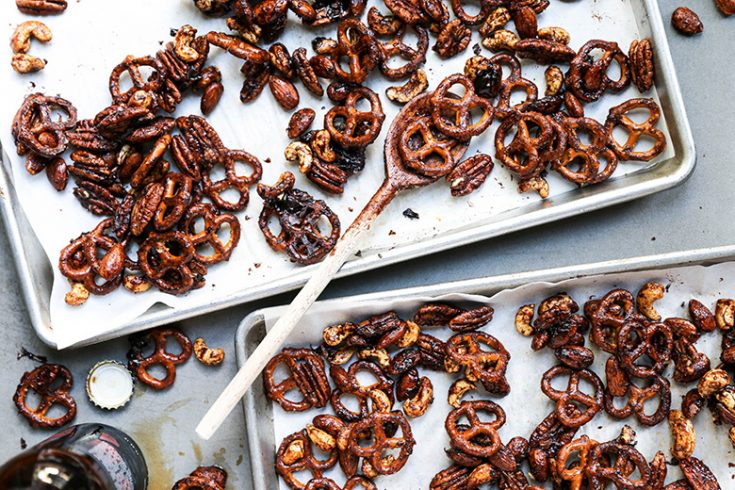 Sweet and Spicy Nut and Pretzel Mix with Beer
Yield: Makes 8 cups

Prep Time: 5 minutes

Cook Time: 25 minutes

Total Time: 30 minutes
Ingredients
4 cups unsalted nuts (I used a mix of cashews, almonds and pecans)
2 tablespoons butter
1/3 cup brown sugar
1/3 cup beer
2 tablespoons maple syrup
1 tablespoon unsweetened cocoa powder
1 tsp. ground allspice
1/2 – 3/4 tsp. ground cayenne pepper
1/2 tsp. ground cinnamon
1/2 tsp. ground cloves
1/2 tsp. ground ginger
4 cups pretzels twists
1 1/2 – 2 tsp. kosher salt
Instructions
Pre-heat your oven to 350 degrees. Line two large rimmed baking sheets with parchment paper and set aside. Add the nuts to a large bowl and set aside.
In a saucepan over medium heat, combine the butter, brown sugar and beer. Simmer, stirring occasionally, about 3-4 minutes. Remove the saucepan from the heat and whisk in the maple syrup, cocoa powder and all the spices.
Pour this mixture over the nuts, stirring to coat. Then fold in the pretzel twists, sprinkling in the salt as you fold.
Spread the mixture out evenly between your two prepared baking sheets, making sure to add in any of the accumulated liquid in your bowl. Transfer the baking sheets to your pre-heated oven and bake for 15 minutes, stirring and checking on the mixture 1-2 times during baking.
Turn your oven off and open the door, leaving the baking sheets in your warm oven for an additional 5-10 minutes. This will help the mixture to dry. Then remove the baking sheets from your oven and set them aside to cool completely. Once the snack mix has cooled, use your hands to break up any big clusters into smaller pieces.
The snack mix can be stored in an airtight container at room temperature for up to 5 days.
SaveSave
SaveSave
SaveSave
SaveSave
SaveSave
SaveSave
SaveSaveSaveSave
SaveSaveSaveSaveSaveSave