Today is a special day. Because we're here today to celebrate the impending arrival of another baby boy to our close-knit blogosphere. And the lucky mom-to-be is none other than the talented Megan Kohrs of With Salt and Wit. Hooray!
Megan and I haven't met in person yet (although I'm hoping that changes soon!), but we've been connecting via the interwebs for about 1 1/2 years now. I know whenever I go to Megan's site that I'm going to find bright, happy photos and dishes full of fresh, seasonal ingredients. Oh and lots of skinny cocktails. Just check out her drinks archives! It's totally drool-worthy!
I couldn't be happier for Megan and her husband as they enter into the journey that is parenthood. And I'm thrilled to be teaming up with so many other fabulous food bloggers to honor this joyous occasion.
Since it's almost the first official day of Fall, we decided to have a Fall theme for Megan's virtual baby shower. Below you'll find twenty delectable creations that you can make and enjoy over and over again during the next couple of months. Everything from breakfast to desserts. We've got you covered.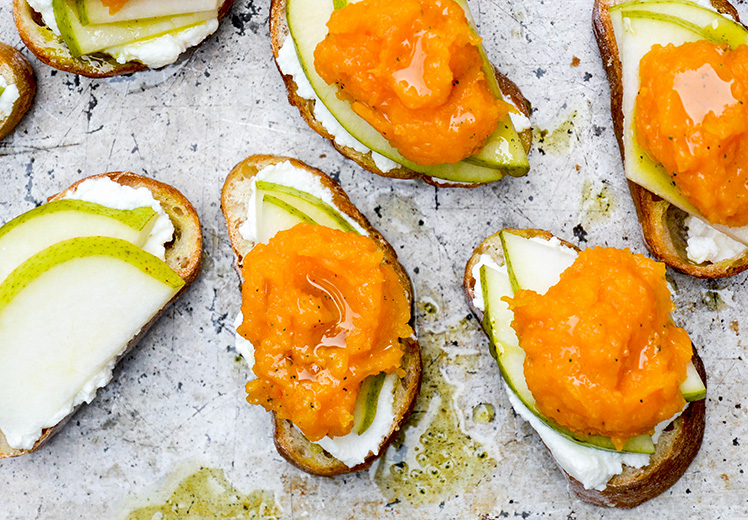 These Butternut Squash, Pear and Ricotta Bruschetta with Sage Oil are my contribution to the baby shower. They have both a salty and sweet component, which is something I always look for in an appetizer. And some of the steps (like roasting the squash and making the sage oil) can be done in advance if necessary, so all you have to do when it's party time is assemble the little toasts and serve.
Be sure to head on over to Megan's site and say congratulations. And don't forget to check out what everyone else "brought" to the party!
Cheers,
Liz
Ingredients
For the Squash
1 medium butternut squash
2 tablespoons extra-virgin olive oil
1 tsp. salt
1 tsp. black pepper
2 tablespoons honey

For the Sage Oil
1/4 cup vegetable or canola oil
1/4 cup extra-virgin olive oil
1/2 cup fresh sage leaves

For Assembly
2 rustic French baguettes
About 1 cup part-skim ricotta cheese
2 pears, thinly sliced and cut to fit the bread
Instructions
Roast the butternut squash. Pre-heat your oven to 375 degrees. Cut the butternut in half down it's long axis. Scoop out and discard the seeds. Place the butternut halves cut-side up on a rimmed baking sheet. Drizzle each half with 1 tablespoon of the extra-virgin olive oil and sprinkle with 1/2 tsp. each of the salt and pepper. Transfer to your pre-heated oven and roast for about 50-60 minutes, or until the squash is very tender and can be easily pierced with a fork. Note: Make the sage oil while the butternut squash is roasting. Remove the butternut squash from the oven and set it aside to cool. Once it's cool enough to handle, use your hands to peel off and discard the skin. Transfer the flesh to your food processor with the blade attachment. Add the honey and 1 tablespoon of the sage oil. Process until smooth, scraping down the sides of the food processor as necessary. Remove the butternut squash from your food processor and transfer it to a clean bowl. Cover to keep warm.
While the butternut squash is roasting, make the sage oil. In your food processor with the blade attachment, process the oils and sage leaves until the sage is finely chopped. Transfer the mixture to a small saucepan and bring it to a low simmer for about 1 minute. Note: Use the same food processor to process the roasted butternut squash above. No need to clean it out in between! Remove from the heat. Strain the mixture through a fine mesh strainer, pressing down to remove as much of the oil as possible, collecting and reserving the oil into a clean container. Set aside.
Assemble the bruschetta. If you turned off your oven, pre-heat it again to 375 degrees. Cut the baguettes into approximately 1/2-inch slices. Brush each piece with some of the sage oil. Place the baguette slices on a large rimmed baking sheet. Transfer to your pre-heated oven and bake for 4-5 minutes. Remove from the oven. Spread about 1 tsp. of the ricotta cheese onto each toasted baguette slice. Top with a couple slices of pear and a dollop of the roasted butternut squash. Drizzle with some of the remaining sage oil. Serve and enjoy!
https://www.floatingkitchen.net/butternut-squash-pear-and-ricotta-bruschetta-with-sage-oil/
Caramel Apple Cheesecake Dip– The Cookie Rookie
No Churn Pumpkin Caramel Ice Cream– Pumpkin n' Spice
Pumpkin Pie Fluff Dip – A Latte Food
Chocolate Pumpkin Cheesecake Muffins -Dinner at the Zoo
Pumpkin Polenta Cups– Cooking and Beer
Pumpkin Cheesecake French Toast– Whole and Heavenly Oven
Slow Cooker Turkey Breast– The Weary Chef
Turkey Cranberry Sandwich– The Gunny Sack
Caramel Apple Mini Pie Cups– The Creative Bite
Pumpkin Spice Latte Coffee Cake– Joyful Healthy Eats
Pumpkin Chocolate Chip Bread – Deliciously Sprinkled
Pumpkin Cupcakes with Cream Cheese Frosting– Chez Catey Lou
Apple Cheesecake French Toast with Cider Maple Syrup– Mariah's Pleasing Plates
Pear Pie with Pecan Streusel– The First Year
Apple Pie Rolls– Amy's Healthy Baking
No Bake Apple Pie Bites– The Recipe Runner
Pumpkin Pie Mousse– Petite Allergy Treats
Pumpkin Chocolate Chip Bars– Diary of a Recipe Collector
Cranberry Apple Cider Punch– Diethood