Disclosure: This post is sponsored by Stonewall Kitchen. All opinions are my own. Thank you for supporting brands and companies that help to keep my little kitchen afloat!
It's no secret that I love appetizers. Just sit me down in front of a spread of bite-sized foods and I'll be pretty happy. I can easily skip the main event all together. Cocktails, finger foods and desserts are where it's at, in my humble opinion. No need to go to all the trouble of roasting up a whole turkey just for me!
And you know what? I kind of have an inkling that you all might be feeling exactly the same way. So today, I'm bringing you these adorable Polenta Bites with Crispy Brussels Sprout Leaves, Ricotta and Chutney for all your snacking pleasures. You're welcome.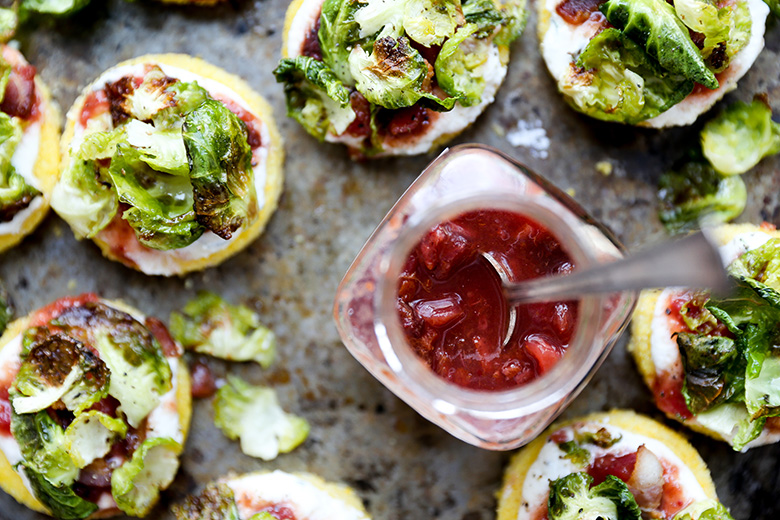 My go-to appetizer is usually some kind of toasty bread piled high with cheese and ALL THE toppings. But this year, I really wanted to create something gluten-free. And while I certainly could have just used gluten-free bread, that seemed like a bit of a cop-out. Then I remembered my friend Sarah's polenta bites from the Summer, and I decided to try my hand at creating a festive Fall/Winter version that would be appropriate for Thanksgiving and Christmas Holiday entertaining. My rendition has whipped ricotta cheese with fresh herbs, a flavorful chutney, a few crumbles of bacon and everyone's favorite seasonal vegetable – brussels sprouts.
There are a few separate steps required to make these polenta bites. But none of them are particularly taxing or time consuming. The polenta gets baked in the oven (no stirring required!), and can be prepared up to a day or two in advance, which is a huge time saver. And you can even separate out the brussels sprout leaves ahead of time as well, storing them in your refrigerator until you're ready to crisp them up.
I should warn you that these crispy brussels sprout leaves are highly addicting. Once you start munching on them, it's hard to stop. You'll be amazed at how quickly an entire pan can disappear!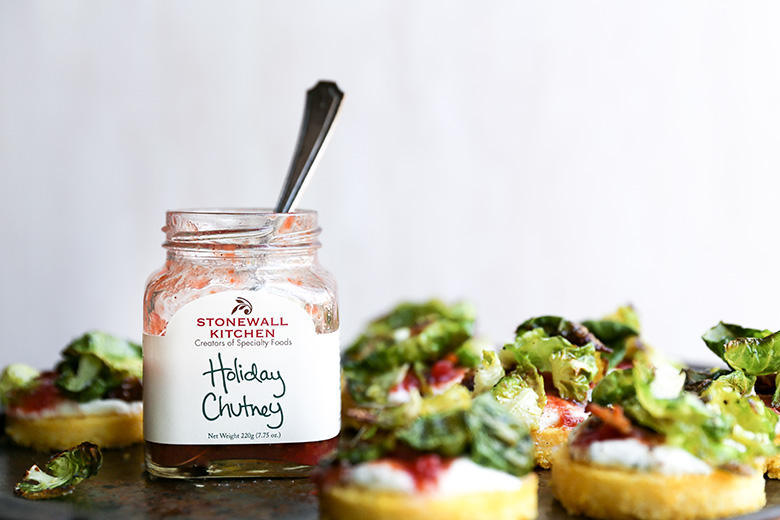 But the real star of the show is the Holiday Chutney from Stonewall Kitchen. With it's blend of fruits (including pears, cranberries and rhubarb) and warming spices, it provides the perfect tart-sweet balance to offset the other savory-salty ingredients in this recipe. Which ultimately makes these polenta bites one heck of a well rounded appetizer.
Both literally and figuratively. You know, because they are round.
Ugh. I'm the worst. Sorry.
Stonewall Kitchen's Holiday Chutney is also a great addition to any charcuterie or cheese plate (these Simple White Crackers are my favorite!). And it's a wonderful topping for baked ham, pork or chicken. I like to keep a jar on hand at all times, because it totally helps me bring my A-game to the table around the Holidays!
Cheers,
Liz
Recipe inspired by The Kitchn
Ingredients
For the Polenta
4 cups water
1 1/4 cups polenta
1 tsp. salt

For the Toppings
4 slices bacon, diced
4 cups loosely packed brussels sprout leaves
2 tablespoons extra-virgin olive oil
1/2 tsp. salt
1/2 tsp. black pepper
About 1/2 cup Stonewall Kitchen Holiday Chutney

For the Whipped Ricotta
1 cup whole milk ricotta cheese
1/4 cup cream cheese, softened at room temperature
1 tablespoon heavy cream
1/4 tsp. salt
1/4 tsp. black pepper
1 tsp. fresh parsley leaves, finely chopped
1/2 tsp. fresh thyme leaves, finely chopped
1/2 tsp. fresh sage leaves, finely chopped
Instructions
To prepare the polenta, pre-heat your oven to 350 degrees. Generally grease an 9 X 13-inch baking pan with non-stick cooking spray. Whisk together the water, polenta and salt in your prepared baking pan. Then transfer the pan to your pre-heated oven and bake until the polenta is firm, about 50 minutes. Remove the baking dish from your oven and set it on a wire rack to cool. Then transfer it to your refrigerator to chill for at least 6 hours or up to overnight.
Add the chopped bacon to a non-stick skillet over medium-high heat. Cook until crisp, stirring frequently. Transfer the cooked bacon to a paper towel-lined plate to drain. Reserve the bacon fat.
To prepare the brussels sprout leaves, pre-heat your oven to 400 degrees. Add the brussels sprout leaves to a large bowl. Drizzle with the olive oil, then use your fingers to rub the olive oil over the leaves, making sure to separate any leaves that are stuck together. Spread the brussels sprout leaves out onto a baking sheet and sprinkle with the salt and black pepper. Bake in your pre-heated oven until slightly crispy, about 10-12 minutes. Remove and set aside.
Cut the chilled polenta into appetizer-sized bites. You can use a round cookie/biscuit cutter to make circles. Or use a knife to slice it into triangles or squares. Arrange the polenta bites onto a baking sheet. Brush the tops with some of the reserved bacon fat. Then transfer the polenta bites to your pre-heated oven and bake until warmed through, about 5 minutes.
Meanwhile, make the whipped ricotta. Add the ricotta, cream cheese, milk, salt and black pepper to a medium bowl. Beat with your hand mixer until well combined and smooth. Fold in the fresh herbs. Set aside.
To assemble the polenta bites, first spread some of the whipped ricotta onto the surface of the warmed polenta. Top with the Holiday Chutney, a couple pieces of bacon and a few crispy brussels sprout leaves. Serve and enjoy!
https://www.floatingkitchen.net/polenta-bites-with-crispy-brussels-sprout-leaves-ricotta-and-chutney/