Hi Friends! Happy Monday! I've got an awesome Fall-themed celebratory cocktail recipe to share with you all today. It wasn't the recipe that I had originally planned to post. In fact, I had something much more sensible in the queue (a vegan potato salad). But then I decided to say "the heck with it" and went with the giggle juice instead. I figured we'd all be happier if I did. Am I right?
Life lesson 127: cocktails always trump potato salads.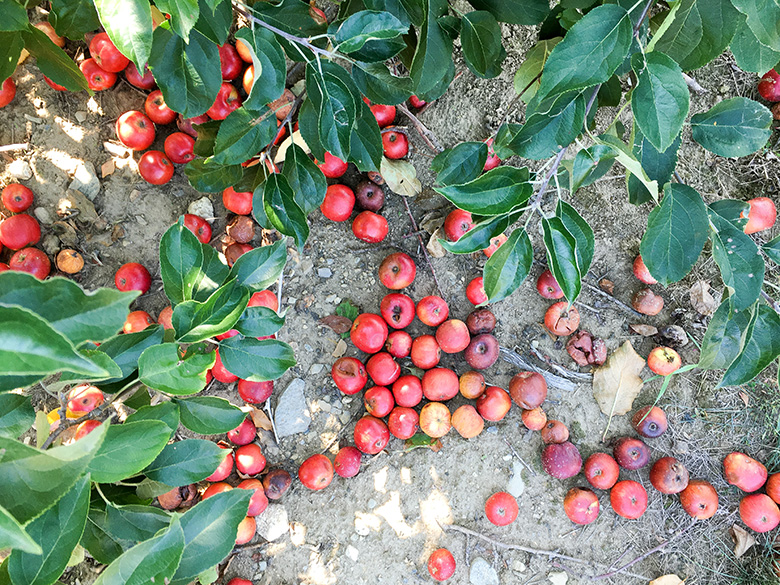 We haven't even officially entered Fall yet, but I'm already getting to work on my Fall bucket list. Which always includes at least two obligatory trips to a local apple orchard for apple picking. It's a quintessential New England activity that always puts a smile on my face. And did I mention that there are fresh donuts involved? Well, there are. That alone is reason enough to head out to the farms. Especially since they are apparently calorie free! Who knew?!?!
Oh and the fresh pressed apple cider (or "liquid gold", as I like to call it) is to die for as well. It's my favorite Fall beverage. And it just so happens to go exceedingly well with some of my go-to brown liquors, like bourbon and amaretto. I buy it by the gallons (I'm talking about the apple cider here, not the brown liquors) and then proceed to complain when it doesn't all fit in my refrigerator. First world problems.
So true to form, I picked up some fresh apple cider from Cider Hill Farm last week and got straight to work on creating the recipe for these Apple Cider, Bourbon and Amaretto Cocktails with Brûléed Oranges. The drink part itself is very straightforward. There are no hard-to-find ingredients required or fussy techniques. In fact, all you really have to do is shake, pour and sip!
Given the relative ease of the drink portion of this cocktail, I thought it would be a fun opportunity to make up some brûléed orange slices for garnish, an idea that I saw in the New York Times cooking section a while back and have been wanting to re-create since then. They really only take an extra 5 minutes of work to prepare. And I think they add a fabulous touch to this cocktail, both with respect to taste and presentation.
Pro tip: look for oranges that are just slightly smaller in diameter than your glasses for maximum visual impact.
So what are some of your favorite Fall sippers (alcoholic or non-alcoholic)? And any other local apple orchards that I need to visit this season? Tell me!
Cheers,
Liz
Ingredients
For the Oranges
1 small orange, thinly sliced
1-2 tsp. sugar

For the Cinnamon-Sugar Rim
1 tablespoon sugar
1/2 tsp. ground cinnamon
1/8 tsp. salt

For the Cocktails
Apple Cider
Orange Juice
Bourbon
Amaretto
Angostura bitters
Ice
Instructions
To make the brûléed oranges, sprinkle one side of the orange slices with sugar. Heat a dry skillet over medium-high heat. Once the skillet is hot, add the orange slices sugar-side down and cook until lightly caramelized, about 1-2 minutes. Remove the orange slices from the skillet and place them on a plate with the brûléed-side facing up. Set aside.
Stir together all of the ingredients for the cinnamon-sugar rim and place the mixture on a small plate. Wet the rim of your glasses with some of the apple cider, then invert the glasses over the cinnamon-sugar mixture, pressing down to coat. Add a few ice cubes to the glasses and set aside.
To make one cocktail, add 3/4 cups apple cider, 1/4 cup orange juice, 1 1/2 ounces (= 1 shot) bourbon, 3/4 ounces ( = 1/2 shot) amaretto and 2-3 dashes of bitters to a cocktail shaker with ice. Shake well. Strain into one of your prepared glasses. Float a brûléed orange slice on top. Enjoy immediately.
https://www.floatingkitchen.net/apple-cider-bourbon-and-amaretto-cocktails-with-bruleed-oranges/