This post was originally published here September 24, 2014. I've adjusted the recipe slightly. And I've updated the text and photographs to reflect those changes. Enjoy!
Get ready to be bombarded with apple recipes here on Floating Kitchen. In addition to today's recipe, I've already got a second one waiting in the queue. And I'm working on developing a few others, hopefully at least one of which will come out later in October.
So if you love apples, you're in luck. And if not, well, sorry/not sorry.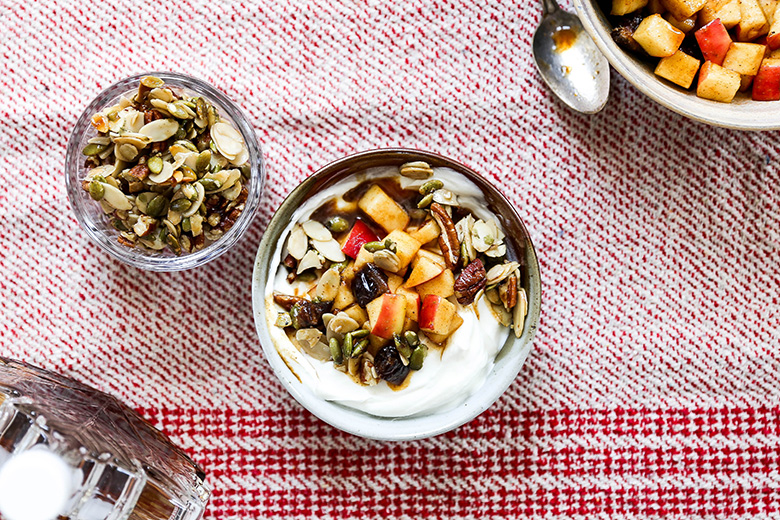 Everyone goes crazy for pumpkin as soon as September hits (let's be honest, as soon as August hits). And other than the fact that it's not even Fall yet, this pumpkin pushing also makes me crazy because it's like we've totally skipped over all the other delicious seasonal produce, like apples and pears. Which frankly, I like better than pumpkin anyways.
So while everyone else is suffering from pumpkin mania, I'm just over here putting apples and pears on a pedestal. They deserve the spotlight, too!
This is my life's work, people.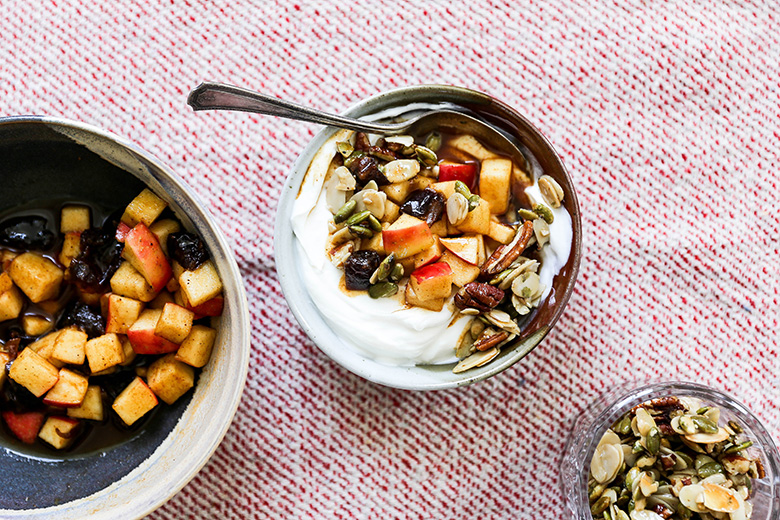 These Apple Harvest Yogurt Bowls with Maple-Nut Clusters are like taking a trip to the apple orchard. Which is exactly what I did last week, hence all the apple recipes currently in progress in my kitchen. You start by making a spiced apple cider syrup and some highly addicting (and sticky!) maple syrup-sweetened nut clusters. Both of which can be done in advance, so don't stress about the time requirement there. And then you just layer them up in a bowl with some Greek yogurt, fresh chopped apples, dates and whatever else you might be feeling. This is one of those recipes that actually gets me really excited and ready for Fall! Woo hoo! I'm finally on board to embrace the change in seasons!
Looking for more apple inspiration at breakfast time? Then check out these scones and this fruit salad.
Cheers,
Liz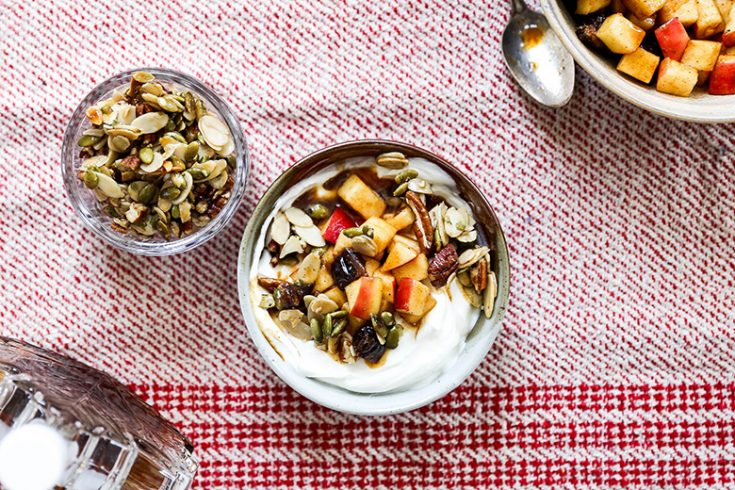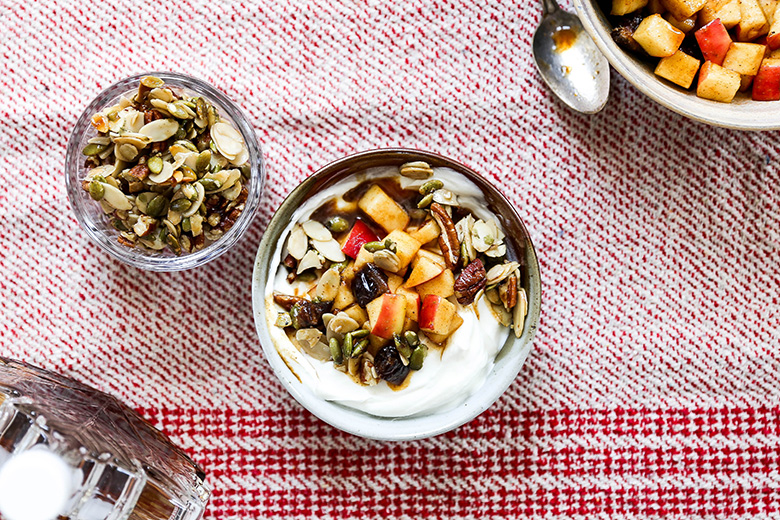 Apple Harvest Yogurt Bowls with Maple-Nut Clusters
Yield: Serves 2
Prep Time: 10 minutes
Cook Time: 55 minutes
Total Time: 1 hour 5 minutes
Ingredients
For the Spiced Apple Cider Syrup:
2 cups fresh apple cider
1/2 tsp. ground cinnamon
1/4 tsp. ground nutmeg
1/4 tsp. ground cardamom
1/8 tsp. salt
For the Maple-Nut Clusters:
1/2 cup sliced almonds
1/4 cup roughly chopped pecans
1/4 cup roasted pepitas
1 1/2 tablespoons maple syrup
1/8 tsp. salt
For the Bowls:
12-16 ounces Greek yogurt
1 medium apple, cored and chopped
2-3 dates, pitted and chopped
Maple syrup, to sweeten as desired
Instructions
In a medium saucepan, bring the apple cider to a simmer. Maintain a simmer and stir occasionally until the apple cider is reduced to about 1/3 of a cup, approximately 45 minutes. Whisk in the spices and cook for 1-2 minutes more. Then remove from the heat and set aside to cool completely. The syrup can be made several days in advance and stored in your refrigerator until you're ready to use it.
In a dry skillet over medium heat, toast the almonds, pecans and pepitas until they become fragrant, about 2-3 minutes. Add the maple syrup and salt and stir until the nuts are evenly coated. Then remove the skillet from the heat and quickly transfer the nuts (they will be sticky) to a parchment-paper lined baking sheet to cool. Once cooled, the nuts can be stored in an airtight container at room temperature for several days.
To assemble the bowls, divide the Greek yogurt between two serving bowls. Add the chopped apples and dates to the cooled syrup and stir until everything is evenly coated. Then spoon the apple/date mixture, along with any accumulated liquid, over the yogurt. Top with some of the maple-nut clusters and an additional drizzle of maple syrup, if desired. Enjoy immediately.