In the last two weeks, my taste buds have taken on a slight preference for comfort foods. But leafy green salads are still very high on my priority list. I crave salads all year long, not just in the warmer months. Especially when they're filled with local, seasonal ingredients.
This Autumn Kale Salad with Sautéed Pears is my current obsession. It incorporates so many of my favorite Fall flavors, like fresh apple cider and maple syrup. And it highlights what I consider to be one of the most underappreciated Fall fruits: pears.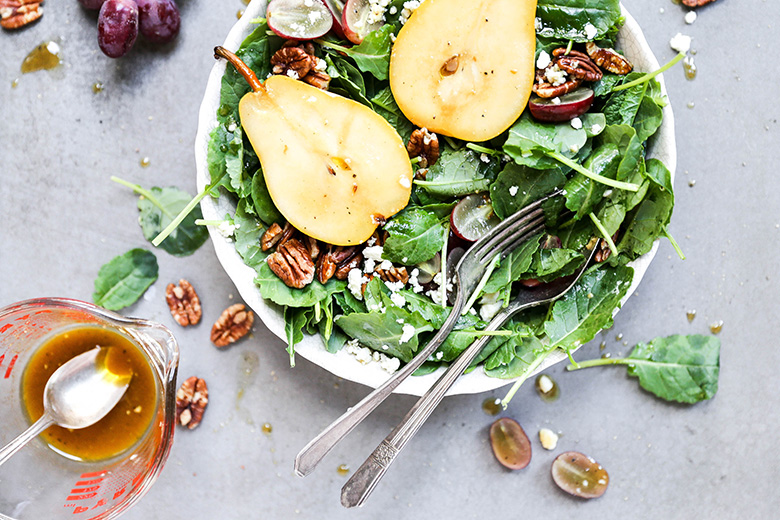 Pears always seem like they are playing second fiddle to apples. I mean, I love apples. Who doesn't!?!? And admittedly, I've been on a bit of an apple spree myself these days. But pears deserve to be taken seriously once in a while, too. So I always make it a point to give them the spotlight in a couple different recipes over the course of their season.
For previous pear perfect recipes (say that three times fast!), check out these appetizers, this cake and this breakfast essential!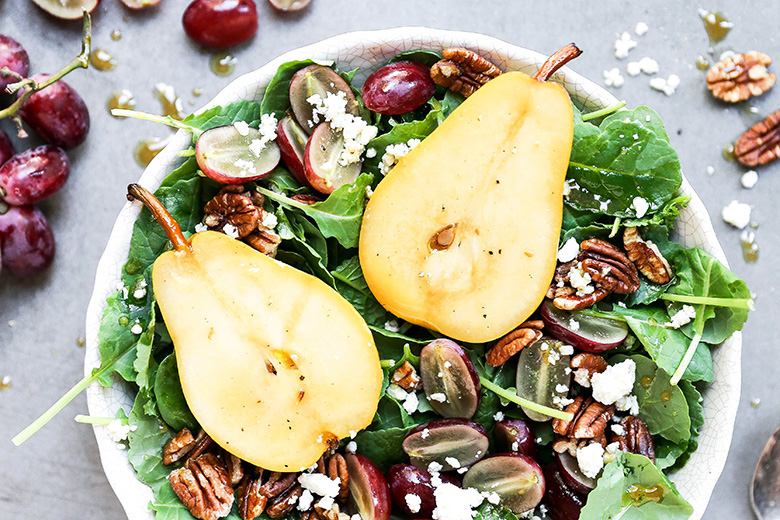 For the base of this salad, I used tender, baby kale. But you could use whatever greens you love (baby spinach would be excellent!). I added in red grapes, pecans and blue cheese crumbles. But the real showstopper in this recipe is the sautéed pears. Slightly softened, flavored with both apple cider and maple syrup, and so gosh darn pretty that it seems like a shame to chop them up, they are the perfect topper for all your leafy green bowls this Fall.
Choose pears (I used Bartlett pears for this recipe) that are ripe, but still a bit firm when pressed. Because you don't want them getting too soft and mushy when you cook them. That would be no bueno.
What are your favorite ways to use pears this time of year? I would love to hear your ideas!
Cheers,
Liz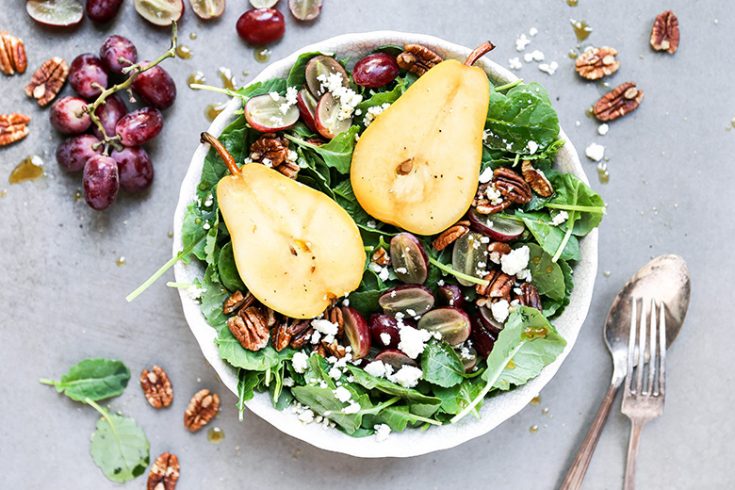 Autumn Kale Salad with Sautéed Pears
Yield: 2 servings

Prep Time: 10 minutes

Cook Time: 10 minutes

Total Time: 20 minutes
Ingredients
1/2 cup apple cider
2 tablespoons maple syrup
2 pears, halved and cored
2 tablespoons extra-virgin olive oil
2 tsp. Dijon mustard
1/4 tsp. salt
1/4 tsp. black pepper
About 6 cups baby kale
1 cup seedless grapes, halved
1/2 cup pecans
1/4 cup blue cheese crumbles
Instructions
In a skillet over medium-high heat, bring the apple cider and maple syrup to a simmer. Add the pear halves to the cooking liquid, placing them cut side-down. Then sauté the pears for about 5 minutes, or until slightly softened, occasionally spooning some of the cooking liquid over top as they cook.
Carefully remove the pears from the skillet and place them on a clean plate. Set aside.
Whisk the olive oil, mustard, salt and black pepper into the remaining cooking liquid. Remove the skillet from the heat.
Add the kale to a large bowl. Pour some of the warm dressing over the kale, tossing until the leaves are well coated. You may not use all the dressing, depending on your taste preferences.
Divide the kale between two bowls. Top with the grapes, pecans, blue cheese and the sautéed pears. Serve immediately.
SaveSave
SaveSave
SaveSave
SaveSave