This post was originally published here on May 3, 2014. I've since updated the text and photographs. This dish has been a part of my Thanksgiving tradition for several years now. And I hope someday it will become a part of yours as well!
Brussels sprouts are popular. We grow them in our gardens. We order them at restaurants. And we prepare them as part(s) of our most celebrated food Holidays.
A decade ago, however, it would have felt absolutely insane to write out those above statements. Brussels sprouts were still, for the most part, universally disliked.
But now, their story has a much different ending. Brussels sprouts are ubiquitous, admired and even craved. They went from "nay" to an enthusiastic "yay" all within a few short years. In fact, I can't think of too many other food items that have undergone such a rapid and complete re-branding.
I guess we really were just all cooking them incorrectly before!
So with Thanksgiving getting closer by minute (like, literally), I decided to resurrect one of my favorite brussels sprout side dishes from the archives. These easy Roasted Brussels Sprouts with Golden Raisins and Pistachios have adorned my Thanksgiving table every year since 2014. And I hope someday they become part of your Holiday tradition(s), too!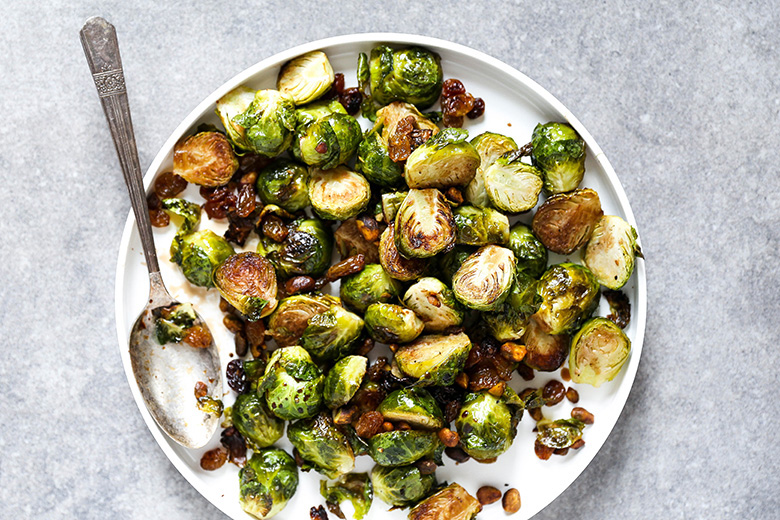 I believe in giving credit where credit is due. Which means we can't talk about brussels sprouts newfound stardom without mentioning bacon. Because bacon, I believe, is what really helped to propel brussels sprouts into the spotlight. Once we started marrying those two ingredients together, brussels sprouts quickly worked their way into our hearts.
Admittedly, I do love brussels sprouts that have been cooked with bacon (I mean, I'm just a simple human being after all!). But more often then not, I choose to forgo that option in favor of ingredients that are a little less overpowering. Also, my Holiday celebrations tend to be comprised of a varied and diverse crowd. So keeping several dishes vegetarian/vegan-friendly is something that is important to me as a host. Luckily this dish just so happens to be both vegan and gluten-free!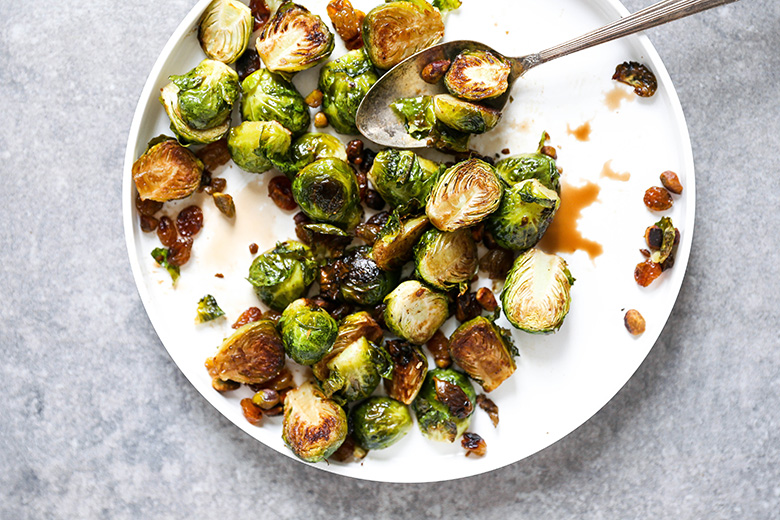 But have no fear! Because these Roasted Brussels Sprouts with Golden Raisins and Pistachios are far from boring! Perfectly cooked (the little crispy leaves that fall off are my favorite part!), savory, salty and sweet. With subtle crunch from the pistachios and a hint of chew from the raisins. It's about all you could wish for in a single, crowd-pleasing side dish.
What's your go-to recipe for brussels sprouts? And do you remember what turned you into a brussels sprouts lover?
Cheers,
Liz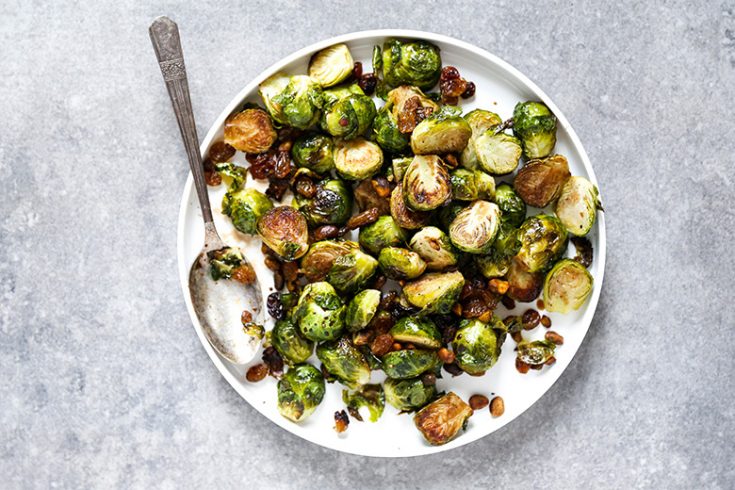 Roasted Brussels Sprouts with Golden Raisins and Pistachios
Yield: 6 servings

Prep Time: 5 minutes

Cook Time: 20 minutes

Total Time: 25 minutes
Ingredients
16 ounces brussels sprouts, trimmed and halved
2 tablespoons extra-virgin olive oil
1/2 tsp. salt
1/2 tsp. black pepper
3 tablespoons golden raisins
3 tablespoons shelled and chopped pistachios
1 tablespoon balsamic vinegar
Instructions
Pre-heat your oven to 425 degrees. Toss the brussels sprouts in a large rimmed baking pan with the olive oil, salt and black pepper. Transfer to your pre-heated oven and roast for 15 minutes.
Remove the baking pan from your oven and add the raisins, pistachios and balsamic vinegar, stirring gently to combine. Return the baking pan to your oven and roast for an additional 5 minutes.
Remove the baking pan from your oven and transfer the contents to a serving dish. Enjoy immediately.
SaveSave
SaveSave
SaveSave
SaveSave
SaveSave
SaveSave
SaveSave
SaveSave