This post was originally published here on June 2, 2014. I've since updated the text and photographs. If you're not a fan of traditional, mayonnaise-heavy potato salad (I'm NOT!), then give this recipe a try. I think you'll be pleasantly surprised!
Hi! I'm back from my travels!
I can't say enough wonderful words about Greece. It was AH-MAZING. The food was some of the best I've had in a long time. And every street corner café, sandy beach and multi-colored sunset was picture perfect.
Yet still, I'm finding myself elated (and almost relieved) to be home. This is my safe space. It's where I can be myself. And it's where I can thrive under the comforts of daily routines and familiar surroundings.
Travel excites me. But home nurtures me.
Anyways. All this chatter has absolutely nothing to do with today's recipe. But because I'm still not fully caught up on sleep, or properly adjusted back to the correct time zone, I have no brilliant segue for you. Instead, I'm going to just jump right into things.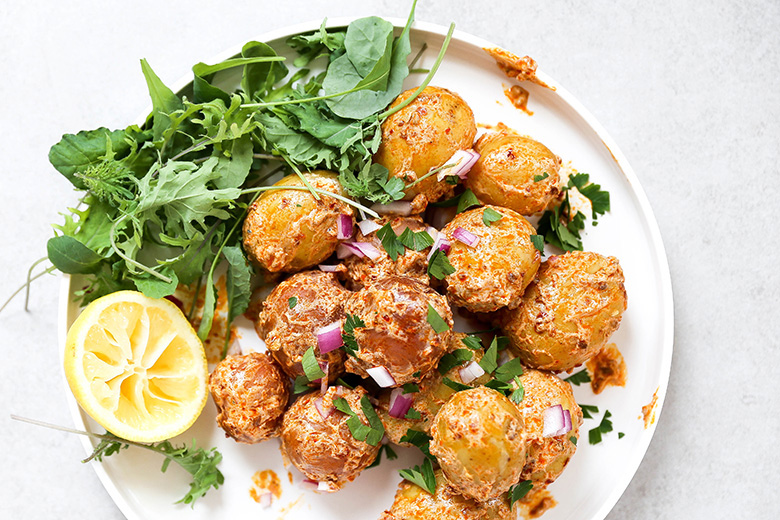 This here is a recipe for Harissa Potato Salad. And it absolutely freaking delicious. If you (1) dislike mayonnaise (can you see me forcefully raising my hand?), (2) are looking for a healthier side dish option, and/or (3) want to add some spice to your next potluck, then this recipe is absolutely for you. Don't let Summer end before you get the chance to give this recipe a try!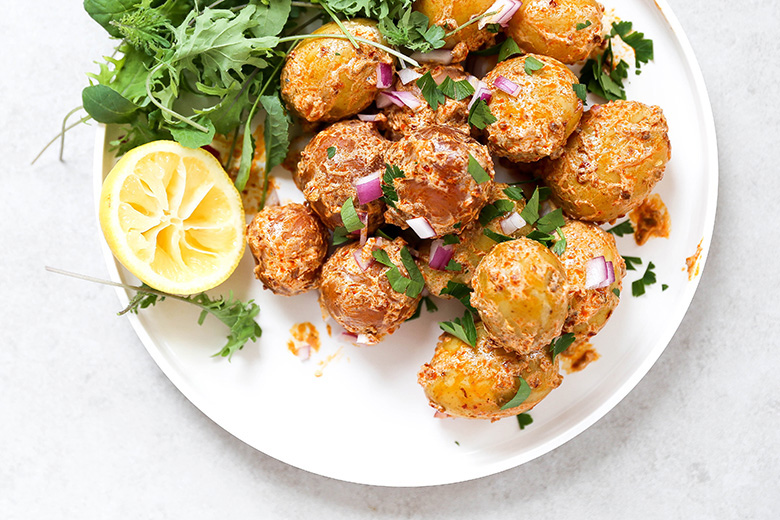 For the prettiest presentation (who says potato salad can't be sexy?), look for the smallest potatoes you can find (I usually go for those bags of multi-colors baby potatoes) and leave them whole. Also, wait to add in the red onion and herbs until after you've fully coated the potatoes in the dressing, which will help to maintain their pops of color.
This Harissa Potato Salad is not some sad, soggy side dish afterthought. In fact, it might just steal the show at your next picnic!
Cheers,
Liz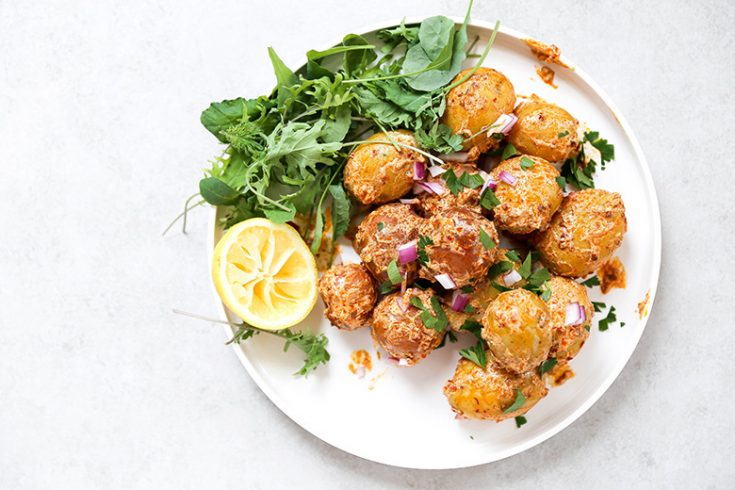 Harissa Potato Salad
Yield: 4-6 servings

Prep Time: 10 minutes

Cook Time: 15 minutes

Total Time: 25 minutes
Ingredients
1 1/2 lbs baby potatoes (leave the skins on)
2 tablespoons harissa paste
6 ounces low-fat or non-fat Greek yogurt
1/4 tsp. salt
1/4 tsp. pepper
Juice of 1 lemon
1/4 cup finely diced red onion
1/4 cup fresh cilantro or parsley, roughly chopped
Instructions
Place the potatoes in a large pot and cover them with 1- to 2-inches of cold, salted water. Bring the water to a boil over medium-high heat. Then cook the potatoes, uncovered, until they are fork tender, about 9-11 minutes. Drain the potatoes and set them aside to cool slightly.
Meanwhile, in a small bowl whisk together the harissa, Greek yogurt, salt, pepper and lemon juice.
Transfer the still warm potatoes to a large bowl. Add the dressing and fold it in gently until the potatoes are well coated. Then carefully fold in the diced red onion and herbs.
Serve immediately while still warm, at room temperature or after being chilled.
Leftovers can be stored in an airtight container in your refrigerator for 2-3 days.
SaveSave
SaveSave
SaveSave
SaveSave
SaveSave