If you've got your finger on the pulse of trendy salads (is that even a thing?), then you've probably heard of the now famous Charlie Bird farro salad. Since its initial publication in 2013, it has been written about in numerous cookbooks, blogs and magazines. It has many well-known fans (like Ina Garten). And many lesser-known fans, too (that would be me!).
I've seen endless variations of the original Charlie Bird farro salad. But the crux of the recipe usually stays the same. Which is the apple cider-boiling technique used to cook the farro. This cooking technique results in a tender, plump farro that's slightly sweet. Making it an ideal base for any number of grain salads. Especially this time of year, when I'm buying fresh apple cider by the gallon.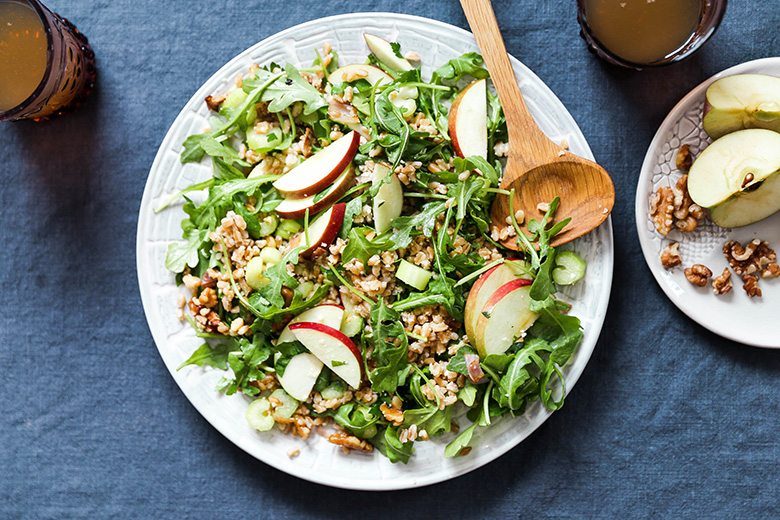 This Farro Salad with Apples and Shallots is a version of the Charlie Bird farro salad that I've been making for some time now. It's savory, sweet and very satisfying. It falls into the "main meal" category for me. But it's also a fantastic side dish (grains and fruits/vegetables all in one!) for roast chicken or pork tenderloin.
In addition to the apple cider-cooked farro, this salad has crunchy sliced apples and celery (an underrated salad ingredient, in my humble opinion), fresh arugula and parsley, chopped walnuts and a sprinkling of grated Parmesan cheese. But what's become maybe my favorite part of this salad is the cooked shallots. They really add an extra layer of savory-ness to this recipe that I'm loving. Raw shallots won't give you the same effect, so I don't recommend them as an ingredient substitution in this case. Take the 15 minutes to cook the shallots. You'll be happy you did!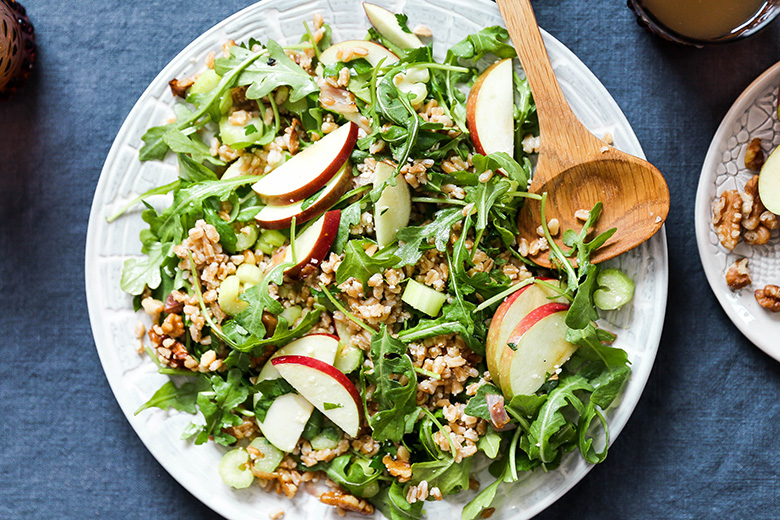 Like most salads that contain tender leafy greens, I think this Farro Salad with Apples and Shallots is best eaten on the same day it's made to avoid any unappetizing wilty-ness. But if you need to do some advanced prepping, you can cook the farro and shallots 1-2 days beforehand, then let them come to room temperature before continuing with the recipe. You can also make the dressing ahead, too.
I mostly make this salad during the Fall and Winter months, when fresh apple cider is available to me locally. But this apple cider-boiling technique has become such a game changer for me, that now I make it a point to freeze several cups of apple cider for use throughout the year!
Cheers,
Liz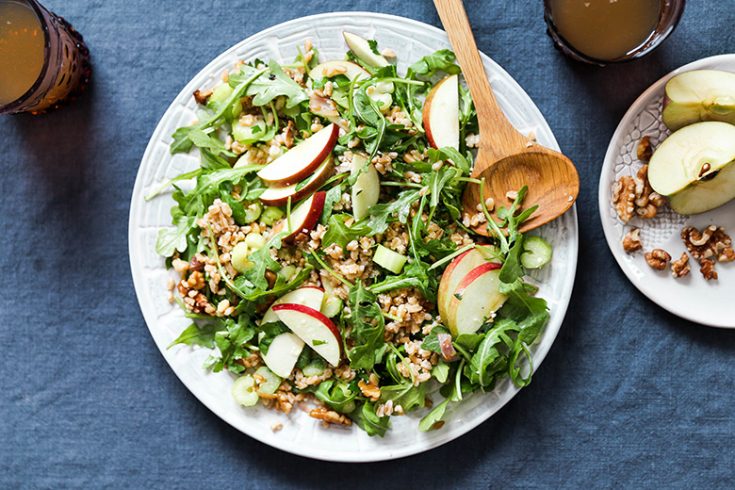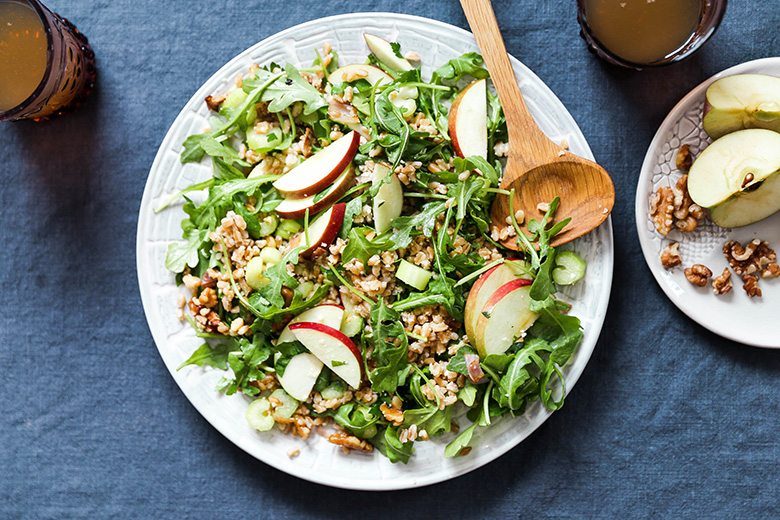 Farro Salad with Apples and Shallots
Yield: Serves 4
Prep Time: 15 minutes
Cook Time: 30 minutes
Total Time: 45 minutes
Ingredients
For the Dressing:
1/4 cup extra-virgin olive oil
2 tablespoons fresh squeezed lemon juice
1 tablespoon apple cider vinegar
1/2 tsp. salt
1/4 tsp. black pepper
For the Farro:
2 cups water
1 cup fresh apple cider
1 cup pearled farro
2 bay leaves
1 tsp. salt
For the Shallots:
1 tablespoon butter
1 large shallot, peeled and thinly sliced
Pinch of salt
For the Salad:
2 celery stalks, trimmed and thinly sliced
1 apple, cored and thinly sliced
1/3 cup fresh parsley, minced
1/3 cup walnuts, chopped
2 tablespoons grated Parmesan cheese
3-4 cups arugula
Instructions
Whisk together all the ingredients for the dressing. Set aside.
Combine all the ingredients for the farro in a medium saucepan set over medium-high heat. Bring to a boil and then adjust the heat to maintain a simmer. Cook with the lid slightly ajar for 30 minutes. Discard the bay leaves and drain any remaining liquid. Then transfer the cooked farro to a large bowl. While the farro is still warm, drizzle in about 2-3 tablespoons of the dressing and toss to coat. Set aside to cool.
While the farro cooks, make the shallots. In a medium skillet over low-medium heat, melt the butter. Add the shallots and a pinch of salt and cook, stirring occasionally, for about 15 minutes. The shallots should be well softened and browned. Set aside.
Once the farro has cooled to room temperature, add the cooked shallots, celery, apple slices, parsley, walnuts and Parmesan cheese to the bowl. Toss to combine. Then add the arugula and toss gently to combine. Drizzle with another 1-2 tablespoons of the dressing, if desired. Serve immediately.