This post was originally published here November 16, 2015. I've since updated the text and photographs. This flavorful side dish is from Laurie McNamara's cookbook, Simply Scratch: 120 Wholesome Homemade Recipes Made Easy. If you're looking for no-fail, no-fuss recipes, her cookbook is for you!
I'm already day dreaming about some of my favorite Holiday side dishes. I know, I know. We're still many weeks away from Thanksgiving and Christmas. But those side dishes get me all fired up! And as I was ogling the archives recently, I spotted these Roasted Beets with Parsley Pesto Vinaigrette from several years ago. And I thought "yes, these would be perfect for the Holidays".
This recipe is from Laurie McNamara's cookbook, Simply Scratch: 120 Wholesome Homemade Recipes Made Easy. Laurie's blog has some of my favorite recipes on the internet (her small-batch lasagna and apple cider donut bread pudding make regular appearances in my house!). And her cookbook is filled with even more approachable, fool-proof recipes that you'll want to make over and over again. These Roasted Beets with Parsley Pesto Vinaigrette are certainly a winner!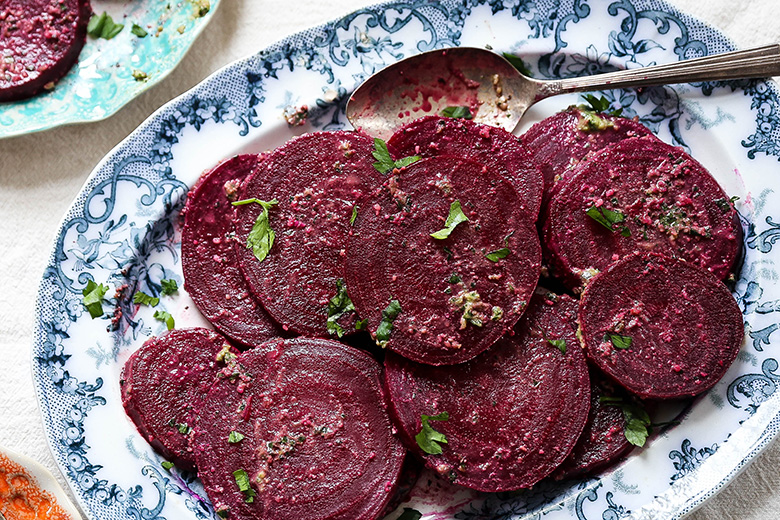 I'm a big fan of roasted beets, either served alone or tossed into a salad. And these Roasted Beets with Parsley Pesto Vinaigrette can easily do both. They are flavorful enough to stand out on their own. Or you can add them to a plate of simply dressed leafy greens and grains.
The method used here for roasting the beets is, in my humble opinion, by far the superior method for roasting beets (i.e. roasting them whole in aluminum foil packets). And it's how we always prepared them in the restaurants I used to work in. Because the method is easy, mostly hands-off and can be scaled up with minimal additional effort. And the beets come out very tender and moist. The one downside is the time required to cook the beets in this way, which is typically an hour or more depending on their size. But they can be prepared in advance. I recommend cooking the beets, peeling them and then rewrapping them whole (don't slice/chop them at this stage) in a clean piece of aluminum foil and storing them in your refrigerator.
The parsley pesto vinaigrette has a little bit of a bite to it from the combination of scallions, garlic and red wine vinegar. But it's a great contrast to the mellow, earthy roasted beets. And I like that it's a change up from the more typical basil pesto recipes that are out there. This recipe makes more pesto than you'll need, but you can store any unused portion for quite a while in your refrigerator or freezer. I like to use the leftovers as a sandwich spread. Or stir them into a tomato-based soup, like a minestrone.
This is such a versatile side dish. I hope you give it a try over the coming months!
Cheers,
Liz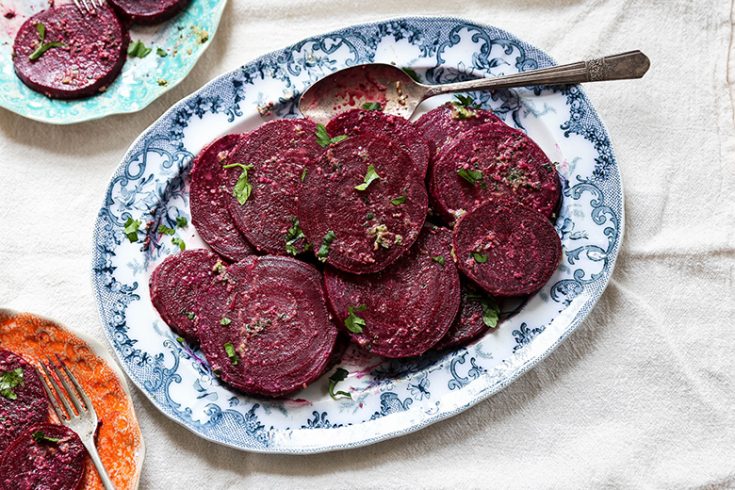 Roasted Beets with Parsley Pesto Vinaigrette
Yield: Serves 6-8
Prep Time: 20 minutes
Cook Time: 1 hour 5 minutes
Total Time: 1 hour 25 minutes
Ingredients
For the Beets:
8-10 medium beets, trimmed and scrubbed
1/4 cup parsley pesto (recipe below)
2-3 tablespoons red wine vinegar
For the Parsley Pesto:
1/2 cup walnuts
1 cup fresh parsley leaves
3 scallions, trimmed and roughly chopped
2 garlic cloves, peeled and roughly chopped
1/4 cup grated Parmesan cheese
1/4 tsp. salt
1/8 tsp. red pepper flakes
1/8 tsp. black pepper
About 1/4-1/3 cup extra-virgin olive oil
Instructions
Pre-heat your oven to 425 degrees.
Divide the beets between two large sheets of heavy-duty aluminum foil. Gather/fold up the edges of the aluminum foil to create sealed packets. Then place the packets in your pre-heated oven directly on the oven racks. Roast the beets for 55-65 minutes. The beets are done when they can be easily pierced with a small paring knife.
Remove the packets from the oven and set them on a wire rack. Carefully open them (steam will release when you do this) and let the beets cool slightly. Once the beets are cool enough to handle, peel them under cool running water using your hands to gently rub the skins off hand (you can use a peeler for any that are stubborn). Slice or chop the beets and place them in a clean bowl. Set aside.
While the beets are roasting, make the pesto. In a small dry skillet over medium heat, toast the walnuts until they are fragrant, about 2-3 minutes. Set aside to cool.
In the bowl of your food processor fitted with the blade attachment, pulse together the toasted walnuts, parsley, scallions, garlic, Parmesan cheese, salt, red pepper flakes and black pepper until coarsely chopped. Then with your food processor running, slowly stream in the olive oil, stopping to scrape down the sides of the bowl as necessary. Process until the pesto is mostly smooth. Taste and add more salt and black pepper, if necessary.
Transfer 1/4 cup of the pesto to a clean bowl and stir in the red wine vinegar. Drizzle this over the roasted beets, tossing gently to coat. Transfer the beets to a serving dish. Enjoy immediately.
Transfer the remaining pesto to a clean container and top it with a thin layer of olive oil. Cover and store in your refrigerator for several weeks.